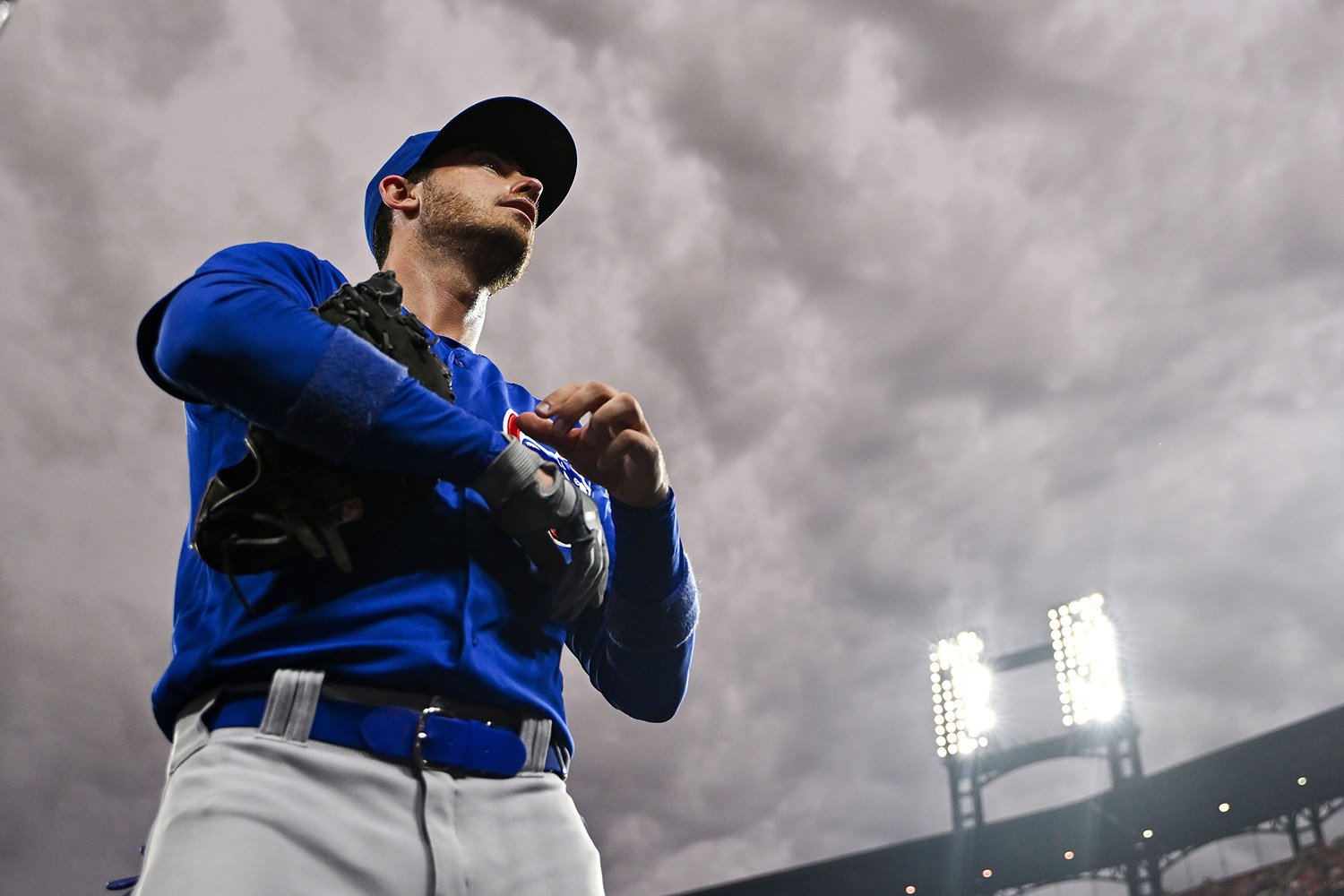 Image courtesy of © Jeff Curry-USA TODAY Sports
This Cubs team has some pretty exciting talents on it: Justin Steele will all but certainly finish top ten in the Cy Young voting, the middle infield combo of Dansby Swanson and Nico Hoerner may double-up on gold gloves, and Tucker Barnhart is batting .308 in the second half (through 13 at-bats…). However, without any doubt, the most valuable player on this iteration of the Chicago Cubs is Cody Bellinger, a former MVP and Rookie of the Year for the Dodgers who was only available because they non-tendered him following a couple of injury-plagued campaigns. 
The Cubs have had a long history of legendary players winning the most prestigious awards in the sport, from Greg Maddux and Jake Arrieta winning the Cy Young to Ernie Banks and Kris Bryant winning Most Valuable Player. But for all of the legacies that have been formed and solidified on the North Side, there has never been a Comeback Player of the Year in the Cubs pantheon. The award, developed in 2005 as part of an MLB sponsored partnership with Pfizer for Viagra, has been won by luminaries and journeymen alike, including Albert Pujols last year and Daniel Bard in 2020. 
---
Counterpoint: Why Christian Yelich is the Comeback Player of the Year
---
Now, after an arduous wait of 18 years, Cubs fans finally have something to look forward to: their first eventual Comeback Player of the Year award winner. Cody Bellinger is having a monstrous season, posting a 3.9 fWAR alongside a .329/.379/.559 triple-slash line. He's added 18 home runs and 17 stolen bases, while playing his normally apt center field and first base defense. 
Digging in a little further, you'll find that Bellinger has a 150 weighted runs created-plus (wRC+), meaning he's been 50% better than the average hitter this year (for reference, he was at a 161 wRC+ during his MVP-winning season in 2019). He's also impressed with his plate discipline, striking out a career-low 15.6% of the time, while walking in 7.5% of his plate appearances. Overall, he's been the 15th most valuable offensive player in all of baseball this year according to bWAR, and all the names on the list above him are established stars (like Freddie Freeman and Ronald Acuna Jr.) or young players having breakout seasons (like Corbin Carrol); in other words, Bellinger's company are candidates for awards like the MVP or Rookie of the Year, rather than competition for the illustrious Comeback Player of the Year title. 
Now, there are other contenders for the award. As much as Cubs fans may adamantly argue that this is a one-horse race, other players have come back from their own struggles and setbacks to return to their former glory, namely a player up in Wrigley North: Christian Yelich. 
Yelich is having a fine season for the division-leading Brewers, and he just peaked with an absurdly hot July (he slashed .333/.389/.626 for an OPS of 1.015). But who won July Player of the Month in the National League? Cody Bellinger. Who is playing on the hottest team in baseball, that's on the precipice of usurping the division lead to cap off an incredible comeback from an abysmal start to the season? Cody Bellinger. And who, pray tell, is the guy playing on a one-year prove-it deal rather than simply living up to the status of a $200 million contract? Why, that would be one Cody James Bellinger. 
Admittedly, his batted-ball metrics aren't quite as elite as his golden years in Los Angeles, and he's almost certainly been one of the biggest beneficiaries of the new shift rules, but his overall numbers don't lie - Cody Bellinger is (basically) back. And in case you need any more proof that he's locked up this honor, remember that this award, more than any other, favors one thing first and foremost: the narrative. 
Bellinger was a prodigy, a top-15 prospect in all of baseball at the time he was recalled to replace an injured Adrian Gonzales in 2017. He was unstoppable for the next three years, culminating in that legendary 2019 season. But then, during the Dodgers' march to the 2020 World Series (the Covid season), Bellinger dislocated his shoulder on a home run celebration in Game 7 of the NLCS. He fell off the proverbial offensive cliff the next two years, posting a combined 68 wRC+ in 2021 and 2022, resulting in his eventual unceremonious non-tender off the Dodgers' roster. 
But now, Bellinger is healthy again. He's swinging like the top prospect of old, and he's only getting hotter as the season goes on. The Cubs, like Bellinger, have been a fun story this season, garnering (positive) national attention for the first time in years. The team is winning again, and Bellinger is the main catalyst as to why. 
Though both he and the team will claim that the playoff push is more important, we all know what truly matters for this season: Cody Bellinger rightly hoisting his 2023 National League Comeback Player of the Year trophy come November.