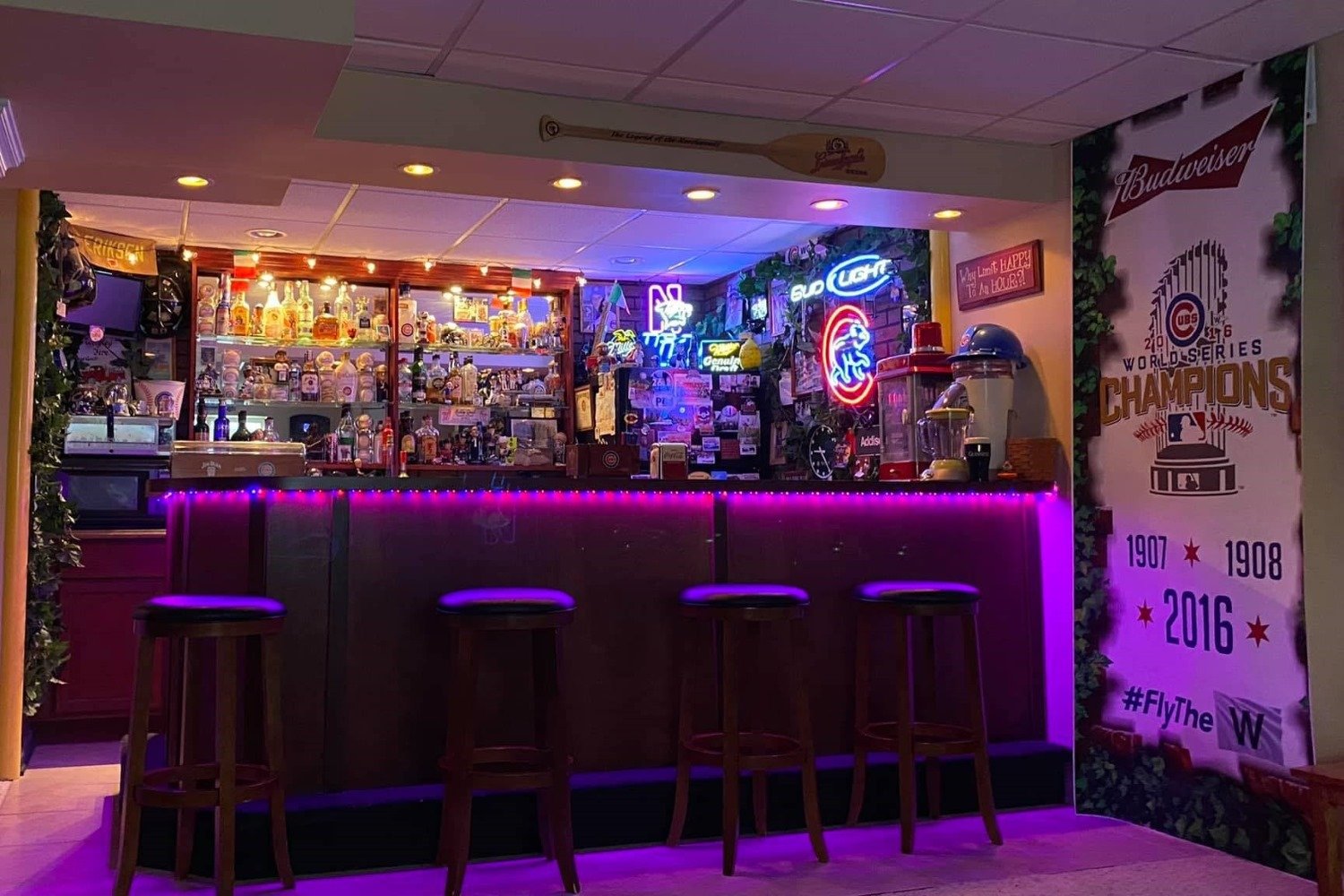 Image courtesy of Patrick Eriksen
Pat and I hopped on a video call this week and that was the subject for the first 10 minutes of our call. It was immediately apparent that Pat was a charismatic fan, and a perfect choice for this week's feature. 
Pat currently works as a firefighter in DeKalb, while living in the southwest suburbs of Chicago. In addition, he is a frequent extra on the hit show "Chicago Fire." I was able to talk to him live from his Facebook business page location, Wrigley Fire Bar and Grille. Pat's space features a smorgasbord of Cub memories and memorabilia. He joked about his lack of real estate.
Pat and I bonded over our time in insurance. The Northern Illinois University (NIU) grad started his career there, until he pivoted into Miller distribution. After his time there, he became a fireman. The "Fire" in his bar's name is meaningful, given his profession and his family history. Pat is a third-generation firefighter, with relatives who were present and perished on duty during the terrorist attacks on 9/11. In the few spaces in which there is not a Cub memory, Pat has several firefighting pieces to honor his profession and family. 
Cub Fan Origin Story
Pat was born in New York, but moved to Chicago when his father took a role at Motorola. His family quickly adopted the Cubs and became regular attendees at the Friendly Confines. Pat recalled that his first game was part of a Cub Scout outing and hearing the PA announcer inform the crowd of it being Johnny Bench's final game at Wrigley.  I did some digging and it looks like Pat saw a winner. 
As many Cub fans can imagine, a budding fandom in the 1980s would find one enamored with Ryne Sandberg. Pat was lucky enough to witness the "Sandberg Game" in 1984. In addition, he has a photo with Sandberg in the parking lot before a game. Pat has had the opportunity to rub elbows with Sandberg over the years at the Cub Convention and at Wrigley.
Pat now enjoys games with his family, seeing 10 or 15 of them a year. Last year, Pat attended his first Cubs Convention with his son. Pat and his son can be found around the stadium, seeking autographs to add to his collection. 
Top Cubs Memories
In 2016, Pat was on duty at the firehouse for Game 7 of the World Series. Luckily for him, all emergency calls held off until about 15 minutes after the game. They received a call, at that point, to respond to a couch on fire in the middle of Greek Row at NIU. For those unaware, DeKalb is a college town, with events centering around campus. When Pat and his team arrived, they were treated to a mob of happy fans celebrating in the streets that could rival the tandem celebration on Clark and Addison. The concerns of the mild couch fire faded as strangers hugged Pat and his fellow firemen. Eventually, they put out the fire, but not prior to creating a lifelong memory. 
During Pat's time at Miller, he was invited to the company's box for a game. Pat had become well-known by his co-workers for his convincing Harry Caray impersonation. After the game, Pat's boss ran him down to show him something. The scene Pat described felt familiar to many of the Harry anecdotes that live on: Harry was in the hall waiting for the elevator, clearly a few deep. Pat's boss encouraged him to do his impersonation for Harry. Sure enough, Pat mustered up the impression. Harry exploded laughing, complimented him, and stumbled into the elevator.
Wrigley Fire Bar and Grille - Pat's Cubs Cave
In this video, you get a taste of a walkthrough of the bar area, with the additional treat of Pat's Harry Impersonation. His collection started in the 80s and has continued to grow. The original "Cub Cave" was in his old house, but the dream was always to have his own bar. His family profession and contagious fandom made the theme easy to hone in on. From Harry Caray-signed scorecards, to a seat bottom autographed by Jim Hendry, Pat's collection is impressive to see. 
However, it was easy for him to pick a favorite item:
Pat beamed as he walked his camera over to the signed Ryne Sandberg Jersey framed on the wall. The framing was a recent birthday gift from his family. It features the signed jersey, along with a limited print highlighting the "Sandberg Game."
Pat and I have a similar dream item: A pair of Wrigley Field seats. While the collection may never be truly complete, seats remain the top priority for the space. 
2024 Expectations
With the news of Counsell being fresh, our dual enthusiasm was hard to contain. Expectations have skyrocketed as a result of the surprise move. Pat and I are eager to see what Jed Hoyer, the silent assassin, has up his sleeve next. 
Want to see more pictures of Pat's collection? Looking to ask him any questions? You can find him on Facebook at Wrigley Fire Bar and Grille or on Instagram as cubz23. 
Interested in your fandom/Cub Cave getting featured? Send me an email at canddicubs@gmail.com to apply!