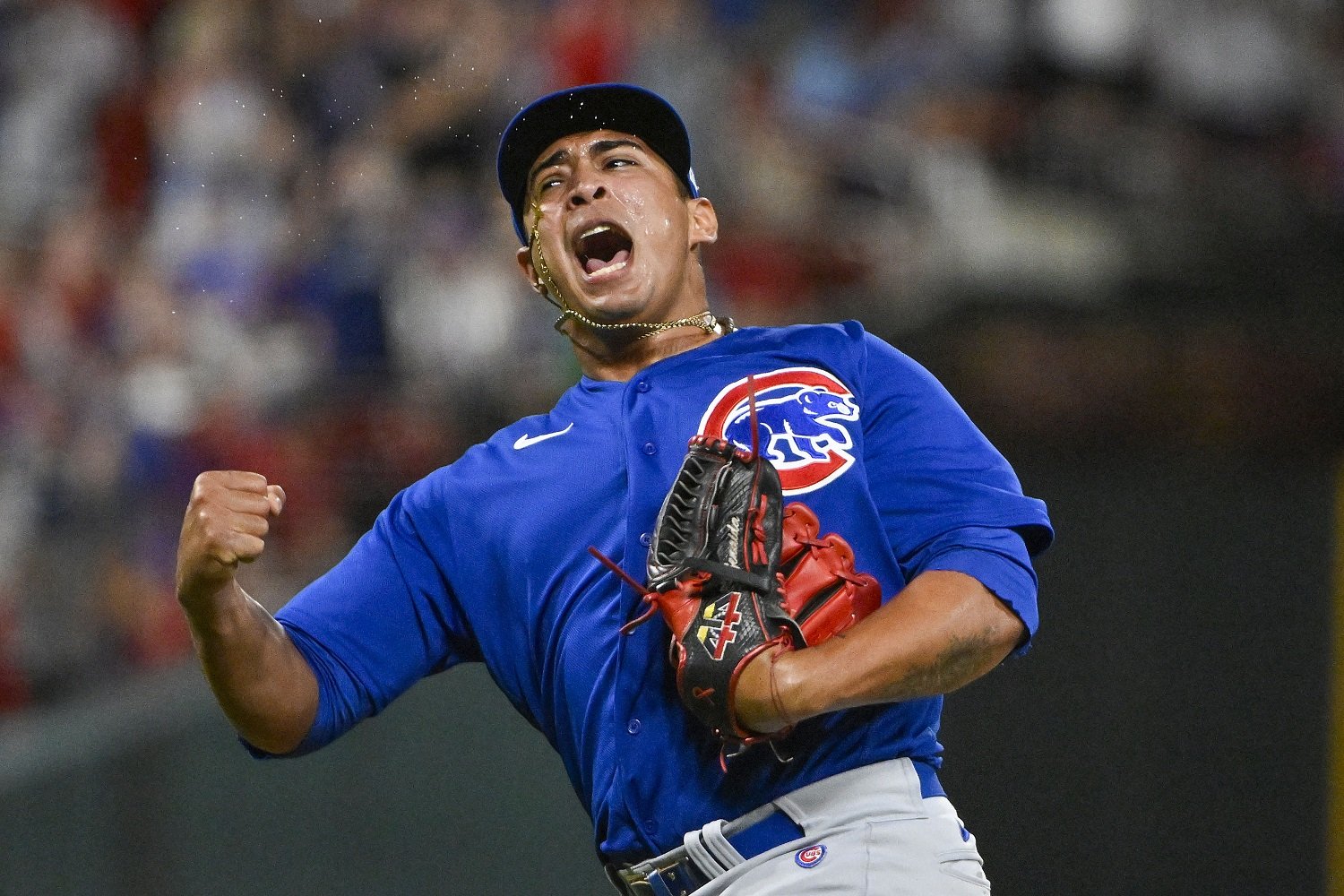 Image courtesy of Jeff Curry-USA TODAY Sports
The word "revolution" gets thrown out a bit too often, and we're all guilty of using it in hyperbolic ways. Let's be real. Those chicken wings you had last night were good, but they didn't revolutionize appetizers. 
However, pitching over the course of the last decade has truly been going through a data revolution in a way we've never seen. Some teams have done a better job of being on the forefront of that revolution and others, a much worse job. While teams like the Astros and the Dodgers have been on the forefront of spin rates and building velocity, the Chicago Cubs have lagged well behind.  
Things finally began to change in 2019 for the Cubs with the hiring of Craig Breslow (a graduate of Yale with a degree in biochemistry and molecular biology. he has earned the nickname "The Smartest Man in Baseball"). They have taken it even further by bringing in Dan Kantrovitz from Oakland and Carter Hawkins from Cleveland. These three have been instrumental in the changes we've seen as an organization, top to bottom, and the proof is in the pudding. Now, in the year 2023, the Cubs have gone from an organization which was arguably behind in pitching and pitcher development to being a team on the forefront of it.  
This article was inspired by a short tweet from Lance Brozdowski. If you're not following Lance online and on his substack, please do. He's the absolute best when it comes to pitch data analysis online, and I am smarter for reading his articles daily. Anyway, his tweet showed the average fastball velocity of MiLB systems thus far in 2023, and the results are good.
While it's not surprising to see the Dodgers leading minor league baseball in average velocity, it is shocking to see the Cubs nipping at their heels in second place with an average fastball of 92.9mph.  
This is a huge departure from the organizational philosophy we've seen post-World Series from the Cubs. Using fangraphs, and sorting by average fastball from 2017-2022, the Chicago Cubs ranked 28th in average fastball velocity in baseball over that time span. If you sort from just a starting pitching perspective, the Chicago Cubs finished dead last in the MLB; that's… not ideal.
There's more to pitching than pure velocity, and pitchers like Kyle Hendricks are going to lower that, but it's also indicative of the issues the Cubs have had in terms of identifying the type of high-end starting pitching they've been lacking.  
It's been a slow change, and it's not one that has paid immediate results.  Prior to 2019, the Cubs drafted many pitchers (Brandon Little, Alex Lange, Bryan Hudson, Thomas Hatch as examples) who were not velocity-merchants in any way. Instead, they targeted pitchers like Quintana (averaged around 92 mph in 2018) in trades, who also were not tipping the scale in terms of velocity.  
In 2019, we can see a small shift. The Cubs drafted Ryan Jensen out of Fresno State whose fastball sat between 95 and 98 mph and tried to create a starting pitcher out of him. They did the same with their third-round selection of Michael McAvene who hit 100 mph in college at Louisville. DJ Herz had a "projectable body" and was reportedly hitting 95 mph in high school in North Carolina when the Tigers drafted him in the eighth round in 2019.
Sadly, it hasn't really worked out. Jensen was DFA'd and one is left to wonder if this philosophical change had happened sooner, maybe Jensen's career would have had a different trajectory. Herz had not shown an ability to add velocity to his game pre-trade, and McAvene got hurt.  
2020 saw the Cubs draft both Burl Carraway and Luke Little, relievers who had fastballs in the upper 90's, with mixed results. The Cubs took Carraway out of Dallas Baptist thinking he and his left arm could be in Wrigley quickly. Instead, he has fought the yips and injuries and hasn't pitched since early in 2022. He has been a pure bust. Little was drafted out of San Jacinto College and has taken big strikes this season. He recently moved up to Iowa and may make appearances in Chicago this summer.  
In 2022, the first draft run by all three (Breslow, Kantrovitz and Hawkins), the Cubs finally went all in with a draft completely highlighted by velocity; Cade Horton, Jackson Ferris, Nazier Mule. Brody McCullough, Luis Rujano, and Shane Marshall all had one thing in common... they were arms who could hit numbers on the radar gun that would make you drool. It was also punctuated by trades for pitchers like Ben Brown, Daniel Palencia, and Caleb Killian, all three of whom hit 95+ regularly.
The 2023 draft once again saw the Cubs go back to the well. They selected Jaxon Wiggins in the second round. He showed a fastball that hit 99mph prior to need his Tommy John surgery. Perhaps the ultimate "velocity upside pick", taking Daniel Brown in the 16th round; a left-handed relief pitcher capable of hitting 100 mph, but who also hit or walked most of the hitters he faced in an abbreviated 2023 season. These aren't all the names, just a cross-section, but the infusion of velocity into the Cubs system is certainly not an accident and is definitively purposeful. 
How the Cubs handle the development of their arms, I feel, is important to the equation as well. From my perspective, the Cubs have taken a strong look at how the Dodgers develop pitchers and have either borrowed, or copied some of their practices. No team is more conservative in terms of pitch counting, and how they bring up their prospects than LA. They have not only implemented inning restrictions for the starters, but max-pitch-count in an inning for all pitchers.  
The Dodgers also enjoy taking starting pitching prospects, and first implementing them through their major-league bullpen, before they transition to the rotation when injuries or spaces open up instead of just handing them rotation spots.  The Cubs have certainly mirrored the innings and the pitch-count thing, and we're seeing the second beginning to occur with pitchers like Hayden Wesneski, Javier Assad, Justin Steele, Keegan Thompson, and Caleb Killian. This will likely continue to help develop velocity, but also keeps arms safe.  
On top of this, the Cubs ability to implement their pitch lab has seen a consistent growth in terms of velocity gains system-wide (punctuated now by being the second-best system in terms of velocity). The Cubs have become one of the go-to organizations in terms of maximizing pitcher velocity. Their weakness has become their strength.
Where the club goes from here is obviously uncertain, but I think we're past the days of the Cubs being far behind on the velocity curve.  Daniel Palencia and Caleb Killian are already on the MLB roster, Ben Brown and Luke Little will challenge for relief innings between today and the rest of the year.  Cade Horton is leaving a trail of hitters behind him as he carves his way through the minors (and on this pace is likely ticketed for the big leagues sometime next season), Jackson Ferris is having great success, and there's more behind that.
Just this season, the Cubs are already up to seventh in the major leagues in relief pitcher average fastball velocity (up from 19th from the former sample size), and will likely see their velocity across the board increase as the velocity we see in the minors make their way to the majors. As always, we can't consider velocity to be a silver bullet. Instead, it's only one piece of the puzzle (spin rate, pitch mix, seam-shifted wake, all of these things matter just as much). With that said, it's impossible to not be encouraged to see the Cubs flip from a team who didn't have the word "velocity" in their vocabulary just a few years ago, turn into the velocity developmental team.