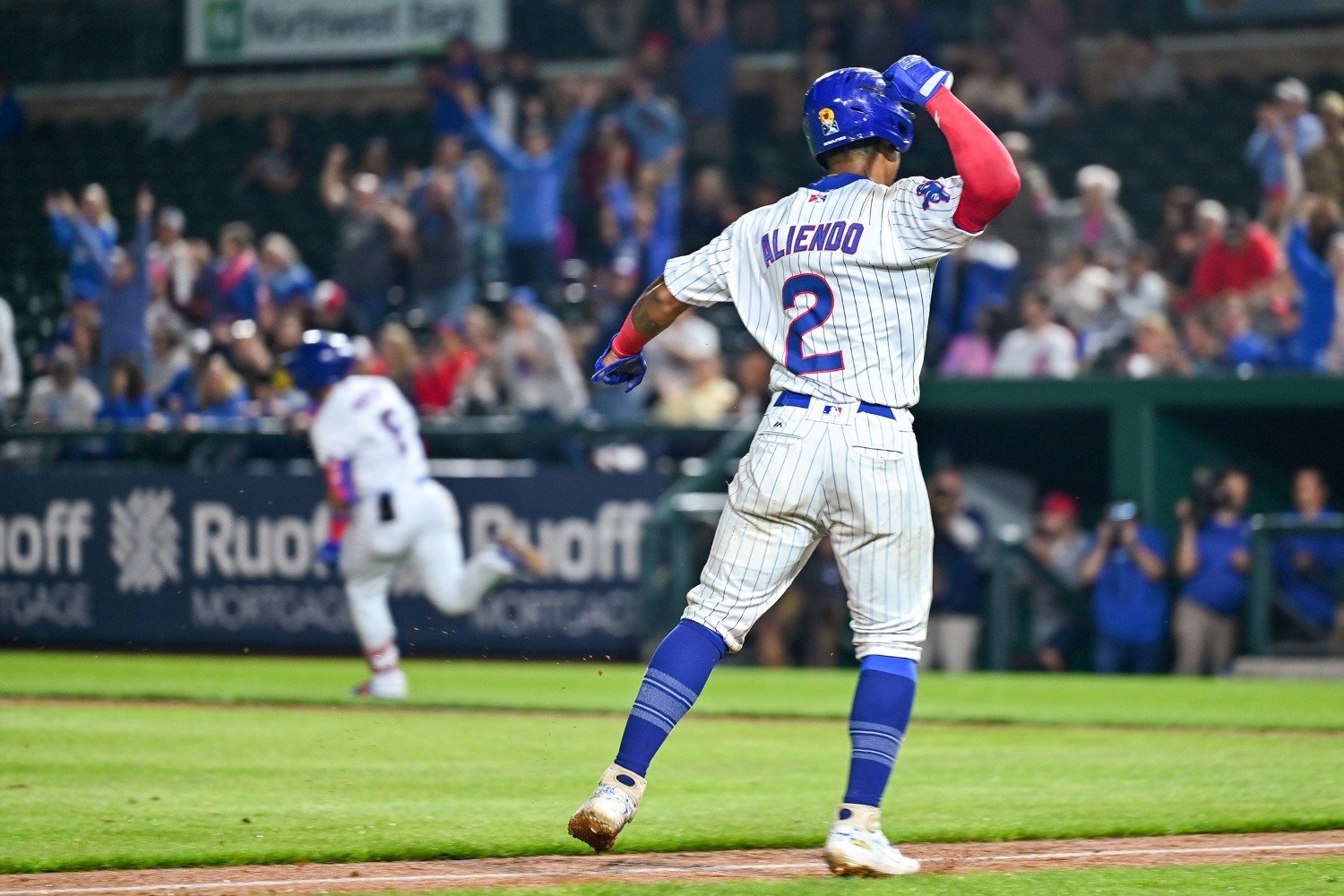 Image courtesy of © MATT CASHORE / USA TODAY NETWORK
Unlike last winter, this fall finds the Cubs without any elite prospects in obvious need of protection from MLB's secondary mechanism for ensuring player freedom. They already allowed Yonathan Perlaza to leave the organization as a minor-league free agent, and added Luis Vazquez to the 40-man to prevent the same. They still have three vacancies on the reserve list, if they want to use them, but once a player is added for this purpose, they can't be removed from the roster through the usual mechanisms of waivers and outright assignment for a certain period. 
For that reason (and because the team might prefer external additions who stand to make a greater impact on the team), the Cubs might elect to leave themselves an open spot or two on the 40-man even on the other side of this deadline. This day also tends to generate player movement throughout the sport, as teams try to clear the requisite space on their rosters for key additions or trade fringy guys they would have left unprotected to teams who will then slot them into their own 40-man.
Let's take a look at the guys who give the Cubs some real reason to pause and consider their options today.
Pablo Aliendo, C
It's a little bit difficult to take seriously anyone who strikes out 30 percent of the time even in Double A, but Aliendo did so at an appropriate age (22) and with some power and patience to offset the whiffs. He's also a credible (though far from exciting) defensive catcher. In general, teams don't love to carry an extra catcher on the 40-man unless they would feel comfortable calling them up for an extended stay with the parent club. The dilemma the Cubs face, then, is whether they can find that kind of trust in Aliendo. He's not in a terribly different spot from the one Miguel Amaya was in a year ago, but he doesn't have quite the same defensive chops, and that might prove to be a separator.
Chase Strumpf, IF
It feels like the decision to add Vazquez foreclosed the possibility of doing the same with Strumpf (or Jake Slaughter, his less defensively sound facsimile), but we'll see how things unfold. At the end of this week lurks the deadline for non-tendering arbitration-eligible players, and at that point, the Cubs could theoretically move on from one or both of Nick Madrigal and Patrick Wisdom. If they plan to do so, then there might be a place for Strumpf, after all. He's not quite viable at shortstop, but he profiles as an above-average defender at second or third base. His power is legitimate, and he takes his walks. Again, though, we're talking about a minor-league strikeout rate that makes you worry whether Wisdom's big-league rate might not be the floor for Strumpf's.
Ezeqeuiel Pagan, OF
A left-handed hitter with bat-to-ball skills and a modicum of plate discipline can usually progress at least to the upper levels of the minors as a legitimate potential big-leaguer. At that point, the question becomes whether they can deliver sufficient power or defensive value to get them over the hump. We don't yet have that answer where Pagan is concerned; he's only gotten a small taste of Double-A competition. He's probably an underpowered corner outfielder, and even if he does end up bridging the gaps and becoming MLB-worthy, it feels unlikely that he'd be taken in this year's draft. Under their current circumstances, the Cubs figure to take that chance and see what happens.
Kohl Franklin, RHP
Last year, the Cubs added Ryan Jensen to the 40-man at this time, surprising some fans and analysts. Their hope was that they had finally helped a formerly struggling first-round pick unlock something, and that he would materialize quickly as a big-league reliever. It didn't happen, and it's very unlikely that the same gambit would work any better with Franklin. The team would be better off taking their chances by leaving him unprotected, especially since they need to be aiming to make big external upgrades on the pitching staff and will need roster room for them, anyway.
Michael Arias, RHP
This case is much more nuanced. Arias signed as a shortstop out of the Dominican Republic in 2018. After one year in the Dominican Summer League and one onset of a global pandemic, the Blue Jays released him in May 2020, and the Cubs signed him as a conversion project. Given that fraught trajectory, his ugly walk rates in both levels of A ball the last two years don't seem so bad. The stuff is really good, and his small frame might not scare off a team who would be drafting him for a quick move to the bullpen. It's still a tough call, but adding Arias feels like the right move, if the team can identify other places on the roster to create space if and when they need to add a star via trade or free agency.
A Handful of Relievers
The above are the main names to watch today, but a few relief-only arms could also be in the mix, depending on what the Cubs' internal analysis and evaluations on them look like. They include Eduarniel Nunez, who has a truly filthy fastball-curveball combo but no clue where it's going; Bailey Horn, a lefty with two above-average breaking balls but insufficient fastball command; and the quartet of Cayne Ueckert, Cam Sanders, Ben Leeper, and Max Bain, who all have good fastballs and good sliders but big flaws in either their health or their control. Of those six, one is going to be a good big-league reliever, and one is going to be a modestly useful one. The other four will float around and come to nothing. If the Cubs have conviction on which is the winning ticket in that batch, they might play it, but the good odds are that all six are left unshielded.
Again, there are other avenues through which this deadline can yield a little bit of interest and movement, but the Cubs seem unlikely to make any big or surprising moves this year, based on their situation and the status of their most valuable prospects. Who would you protect? What names not rattled off here have your attention? Are there trade partners on whom you'll keep tabs today? Let's get nerdy.