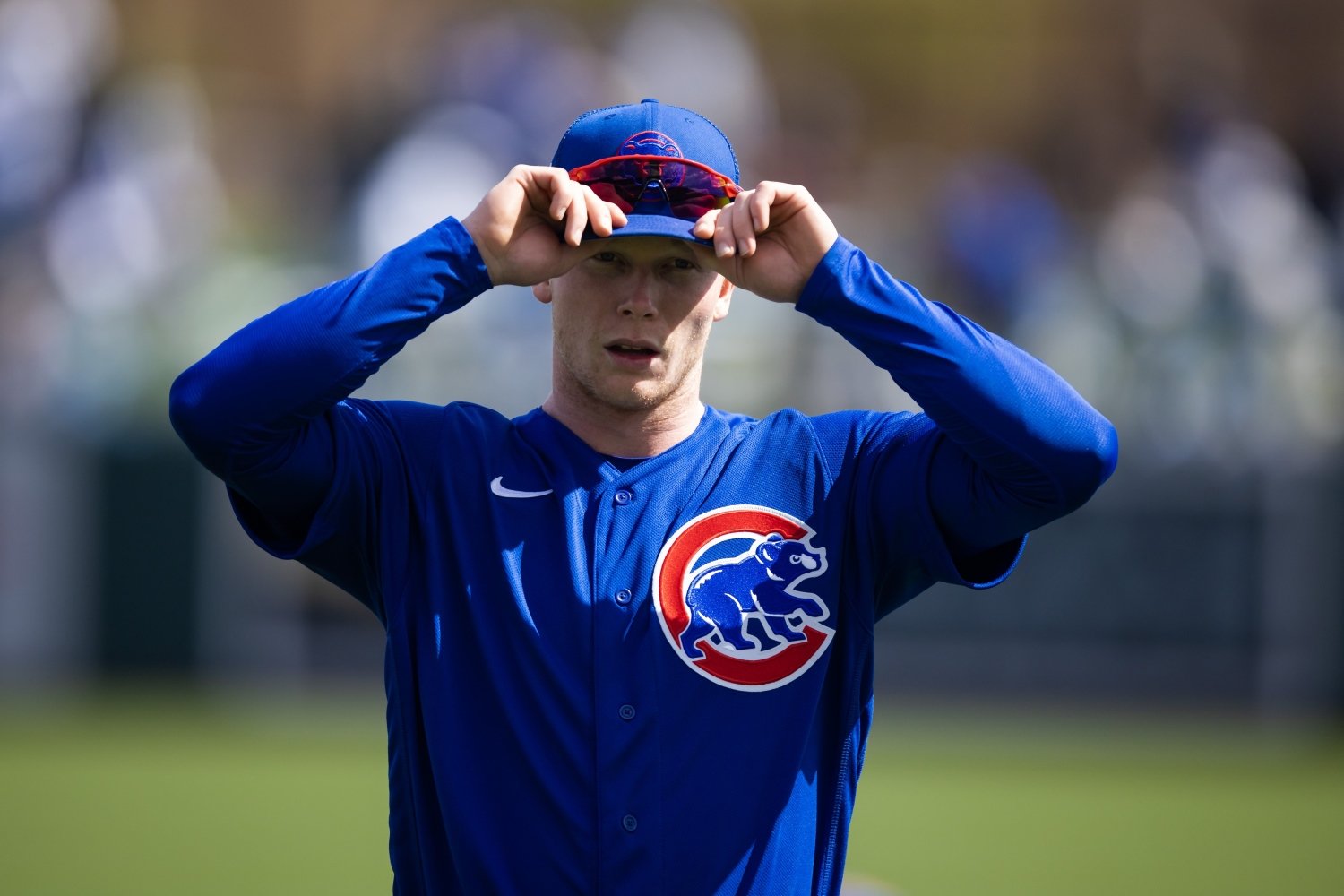 Image courtesy of © Mark J. Rebilas-USA TODAY Sports
The Cubs' farm system has yielded a huge number of interesting performances over the first six weeks of the young season. There's a sense of growing depth and greater potential impact than we anticipated even two months ago, although we've also seen a bit of the inevitable downside of relying on young players at the big-league level. Without further ado, though, let's discuss the particulars.
The Graduate (Student): Hayden Wesneski
Now over 70 innings pitched in the big leagues, Wesneski has graduated from our list, but he's back in Iowa to pursue the pitching equivalent of a Master's degree--or, depending on your perspective, to clean up what was a pretty sloppy capstone project. The pieces of a valuable mid-rotation starter all seem to be there for the right-hander, but as he's worked through multiple adjustments to better balance disguising his release points with commanding his fastballs, he's lost one of the vital skills of any modern starter: the ability to miss bats. Thus, weirdly, he exits the list as a likely success story, but is going to sojourn back in the minor leagues for (in all likelihood) the rest of May.
Big Movers: Ben Brown and Miguel Amaya Announce Their Arrivals; Caleb Kilian Falls Flat
Before the season began, we had Ben Brown ranked as the ninth-best prospect on the Cubs farm. Six weeks later, he's number two, and it's not a case of irrational or unjustifiable exuberance. He's posted a 0.59 ERA and struck out 47 of the 119 batters he's faced, adjusting smoothly even to an unusually early promotion to Triple A. His fastball is exploding on hitters, with great ride at the top of the zone from a very high release point, and he's developed two distinct breaking balls that play gorgeously off of them. At this point, it would take an injury or a deeply disappointing developmental hiccup for him not to debut with the parent club some time this summer.
Amaya, of course, has already made his debut, and that was the major driver of his ascent from 19th on our preseason list to a new placement of eighth. As I wrote in the initial report, the biggest variable for him is health, and so far, he's healthy. He looks mechanically sound behind the plate, is drawing gushing reviews from pitchers and other teammates for his work at the intricacies of catching, and put a hurt on the ball even against big-league pitching during his short stint in MLB. There are still things to be ironed out, like his deleterious strikeout rate, and we can't yet assume his injury troubles are a thing of the past. At the moment, though, he looks like the catcher of the future.
By contrast, Caleb Kilian's future might all be in the past. He continues to tease those who want to see something in him, with decent velocity and a deep arsenal, but neither his control nor his movement look good enough to get big-league hitters out. We can also say, without unfairly tagging him with makeup concerns, that he hasn't been able to meet the mental challenge of pitching in MLB in any of his first few trials, and the numbers even in Iowa don't inspire much confidence that that's about to change. We've seen pitchers with similar skill sets get lost for a similarly long time, then figure something out and take off. Mitch Keller, of the Pirates, is doing it right now. It's very rare, though, and Kilian doesn't have much more time to prove that he's capable of being that kind of special case.
New Blood
17. Kohl Franklin - RHP
It's been five years since Franklin was a high-school draftee. It's time for him to put up or shut up. That's why, despite the pandemic and a troubling shoulder injury robbing him of two full seasons of development, the Cubs gave him an early bump up to Double-A Tennessee. It wasn't exactly earned based on pure performance, because Franklin battled the same persistent walk trouble he has had throughout his pro career during his brief time at South Bend to open the season, but it was definitely necessary. It's time to see what his stuff, command, and durability will allow him to do against better competition.
Of those three factors, the stuff is the one least in question. Franklin has a plus fastball-changeup combination and is getting more comfortable with a couple of breaking pitches. He's impressed a lot of prospect watchers with the flashes of command of each of those secondary pitches that he's shown this year. He's not nearly consistent enough with that yet, though, and even his fastball is sometimes sprayed around the zone too much. Whatever he's going to become, he has to do it quickly, and at this point, it's most likely that he'll end up trying it as a reliever in the near future. If he can tighten up his control and his pitch mix a bit, though, he still has a chance to stick in the rotation, where his shoulder will be easier to maintain and keep healthy.
20. Pablo Aliendo - C
Like Kohl Franklin, Aliendo came into the organization in 2018. Like Franklin, he didn't make much immediate progress, and then was hurt by the loss of the minor-league season to the pandemic in 2020. Aliendo has finally found traction since the start of 2022, gaining a reputation as a plus defensive catcher, with both above-average athleticism and the requisite commitment to the position. 
Until this year, though, that defense-first profile was really all there was to Aliendo. He had basic bat-to-ball skills, but neither an apparent plan at the plate nor the strength to generate power. This spring, that seems to be changing. Facing Double-A pitching for the first time, he's slugging .576, with 10 extra-base hits in just 17 games. He's traded quite a bit of contact for that pop, but being able to access it at all is a major development for him. If Aliendo keeps this up, he could be an impactful catcher, even if it be in a Welington Castillo kind of way--average or better power, solid defense at the most important defensive position, all slightly capped in value by a limited hit tool.
Overall Impressions
Though he hasn't yet graduated, Matt Mervis emerged from the system already this spring. Jeremiah Estrada looks likely to fill an important role in the bullpen for the balance of the season, if only because the team needs more bullpen help than expected. Christopher Morel exhausted his prospect status last year, but the Cubs still deserve some credit for the way he's burst back onto the scene after some time in Iowa to hone his approach.
Those three typify the general trend of the Cubs organization. They're on the rise. Here's hoping for another month of encouraging, even tantalizing performances in the weeks ahead.