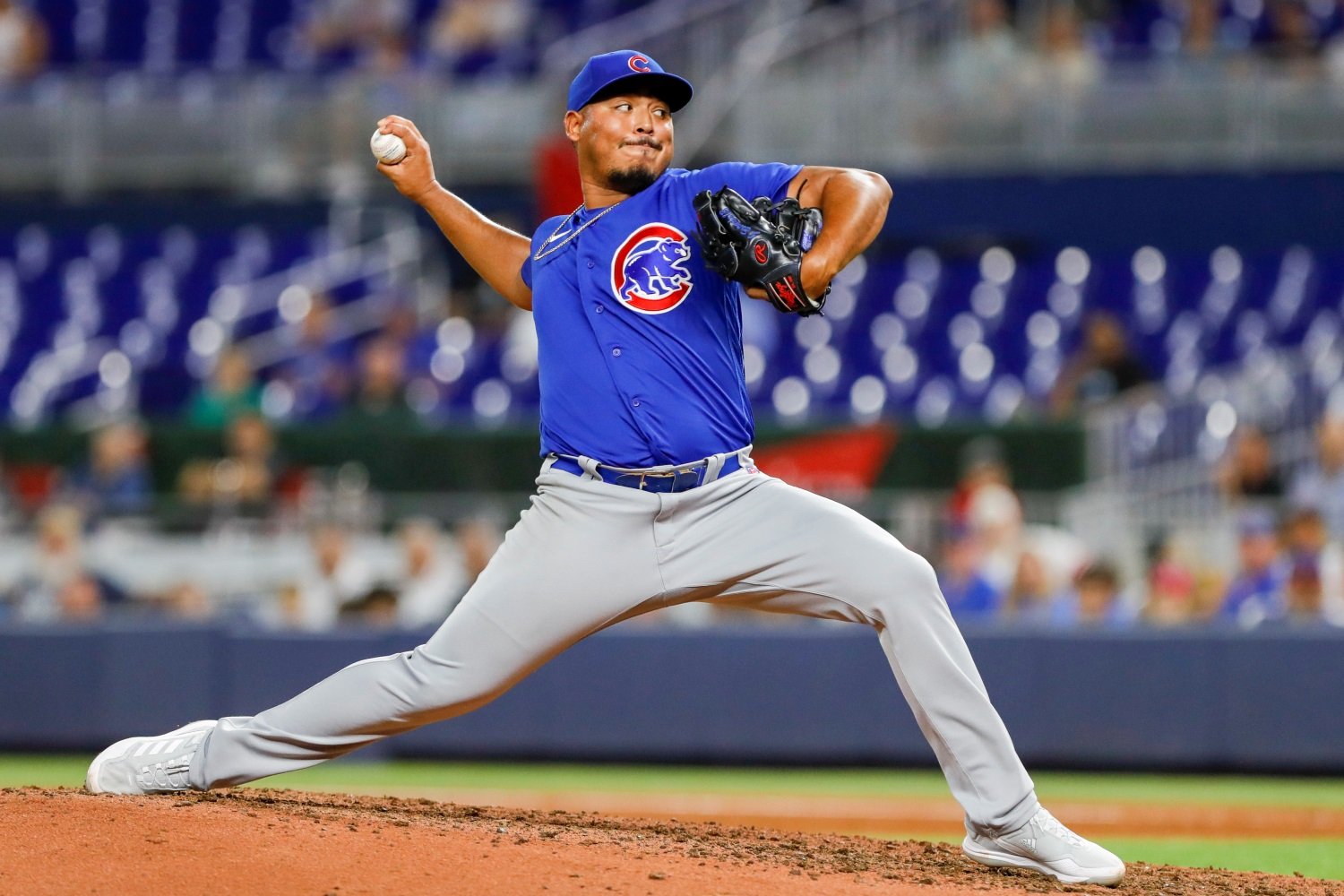 Image courtesy of © Sam Navarro-USA TODAY Sports
This list is deep and varied, and (to perhaps a greater extent than any such list in the Cubs' history) it has balance between hitters and pitchers. Despite the team's high revenue potential, the names on this countdown will have a massive influence on the future direction and success of the franchise. 
It's in the nature of the modern game, and of being run by the people who run the Cubs, that young, controllable talent often wins the day. Without further ado, then, let's break down prospects 16 through 20, as voted on by the North Side Baseball community.
---
20. Jeremiah Estrada - RHP
Age: 24
2022 Stats in Minors (A+/AA/AAA): 34 G, 48 ⅓ IP, 1.30 ERA, 1.06 WHIP, 40.8% K, 10.5% BB, 1 HR
2022 Stats in Majors: 5 G, 5 ⅔ IP, 3.18 ERA, 1.59 WHIP, 32% K, 12% BB, 1 HR
Last season was a long-awaited breakout for a guy whose upside prospect hounds loved for a long time. Estrada was a sixth-round pick in 2017, and the electricity of his arm was evident from the moment he reported to Arizona late that summer, but serious elbow trouble sidelined him for nearly all of 2018 and 2019. The pandemic kept him from appearing in any game action in 2020 and waylaid his development further. Finally healthy and with the runway before him, though, Estrada took off in 2022, the way his fastball seems to do as it bears down on hitters. He could be a relief ace–a capital-C Closer, if you prefer to think that way–in the majors, and if it happens, it's as likely to happen this season as ever. His slider will miss bats consistently, just by virtue of having the cut-ride action of his four-seamer off of which to twist and roil. The only question is whether Estrada can throw enough strikes to reach his ceiling, or whether walks will consign him to a career of tantalizing front offices and fan bases as waiver fodder.
---
19. Miguel Amaya - C
Age: 40 (Just Kidding! He's 24. He's just been around forever.)
2022 Stats (Rookie/AA): 40 G, 160 PA, .261/.369/.455, 6 HR, 13.1% BB, 25.6% K
Obviously, this ranking is a bone-cracking fall from grace for the erstwhile top prospect, and it's only in very small part a testament to the system's improvement that he's here. In much greater measure, Amaya is here because he's been unable to stay healthy enough to prove to anyone that he can translate his offensive tools to the highest level of competition–let alone that he can handle the defensive demands and workload of a big-league catcher.
If it works, though, the numbers above are what it will look like, and it will be glorious. Amaya has a rare blend of hit tool, power, and plate discipline for a catching prospect, and even if he's not a catcher in the long run, his bat has the potential to be good enough to force him into an MLB lineup. Even that depends on him staying healthy enough to develop smoothly from here, though, and he'll have to show that he can still make sufficient contact as he matriculates to Triple A and the majors. Defensively, he's a better athlete than an average catcher, and his arm could play even as the new rules apply extra pressure in that area. The loss of so many reps to injury over the last few years has taken a toll on his ability to develop as a receiver, game-caller, and handler of pitching staffs, too, though.
---
18. Kevin Made - SS
Age: 20
2022 Stats (A/A+): 94 G, 408 PA, .227/.322/.375, 10 HR, 12.5% BB, 19.6% K
The town of Baní is not some backwater of the Dominican Republic. If you stand in the center of Santo Domingo, you're about halfway between Baní to the west and San Pedro de Macorís to the east. San Pedro is, by far, the more famous of the two cities. It's slightly larger, slightly more urbane, slightly less hot, slightly less dry. Decades ago, it acquired the reputation as the single municipality that has churned out the most MLB players per capita of any on Earth, and that bit of trivia is (probably) still true. 
Quietly, though, Baní might have crept past its eastern counterweight. It churns out great little players, and the second modifier there is not meant as either condescension or affection. Juan Uribe, Willy Aybar, Erick Aybar, and Cristian Guzman are from Baní. So are Wander Franco and José Ramírez. At the very least, no city churns out round-faced, short, stocky infielders like Baní. Kevin Made, newly listed at a skyscraping 5-foot-10 for 2023, is a shortstop from Baní.
He's wildly unlikely to hit like Ramírez or Franco, although he gave glimpses of some power last year as a teenager in tough leagues for young hitters. He does make contact and work counts well, though, and he's a smooth, athletic defender. He'll start in South Bend, but could well be in Tennessee before his 21st birthday in September.
---
17. Moisés Ballesteros - C
Age: 19
2022 Stats (A/Rookie): 63 G, 239 PA, .257/.362/.451, 10 HR, 13.0% BB, 19.7% K
Surely, reading his first name makes you connect Ballesteros with Moisés Alou, who (among other things) leaped to make a certain catch in October 2003 and didn't come down with the baseball. Funny thing: Ballesteros wasn't even born until almost a month later. (Eheu! Fugaces labuntur anni.) 
Being that young makes everything Ballesteros does in full-season professional ball impressive, and his numbers were solid in his brief time with Myrtle Beach at the tender age of 18. This year, he'll return to Class A, but he can be judged a bit more seriously as the year progresses. He'll get a chance to showcase a swing and a feel for the strike zone that seem unusually advanced for a teenager, and to further polish his defensive skills. One beautiful thing about his profile, if things come together, is that he's the always-valuable left-handed bat at catcher. 
---
16. Caleb Kilian - RHP
Age: 25
2022 Stats in Minors (AAA): 26 G, 106 ⅔ IP, 4.22 ERA, 1.57 WHIP, 26.2% K, 13.0% BB, 7 HR
2022 Stats in Majors: 3 G, 11 ⅓ IP, 10.32 ERA, 2.03 WHIP, 16.4% K, 21.8% BB, 0 HR
You ever see one of those sitcoms where a character spends an entire episode talking about some hero of theirs they might get to meet, and dilemmating over whether or not they even want to (because what if they freeze up and embarrass themselves?), and psyching themselves up to finally just do it, and they have a heartwarming moment with another character who tells them it'll all be ok, and then they do meet the person and it's even worse than anyone could have imagined? Someone on the St. Louis Cardinals must have been Caleb Kilian's lifelong hero. 
In June 2022, Kilian came up to pitch the second game of a doubleheader against the Cards, and it was a big moment for the Cubs. This guy was becoming the jewel of the Kris Bryant trade. He was going to help prove that the team has turned a corner in terms of pitching development. He was going to save us all. The best part is, he even started to do it. He set down the Cardinals in order the first time through, fanning four. 
And then. And then. Kilian's mechanics started spasming in the fourth inning. He walked two, allowed two hits, and loosed a wild pitch, leading to three runs. It would have been worse, but for a somewhat baffling stolen-base attempt. He got a little bit right again in the fifth inning, and his debut looked like it had largely gone ok. It had not gone ok. Kilian had stared fear in the face, and that fear climbed inside him, a dybbuk that is still operating him to this day.
When he's right, Kilian has a five-pitch mix, with the ability to sink or cut his fastball and even elevate it in the zone on occasion. He has an aesthetically pleasing, old-fashioned curveball. When things are good, he can be a number-two starter. The question is: will things ever be good for him again?
---
That rounds out our first batch of prospects, but the countdown will continue from here. In the meantime, we'd love to hear more from you about these particular guys and their potential, or about who you're worried has been left off the list. In a system this deep, some good players will be excluded, but they still deserve some acknowledgment.