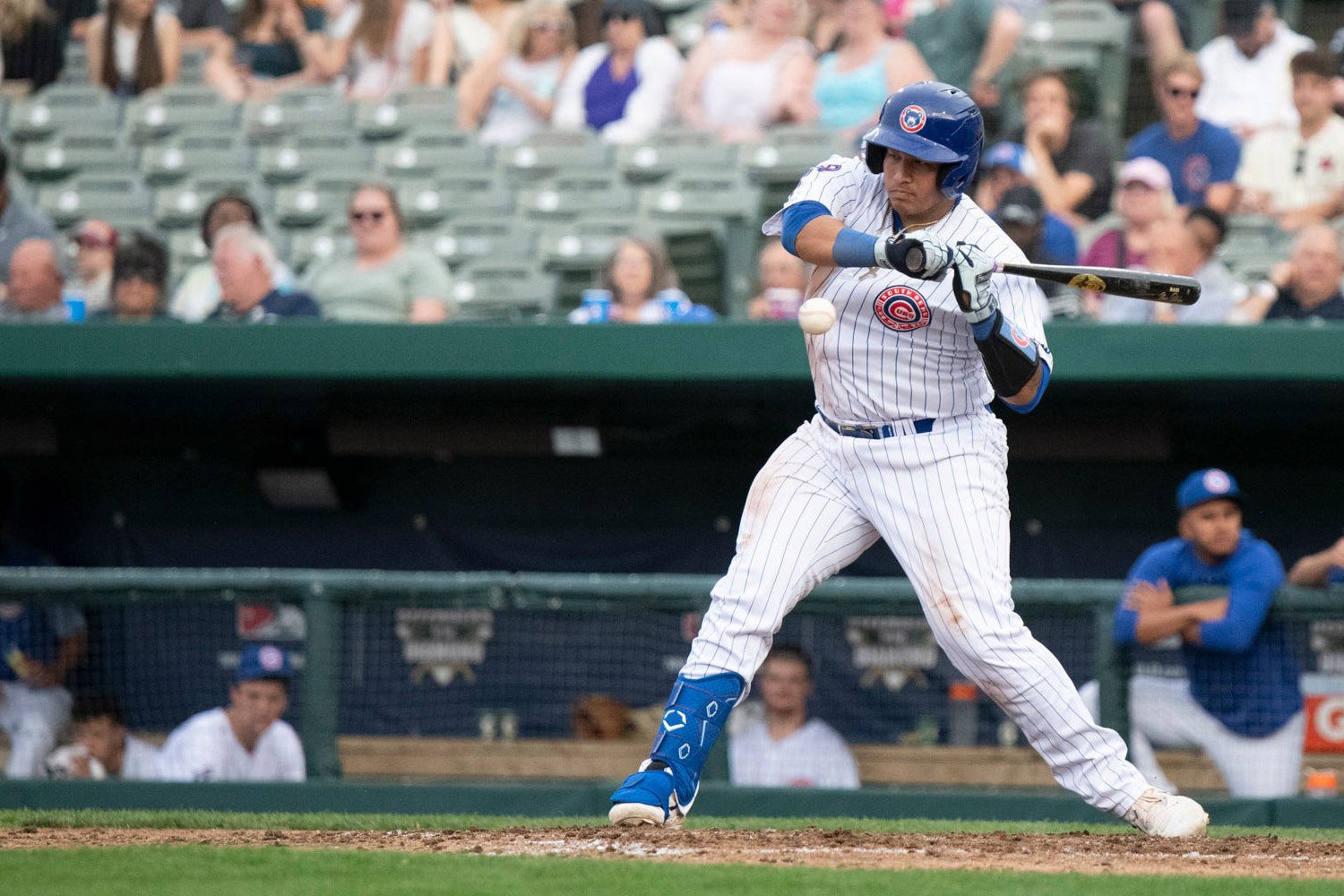 Image courtesy of © MATTIE NERETIN / USA TODAY NETWORK
2023 Season Review
Moises Ballesteros, or "Big Mo," does not look like your typical professional baseball player. Listed as 5'7", 197 lbs on the Tennessee Smokies website, these numbers are outdated. Frankly, he looks more like he belongs on the Chicago Bears as a fullback than he does behind the plate of a Double-A baseball team. Looks can be deceiving, as Ballesteros has proved throughout his MiLB career to date, and he has earned every bit of being named the Cubs MiLB Hitter of the Year in 2023.
Ballesteros has received aggressive promotions each year from the Cubs. 2022 saw the 19-year-old catcher spend more than a month in Myrtle Beach at the end of the season, posting a rather impressive 109 wRC+. Starting in 2023, "improvement" was the name of the game, as he lowered his strikeout rate to a miniscule 13%, increased his walk rate, ISO, batting average, on base, slugging, and finished with a 142 wRC+ in a further 56 games. 
Earning a promotion, "Big Mo" saw 56 games in South Bend that season. While the wRC+ was "only" a 128, this remains incredibly impressive for any catcher, let alone one who couldn't legally buy a beer. Showing impressive bat-to-ball skills, a mature approach allowed him to settle in comfortably despite the further increase in competition. While only hitting six home runs, he did swat 15 doubles during his time, suggesting that with maturity and growth, there is more power in the bat to come. 
For most players, a mid-season bump would be the only promotion earned, but for many of South Bend's best hitters (James Triantos, Kevin Alcantara, and Matt Shaw), they would get a chance to help AA Tennessee during their playoff run. Despite only posting a 40 wRC+ in 22 PAs, the time spent in Tennessee should suggest where Ballesteros will start in 2024, and he still showed that the impressive bat-to-ball skills were continuing to translate, striking out only three times in a limited run.
Defensively, Ballesteros remains a work in progress, but there was some improvement along the way. His receiving skills are getting better and better. While still a bit off from the Major League team, Craig Counsell's hiring should be music to Mo, as Counsell's Brewers team has been the absolute best at taking mediocre framing catchers like Yasmani Grandal, Omar Narvaez and William Contreras and turning them into framing mavens. Counsell may bring over staff who can help the system squeeze the most out of all the catchers, top to bottom.
2024 Season Outlook and ETA
The path ahead for Moises Ballesteros lies in Tennessee in 2024. Turning 21 midway through the season, he will be among the youngest hitters in Tennessee. I'm bullish on the bat, regardless of his level. Strong plate approaches are one of the best indicators an MiLB hitter can have for continued success, and you argue his plate approach is the best in the Cubs' system. If there's some room to grow offensively, it's turning those doubles into home runs. 
The questions for Mo will be the body and the defense. Alejandro Kirk is breaking molds with Toronto about what a catcher should and shouldn't look like, so there is some precedent for awkwardly shaped humans succeeding at that level. Thankfully, the bat is good enough here that a move to first basemen or as a designated hitter won't be the worst thing. This goes back to the offensive "grow"; however, the path to being a successful MLB 1B or DH is much more difficult, and those doubles will have to turn into home runs for that to be a viable path. Regardless, he's one of the most exciting hitters to follow in the Cubs system, and his outlook is quite bright.