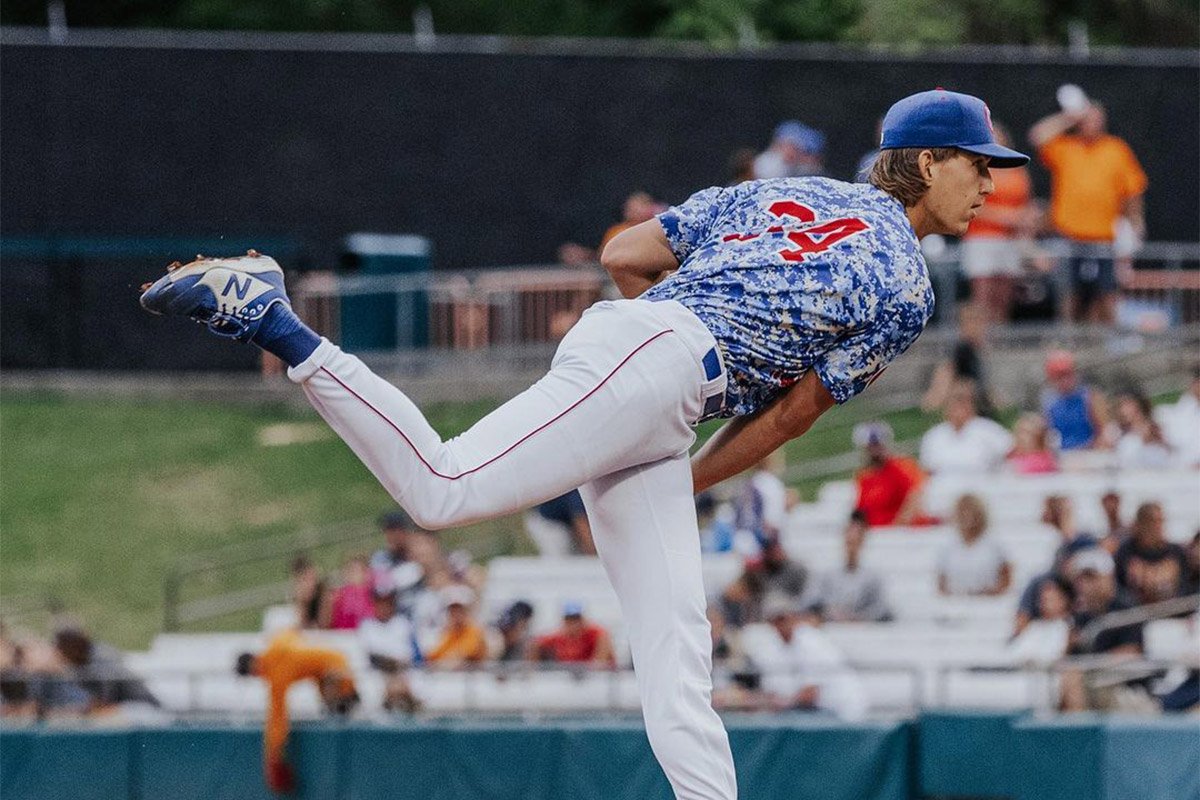 Image courtesy of Ben Brown
2023 Season Review
Acquired from the Phillies for reliever David Robertson, Ben Brown wasn't a name many were familiar with at the 2022 deadline. With many upset at the Cubs' lack of movement on catcher Willson Contreras, the acquisition of Brown was somewhat under the radar. However, by the end of 2022, Brown had begun to turn heads. Finishing with 31 innings in his new organization in which Brown struck out over 12 per nine innings and limiting his walks, there were high expectations for him in 2023.
Perhaps no prospect had a better start to the year than Brown. Over his first 30 innings, the righty would strike out an impressive 47 hitters, walking 11 and surrendering only two earned runs. His five-inning, ten-strikeout effort on May 10th, just his second turn on the mound in newly promoted Iowa, was one of his highlights of the season. At this point, it seemed not if but when Brown would be added to the Cubs' roster, with many seeing Brown as a potential impact leverage reliever to help the stretch run or even make a few starts. 
Enthusiasm would be halted on May 16th as Ben Brown showed flaws in his game. Giving up seven runs in just four innings, Brown's poor outing began to highlight a recurring theme for the pitcher: his spotty fastball command. Throughout the rest of the year, Brown's highlights were nothing short of spectacular, and his lowlights nothing short of dreadful. On May 27th and June 14th, Brown would strike out 11 hitters each game, limiting walks to just two. Following up each start, almost immediately, on June 2nd and June 25th, would see the right-handed fireballer surrendering six runs, as he struggled with walks in each outing (five in the first and three in less than a single inning pitched in the second).
When Brown was on, his plus-plus curveball would be on feature. A big aspect of work the Cubs put in on Brown this year was separating his slider from his curveball. It wouldn't be the craziest thing for one to give Brown a 70 grade on his curveball. It's that good. The slider has come a long way, and these pitches generate ugly swings and misses out of the zone. When Brown was off, his fastball command would wane, both in and out of the zone. At times, you could tell Brown was forcing his fastball in the zone, resulting in poorly placed pitches and lots and lots of contact. 
After Ben Brown's start on July 30th, it was revealed that he had a lat strain and would end up missing the month of August. Coupled with the fastball command issues, Brown was never added to the Cubs 26-man roster. Upon returning, his command failed him fairly often, as he issued 11 free passes in just a little over six innings. It's hard to glean a lot from these innings, as Brown was not used as a traditional starter and only lasted one or two innings. There was likely rust in play here, and because of that, it's tough to tell the reasoning behind the walks.
2024 Season Outlook and ETA
It would be disappointing if Ben Brown didn't reach the majors in 2024. Even if his fastball command remains spotty, Brown has leverage reliever stuff that should help any bullpen in baseball. However, where Ben Brown ultimately ends up, in the rotation or the bullpen, will largely be determined by that fastball command. When Brown has his fastball, he is a legitimate top-of-the-rotation type. Hitting the high 90s with those elite breaking balls, it's very difficult for opposing hitters to touch the man. When he doesn't, however, Brown is quite hittable. How the Cubs fix these issues and create a more consistent pitcher will be key to his development. 
However, there is a good chance that the lanky righty doesn't stay in the Cubs organization. The Cubs look likely to make at least one, or possibly more, trades to impact the parent team this offseason, and Ben Brown will likely be a name bandied about. As the Cubs are poised to keep high-end-prospect Cade Horton, others such as Jordan Wicks, Javier Assad, and Brown will be names teams like the San Diego Padres should have interest in, for example, in a Juan Soto trade. It would be easy to see Brown as an acceptable loss because of how his 2023 ended, but we can't forget how it began. Brown has real upside, and it wouldn't be shocking to see him go on to have a career at the top of a rotation, regardless of the inherent risk.