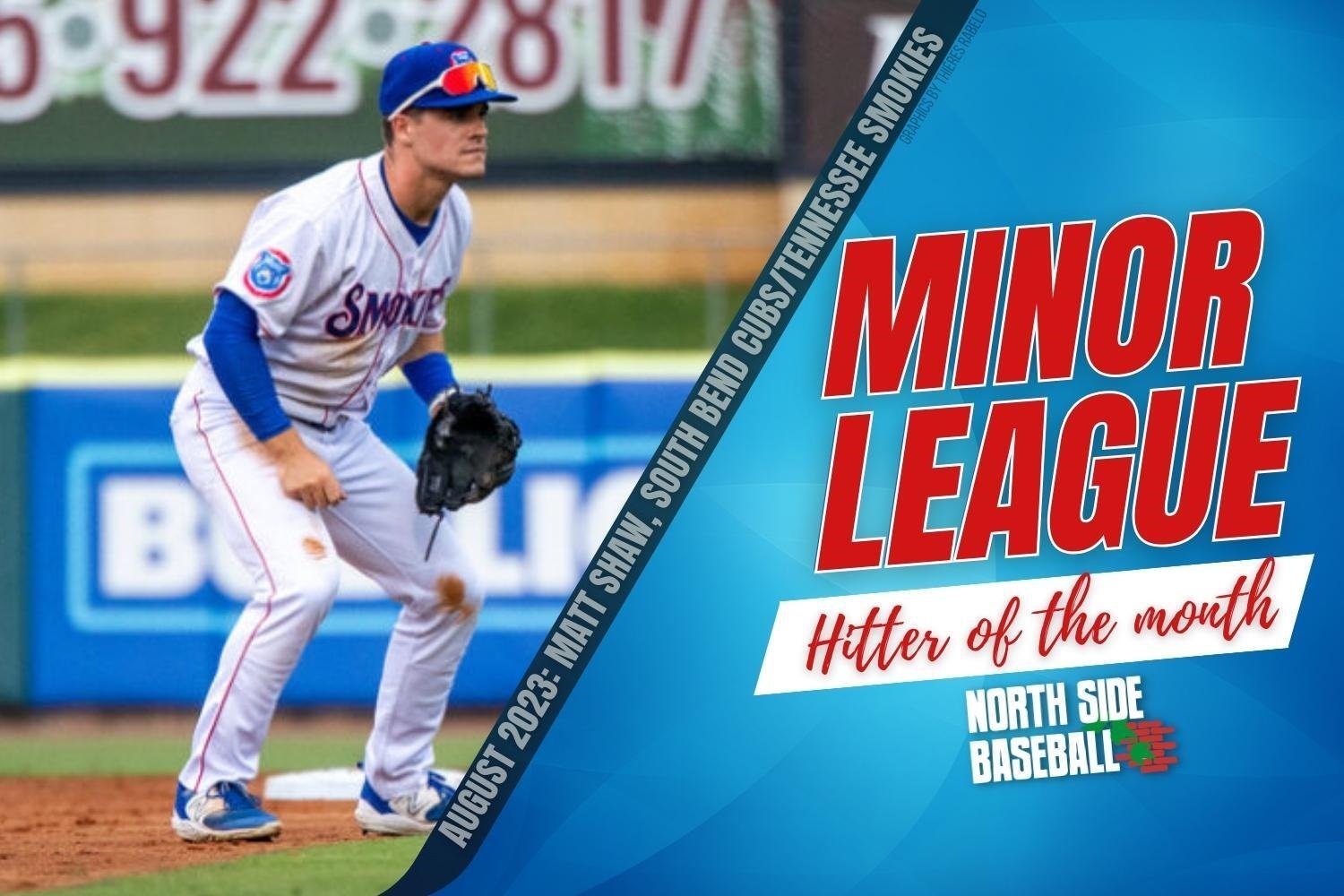 Image courtesy of Lindsay Coward, Tennessee Smokies
August is always a fun month for minor leaguers: the most recent draft class gets added to rosters, many players get mid-season promotions to accommodate them, and others make their final push to be a September call-up. Who in the Cubs system took full advantage of their month of August?  
Honorable Mentions:
Owen Caissie (Tennessee Smokies, AA) 143 wRC+, 29.8% K%, 14.9% BB%, 3 HR, 5 2B
Owen Caissie put together another strong month in August, on the heels of being named Cubs MiLB Hitter of the Month in July. You could argue he belongs a bit higher, but I'm going to continue to knock him for the rise in strikeouts again, as a strikeout rate under 30% is just too high.  
Matt Mervis, (Iowa Cubs, AAA) 116 wRC+, 29.6% K%, 14.9$ BB%, 8 HR, 4 2B
Matt Mervis continues to crush AAA pitching, and it shouldn't be surprising. He hit eight home runs on the month, but the strikeout rate has been creeping up, as he sat just under 30%. Mervis remains in an awkward position in that he probably is too good to be in AAA, but the Cubs are not in a spot to give him a longer look.
Pete Crow-Armstrong (Iowa Cubs, AAA) 104 wRC+, 26.5% K%, 12% BB%, 4 HR, 5 2B, 1 3B
Pete Crow-Armstrong got a bump to AAA, and I'd expect he'll end up in Chicago when the rosters expand at some point. That's two jumps in just over month of action, and that, at the very least, deserves an honorable mention. PCA is a wonderful prospect, with a floor that will almost assuredly make him a useful MLB player; be excited.  
Number 5: Jefferson Rojas (Myrtle Beach Pelicans, Low-A) 112 wRC+, 25% K%, 8.3% BB%, 3 HR, 4 2B
This is an 18 year old. I think it's incredibly important to remember, he's just 18, and he's having these kinds of months in a pretty difficult environment. Rojas has a rocket ship strapped to his back right now, and he's blasting up lists right now. Rojas has been on some "just-missed" top-100 lists for good reason. I'm fascinated to see how he continues down the road, but there's a good chance he's a special prospect just one year from today.
Number 4: Luis Verdugo (South Bend, High-A) 189 wRC+, 8,9% K%, 12.5% BB%, 3 HR, 4 2B
Hello there Luis Verdugo! Entering the month of August, Verdugo had done very little on the season, carrying a sub 90 wRC+ as a 22 year old in South Bend. Verdugo has popped up on some sleeper lists prior to the season, and it's great to see him jump like this. It's probably a little too late to suggest that he's fully "clicked" as a prospect, but it will give him a shot to finish the year strong in South Bend and enter 2023 as an appropriately aged prospect in Tennessee. File this name away for next season as I think he might continue to pop up on "sleeper lists".  
Number 3: Brian Kalmer (Myrtle Beach, Low-A) 189 wRC+, 23%K% 10% BB%, 7 HR, 3 2B, 1 3B
Brian Kalmer, an 18th round selection in the 2023 draft, has made himself a quick name to watch in Myrtle Beach very quickly.  Hitting seven home runs in a tough hitting environment will get you noticed very quickly and as of August 28th, Kalmer had the seventh best OPS of 2023 draft picks. The numbers he's put up are eye-popping, but they probably should be when we consider that Kalmer is already 23 years old and was a senior at Gonzaga. I'm hesitant to get too excited, as he's striking out around once per game (23 strikeouts in 22 games) which is a red flag for the future, but let's enjoy his output regardless. Just a little foreshadowing, but Kalmer won't be the only name from the 2023 draft on this list.
Number 2: Alexander Canario (Iowa Cubs, AAA) 135 wRC+, 31.7% K%, 7.7% BB%, 7 HR, 10 2B
Alexander Canario was absolutely on fire this month, hitting seven home runs, and nine doubles, for a whopping 16 extra base hits. This is important, as Canario is fresh off injuries that could have damaged his power output. The only knock on him this month is that the swing and miss has remained, as he's racked up an equally whopping 32 strikeouts over that span as well. I remain concerned that that he just won't hit the baseball enough at the next level, but players like Patrick Wisdom have proven that even with high strikeout totals, some offensive value can be had if you just hit the ever loving crap out of the baseball when you do hit the ball. This is the kind of month that puts you on the roster bubble for September, and already being a member of the 40-man, Canario will likely make his MLB debut shortly.  
Number 1: Matt Shaw (South Bend Cubs and Tennessee Smokies, High-A and AA) 180 wRC+, 13.1% K%, 4% BB%, 4 HR, 5 2B, 3 3B
What a start for Matt Shaw in South Bend. I'm not sure it's possible to show you're just too good for a level any fast than Matt Shaw has done. There's polish to be had, still, as he hasn't be challenged enough to show how his hyper-aggressive nature will play against advanced pitching. He hit multiple home runs to the opposite field, he's stolen bases, he's made a ton of contact and he's already (reportedly) earned a spot in the Arizona Fall League. Matt Shaw is mirroring Nico Hoerner's path to the MLB and has squarely put himself on the radar to make his debut in 2024. This is back-to-back years that the Cubs have had amazing initial success with their draft picks.