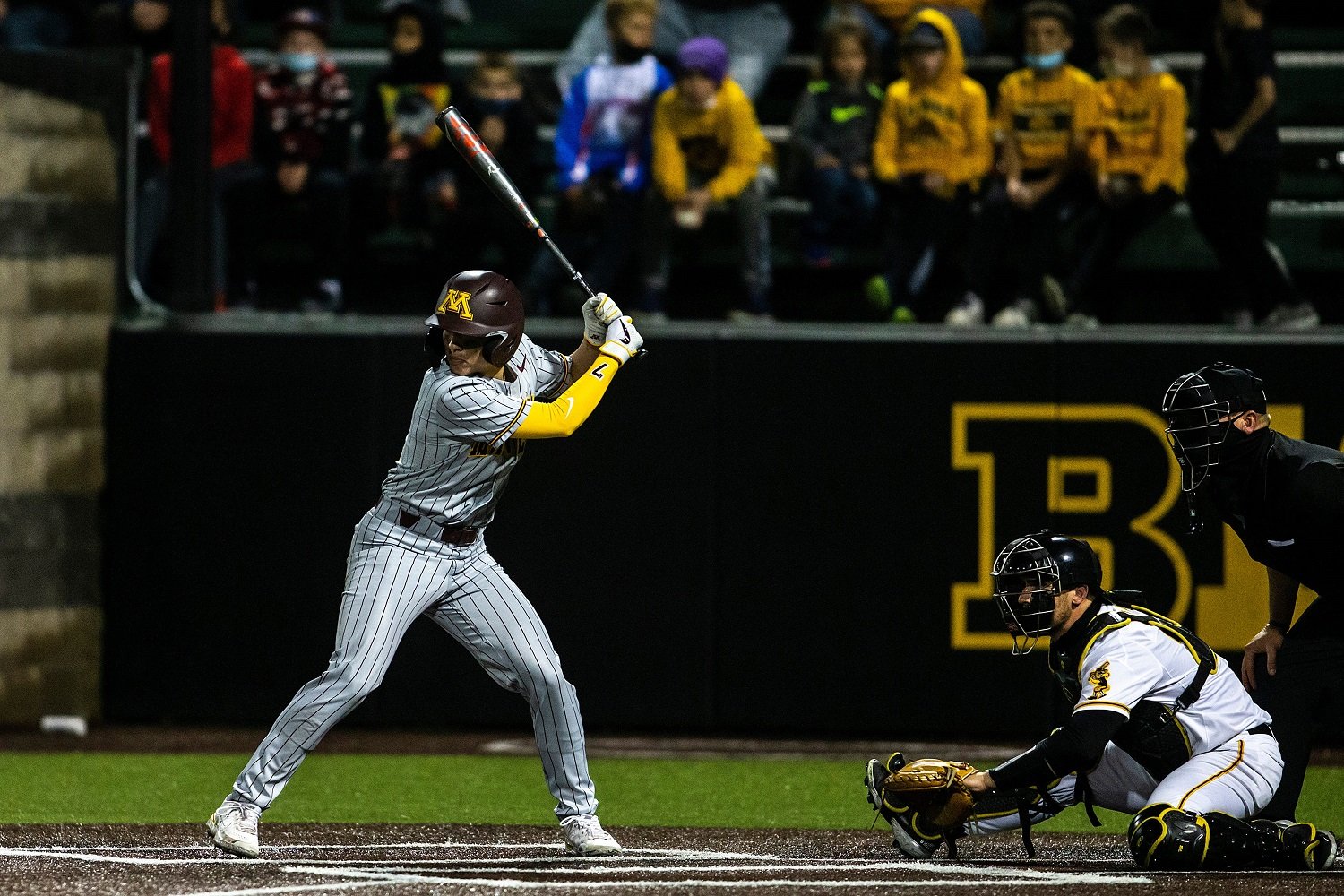 Image courtesy of © Joseph Cress/Iowa City Press-Citizen via Imagn Content Services, LLC
Brett Bateman grew up in baseball. His father is the head coach at Augsburg University in St. Paul and has been coaching for most of his son's life. 
"I've always been around the game. I remember as a little kid, going to the Metrodome, being a batboy on the field. Cheering in the stands. Being exposed to the game and its connection to life at a young age. Making a bunch of memories, a bunch of friendships that have lasted with me until today all thanks to the baseball field, for sure." 
Minnesota may not be the baseball hotbed that Georgia or southern California are, but at Mounds View High School, he got to play against some very talented players. He played against Stillwater High School which included Mets' outfield prospect Drew Gilbert and Cubs' pitching prospect Will Frisch in the state baseball tournament. Max Meyer of the Marlins played in his conference. His own high school class had at least five players play Division I baseball. 
Did his dad push him to play for him at Division III Augsburg? Not at all, though he did mess with him about it. He had Division I offers to a variety of schools including other Big Ten schools. But he was more than happy to stay near home and play for the Golden Gophers. 
"It was hard for me to even picture myself any place but there. And the fact that I'm a 10-minute drive from campus." 
He played a lot as a freshman in 2021 and started most games in 2022 and 2023. His junior season, he hit .355 and got on base 45% of the time. He always played great defense in center field. 
He spent two summers with Willmar in the Northwoods League.  He said, "We had a lot of success. Summer Ball, I always look forward to because it is kind of a reset from college ball." 
He spent time in the Cape Cod League where he said he learned a ton in the three weeks that he was there before the 2023 draft. 
It was enough to garner quite a bit of attention from teams and scouts. There were a few teams that he talked to a lot leading up to the draft. The Cubs were not one of those teams who talked to him a lot. "The Cubs, believe it or not, I talked with their area scout once in January or February, and I never talked to him again until he called and told me they drafted me." 
The Cubs selected Bateman with their eighth-round selection. He started getting calls around the fourth or fifth round. He had a lot of calls asking if he was interested in signing for under slot. He wanted to get something near slot, and the Cubs offered him just shy of slot. 
Bateman was at his aunt's house. His grandparents, some aunts and uncles, his sister and his parents were all there. You'll definitely want to hear the story of his dad seeing his name on his phone.  
So, what kind of hitter are the Cubs getting? "Everyone in the lineup has a different job to do, and everyone's job is different based on how they swing and see the ball and stuff like that. Mine is just to get on base. If I think I can have a better-than-40% on-base clip, but I hit zero home runs, I will take that every single day of the year." 
He continued, "I get on base two out of every five times, I will take that. That is the difference between scoring a run and not scoring a run, especially when you can steal bases." 
"I'm always trying to get more power. I'm always trying to get stronger. Hitting the ball over the fence? I'm down for it. 1-for-5 with a home run, or 4-for-5 or 3-for-5 with all singles? I'm taking the singles every day. That's how I am. That's how I grew up. I've always been a little bit smaller." 
There are players who are paid to drive in runs, and there are players paid to score a lot of runs. It's refreshing hearing Brett talk about understanding himself as a player, always looking to improve, but he's got a foundation for success. As you might expect, some of that comes from his father. 
"My dad has always taught me, you have to have a really good approach, you have to know what you're facing, and you have to be able to scout on your own." 
In college, he would watch video of the upcoming starter and try to develop a plan. And in pro ball, he will have access to more video and more numbers. 
It was truly enjoyable chatting with Brett Bateman last weekend. He was kind enough to chat for about an hour, and it was all very good. I could make this article really long.
We talked quite a bit about the Cubs' 2023 draft class. They took three high school players and 17 players from colleges all over the country. He knew a couple before the draft, but got to know the other guys, some of which he watched on TV.
He talked about what he does outside of baseball, away from the game. He also gave us a quick preview of a novel he is in the process of writing, that I'm pretty sure I will have to watch. 
He is at development camps in Arizona still. Pete Crow-Armstrong showed up last week and Bateman had a chance to work alongside him. 
His energy and enthusiasm when talking about the game and his teammates is infectious. So I hope you'll take the time to watch the full video and feel free to discuss. 
1