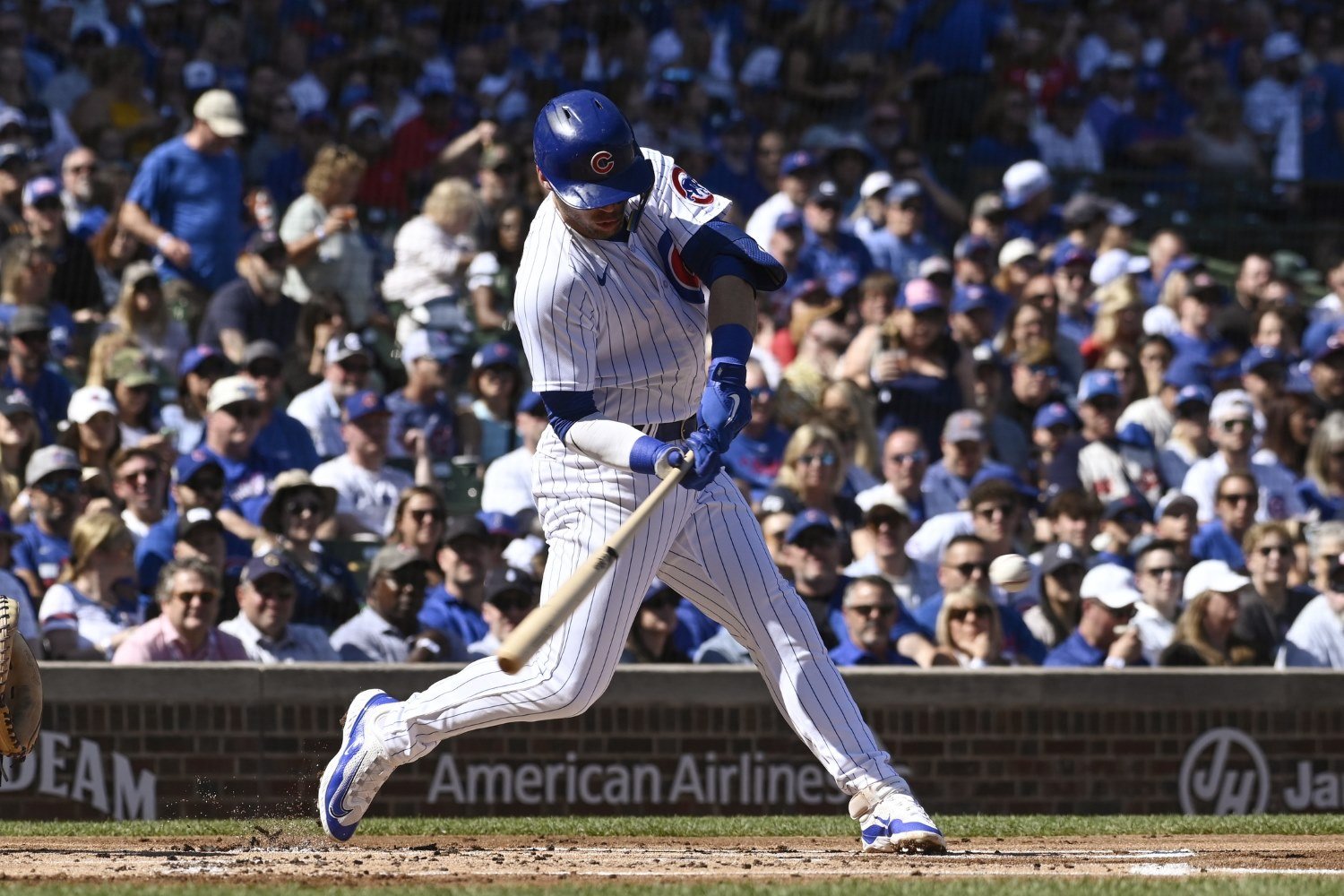 Image courtesy of © Matt Marton-USA TODAY Sports
Nico Hoerner has, undeniably, had a fantastic year for the Chicago Cubs. His .285/.349/.388 batting line is slightly better than league-average, and when you combine that with his elite defense and baserunning, you have a player who is worth 4.7 WAR, according to FanGraphs, which ranks 19th in baseball. 
The fact that Hoerner rates that highly by WAR already makes him unique. It is exceedingly rare for a player who provides so little slug to be so valuable in baseball in 2023. Hoerner has hit nine home runs this year. Nobody else in the top 30 has hit fewer than 17. 
After watching Hoerner play almost every day for the Cubs for two seasons in a row, it's safe to say most of us have a pretty good idea of who he is at the plate by now. He manages a higher batting average thanks to a strategy that basically boils down to "slap the ball somewhere on the field and then run fast." He has recorded a Barrel, by Baseball Savant's definition, in only 1.5 percent of his plate appearances, which is seventh-worst in MLB this season. Aaron Judge, he is not.
However, if Hoerner does have one great skill as a hitter, it is his ability to put the bat on the baseball. He makes contact on 88.8 percent of swings, third-highest in baseball, according to FanGraphs. Put the ball in play, and sometimes, even the weakest contact ends up going for a hit.
Perhaps because he is always putting the ball in play and he strikes out so infrequently, I always thought of Hoerner as an aggressive hitter. Thus, I was a bit surprised when I found him down at 94th of 135 players in swing rate this season on Fangraphs. For context, Ian Happ, who is generally thought of as one of the more patient hitters on the team, is only right behind him at 100th.
The issue here is that Hoerner isn't swinging at any of the pitches he should be swinging at. He has only swung at 61 percent of pitches in the strike zone this season, according to FanGraphs, 14th-lowest in all of baseball. He is near some of the most patient players in baseball–guys like Juan Soto, Kyle Schwarber, and Max Muncy. 
Now, I don't think I need to explain to you the difference between Hoerner and those three guys, but just in case: those guys are going to combine for about 120 home runs this year. Hoerner probably won't hit that number for his career. The other thing is that those three players, along with everyone else that swings at strikes as infrequently as Hoerner does, swing at fewer pitches outside of the strike zone. Hoerner's 33.1 percent swing rate at pitches outside of the strike zone is 50th in baseball.
I also don't think I need to explain this to you, but here goes again: swinging at pitches in the strike zone is generally a good thing. Swinging at pitches outside of the strike zone is generally a bad thing! And the numbers back this up. According to Baseball Savant, Hoerner is hitting .324 and slugging .451 on pitches in the strike zone. He is only hitting .185 with a .226 slugging percentage on pitches outside of the strike zone. 
Of course, it's not quite as easy as "swing at fewer balls and more strikes." If it was, I'd guess Hoerner would be doing so already. To his credit, the decreased aggression in the strike zone has potentially led to some deeper counts. He has an almost league-average walk rate of 7.2 percent and a .349 on base percentage this year, both improvements on last season. 
At the same time, it just feels like there is a better balance to be struck. He makes contact with 80.5 percent of pitches outside of the strike zone. That's the third-highest mark in baseball. For a player that is going to put the ball in play so often, it is imperative that they swing at pitches that they can actually do damage on. 
Nico Hoerner will never be a big slugger or a feared hitter. He has been a slightly above-average hitter for over two seasons now. That's a great baseline for a player who brings so many other skills to the table. I think there still might be a little bit more potential in that bat, however. He just needs to make better swing decisions.