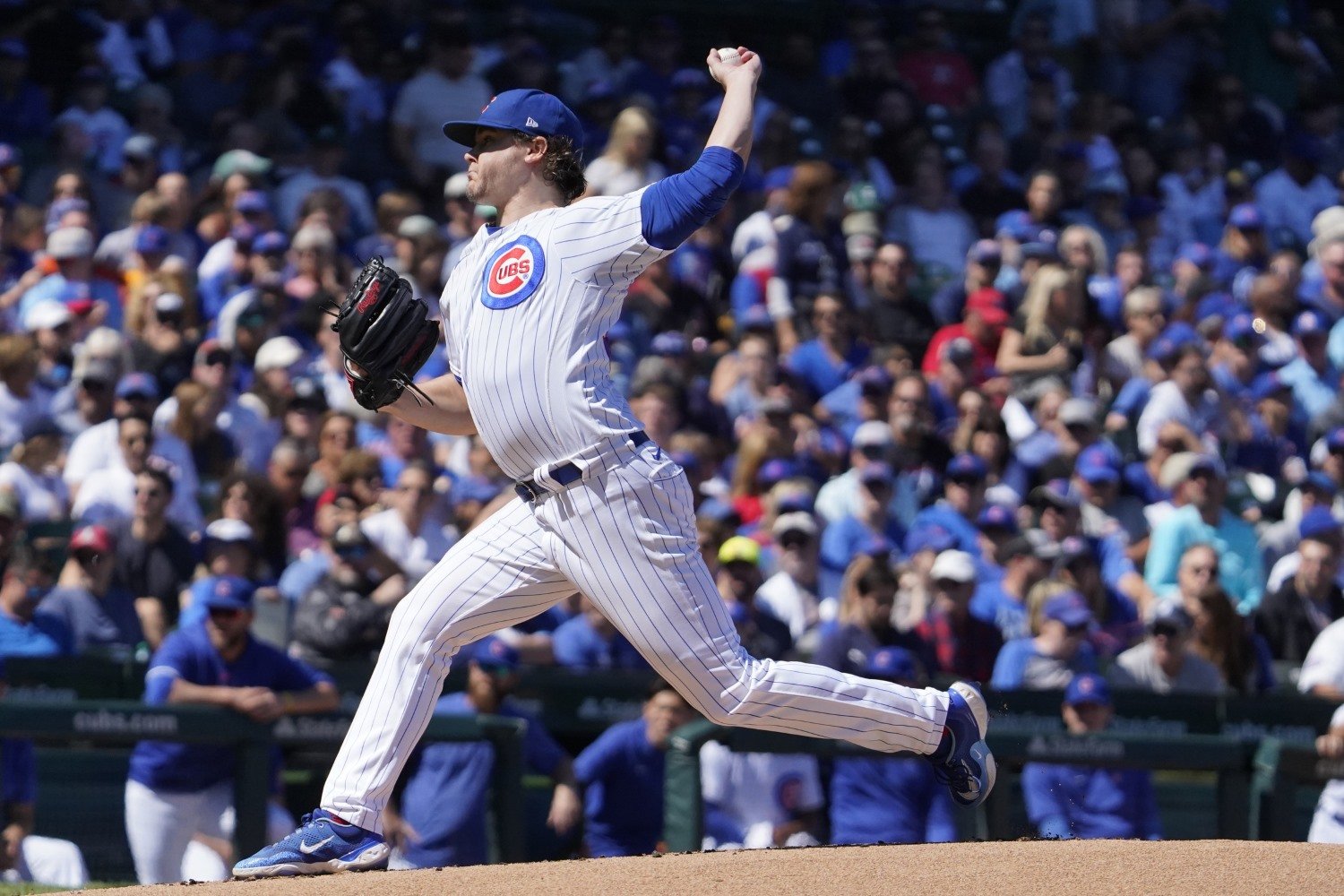 Image courtesy of © David Banks-USA TODAY Sports
Confession time: I was never that high on Justin Steele. A mid-rotation arm? Sure. But a frontline starter capable of hanging with some of the top hurlers around the league? It wasn't something I was buying, entering 2023. It won't be the last time I'm wrong, but Steele has spent the bulk of this season turning me into a believer.
Not only has Steele anchored the staff throughout the season, especially in light of Marcus Stroman's second-half absence, but he's managed to establish himself among the league's elite starting hurlers. An All-Star this year, he's sure to garner plenty of attention as a National League Cy Young candidate when awards are handed out this fall. Just how much attention, though, is a subject of some debate. 
Down the stretch, there were likely at least four names in the mix for the NL Cy Young discussion: Steele, Spencer Strider, Blake Snell, and Zac Gallen. An argument could be made that Zack Wheeler and Logan Webb could find their way in there before it's all wrapped up. 
Here's where Steele stacks up against the other names mentioned: 
| | | | | | | | |
| --- | --- | --- | --- | --- | --- | --- | --- |
| Pitcher | GS/IP | W | ERA | xERA | FIP | K/9 | BB/9 |
| J. Steele | 29/168.0 | 16 | 3 | 3.44 | 2.99 | 9.11 | 1.88 |
| B. Snell | 31/174.0 | 14 | 2.33 | 3.75 | 3.48 | 11.74 | 5.02 |
| S. Strider | 30/176.0 | 18 | 3.73 | 2.98 | 2.82 | 13.81 | 2.76 |
| Z. Gallen | 32/197.2 | 16 | 3.6 | 4.2 | 3.38 | 9.33 | 2 |
| L. Webb | 32/207.0 | 10 | 3.35 | 3.65 | 3.22 | 8.13 | 1.35 |
| Z. Wheeler | 30/181.0 | 12 | 3.63 | 3.19 | 3.22 | 9.99 | 1.84 |
There are a couple of separate debates swirling around this award, in particular, this year. While that's a group of extremely impressive arms, there's no one that has been outright dominant over the course of the full season. The guys with the higher strikeout rates are also issuing free passes at a higher rate than the others. The ones with the high inning counts aren't overpowering hitters; they're limiting baserunners and utilizing the defense behind them (a crime, truly). There's already a negative perception brewing for whoever wins the award, in some circles. It's the kind of year where we're just throwing it to someone who was… fine. It's silly. 
The other debate is exactly what stats we're looking at in determining who should take home the hardware here (I enjoy alliteration). There's an argument out there that the volume stats are most important. After all, if you're going to win an award as the league's top pitcher, you should probably be anchoring your staff throughout the year. Thus, starts, innings, and (gulp) wins matter more so than the other categories. I understand the heart of the argument. I think I agree with the spirit of it. For me, though, the other stuff matters just as much. If you're going to win the Cy Young, you should showcase an ability to overpower hitters with punchout volume and limit your baserunners. That, ideally, should lead to higher volume on the innings and wins side of things, in a more organic sense. 
Voters–a body of which I am extremely not a part–will certainly have some sort of philosophy to which they stick. That could be more of a factor in this particular race than others that we've seen in recent memory, because it does look like there are a couple of distinct groups. 
Our purpose here is to discuss Justin Steele's candidacy for the award. We'll keep it simple with two categories: What Helps & What Doesn't. 
What Helps
Steele is second in the group in ERA, and while he does trail Blake Snell, he has two additional wins, an underlying FIP that lines up well with his ERA, and far fewer free passes. Some have considered Snell the frontrunner, but the factors where Steele has an edge are important. He's allowed much less traffic and has an xERA & FIP that are closer to his actual results. 
While we'd also like to imagine a world where pitcher wins become as (un)meaningful as context should indicate, it's going to matter. And Steele's 16 certainly help, as they are up there among the NL's most. Additionally, he may not have the high strikeout rate, but of the group listed above, only Logan Webb has a higher ground-ball rate than Steele's 49.1 percent. Perhaps more notable is the fact that no qualifying pitcher in the National League has allowed less hard contact than Steele's 27.2-percent mark. The next closest among that group is Snell, who's almost four percentage points higher than Steele in that regard. 
And in the event that recency bias becomes a factor, Steele continues to make a strong case. His seven wins trail only Snell's eight, his strikeout rate is up a tick (10.5 per nine), and his FIP is better than everyone not named Spencer Strider in the second half. 
What Doesn't
Steele has spent some time on the IL this year. He's at 29 starts thus far, which is obviously the lowest number in this pool of candidates. As a result, he has the fewest innings pitched of that group. Like it or not, that's going to hurt him. 
So, too, will his lack of true power stuff. While his strikeout rate has been higher in the second half, he just doesn't possess the kind of arsenal where he's going to send hitters packing at a double-digit clip. Again, we may not like it–strikeouts are not equivalent on their own to good starting pitching–but it will likely factor into the voting. 
Speaking of recency bias, Steele's close to 2023 could also hurt him. With the Cubs in need of every win they can find right now, their ace has surrendered six earned runs in two consecutive starts. On Sept. 15, he did so against Arizona, a direct competitor with the Cubs for a Wild Card spot. He did it again on Sept. 20, but against inferior competition out of Pittsburgh. As much as the broader context of the second half could help, his close could end up doing more harm than good. 
Ultimately, it's tough to pick a direction as to where this NL Cy Young Award is actually headed. There's an argument to be made for any of the six above. Strider & Snell have dominated hitters for the bulk of the year. Logan Webb has not, but he's been extremely effective with his own skill set. Steele, Gallen, and Wheeler represent the middle tier of the debate. While these final couple of weeks could render a death knell to Steele's chances, the fact that it's still a hodgepodge of a variety of pitcher types means nothing is decided quite yet. 
He'll have another chance to stake his claim next week, against Atlanta, and perhaps even a Game 162 start in Milwaukee to lend him the spotlight.