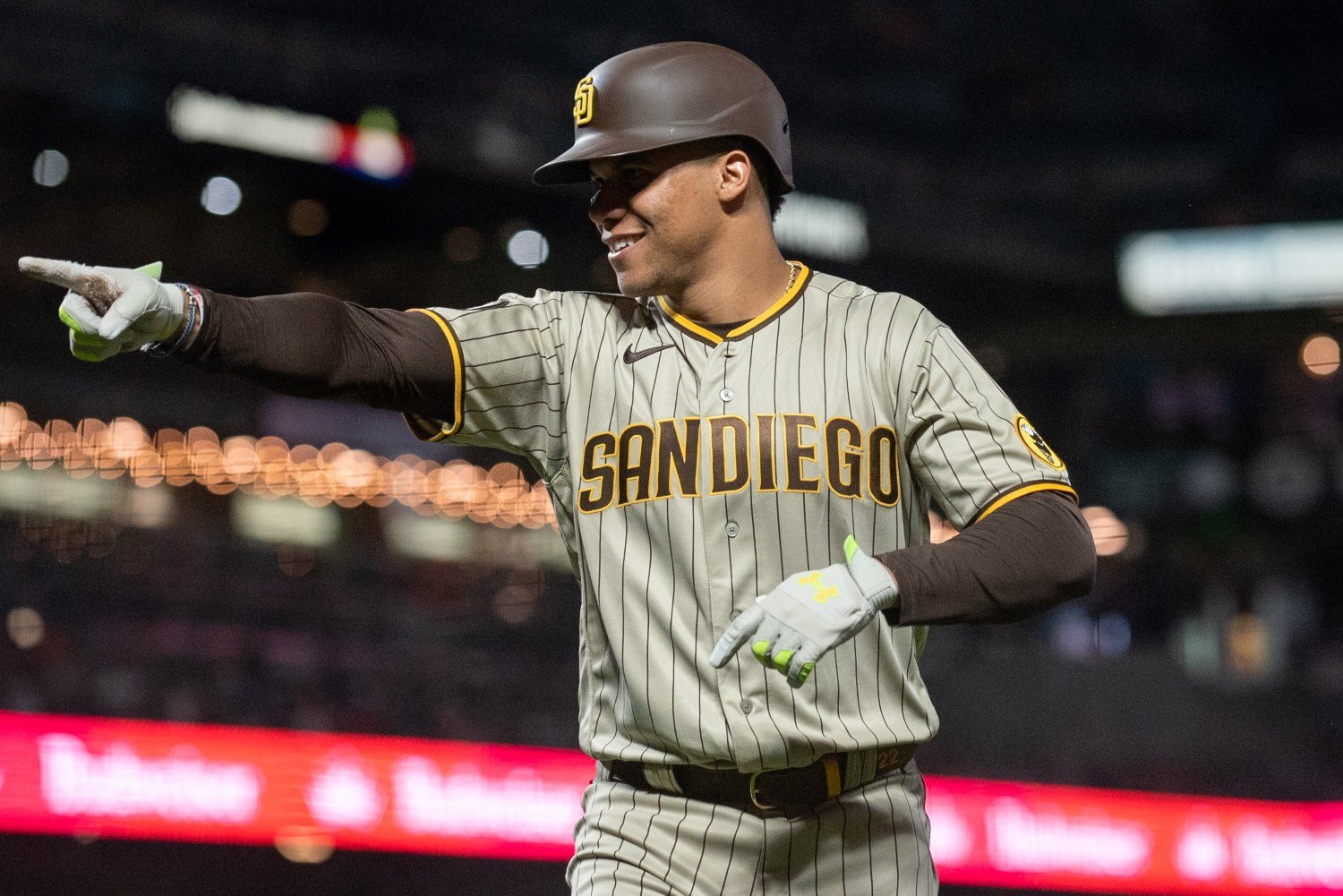 Image courtesy of © Ed Szczepanski-USA TODAY Sports
We should be clear: Juan Soto is a phenomenal baseball player, and getting excited about the possibility of him becoming available in trades next month is only natural. There's no question that the Cubs' interest in the superstar is legitimate, because anyone who isn't at least interested in Soto doesn't understand baseball. Given the expectation that Jed Hoyer and his staff will be active this winter, any whiff of a fit between the Cubs and Padres on Soto has to be taken seriously, and once you start that kind of thing rolling, it only goes in one direction. No one is going to stop and go, "On second thought, let's just wait and see."
That said, taking Soto-to-the-Cubs rumors seriously means engaging with some difficult questions. Here are the big ones.
How great would the acquisition cost be?
For any trade target, the most important variable is the talent the other team would demand in order to give up that player. Soto is, obviously, one of the dozen best hitters in baseball, and that caliber of player should net a lot of trade value. Just as obviously, though, players this good are only traded when some exigent circumstance exists, and those circumstances tend to tamp down the real trade value of that player.
In this case, as in most recent precedents, the mitigating factor is that Soto is entering his final season of pre-free agency team control. He's going to make over $30 million via arbitration next year, which is why the suddenly penurious Padres have any interest in dealing him. That will eat into the trade value they can realize for him, not only because of the actual limit on value applied by the brevity of his remaining control but because of the perception that A.J. Preller has little choice but to take the best offer he can wangle.
The recent precedents to which I just alluded are Mookie Betts and Francisco Lindor, and while they're illustrative, the thing they most clearly teach us is that this is an unpredictable process. Betts netted the Red Sox almost nothing useful. Alex Verdugo was the headliner of the return. He's since settled in as a sometimes maddening, occasionally exciting, broadly average player. The rest of the young talent they acquired was considered underwhelming at the time, and they've undershot even the projected outcomes since then. Lindor, by contrast, got Cleveland a haul that included both Andres Gimenez and Amed Rosario--the middle infield with which they won the AL Central in 2022. Rosario is now gone, but Gimenez is a long-term fixture in the Guardians lineup. He just won the Fielding Bible Award at second base.
In each of these cases, the superstar on the block commanded an impressive young player in return, and in each case, the team trading that star away also got some solid but non-premium prospect talent to round out the transaction. You can credit Cleveland for better scouting than the Red Sox did in that process, but they also had the advantage of being a team who consistently behaves that way. Their front office has institutional memory and well-polished skills when it comes to trading expensive players as they near free agency. Two years before making the move, they knew they would be making it, and they laid groundwork and did long-term planning around that. The Red Sox were a team in chaos when they hurriedly cast off their franchise player.
The Padres are certainly more like the latter than the former, at the moment, so mark a box in favor of them being in weak bargaining position. Don't lose sight of another important fact, though. Both the Dodgers (David Price) and the Mets (Carlos Carrasco) took on a second, semi-onerous contract in the deals that put Betts and Lindor in new places. If the Padres deal Soto without attaching someone like Jake Cronenworth (starting a seven-year, $80-million extension next year, at age 30, coming off his first below-average season with the bat) or Yu Darvish (who just posted a 4.56 ERA in the first season of an extension that will pay him $108 million over six years), they'll want more back than either Betts or Lindor cost.
What does that mean for the Cubs? It must start with Christopher Morel, since his name keeps coming up so relentlessly in this process, but it's insane to think it could stop there. Even if Cronenworth or Darvish were included, Morel would be the equivalent to Verdugo in the Betts deal: a good first piece, but hardly the last. In any clean Soto-only trade, Morel is a co-headliner, along with someone like James Triantos, Jackson Ferris, or Ben Brown. There would be a third piece of some substance in such a package, too. 
That's a livable price, if Soto is the final piece of a championship puzzle. Is that the case here?
What would a Cubs lineup that included Soto look like?
No, it isn't. The Cubs are not Juan Soto away from becoming a dynasty again, even if they use their one year of team control to impress him so thoroughly that he signs an extension worth half a billion dollars to stay there for the rest of his career. It was pretty clear, by the disappointing end of this past campaign, that the team needs more than one more bat, and a couple of potent arms, too. To illustrate that, let's ponder a Soto-infused 2024 Cubs lineup:
Nico Hoerner - 2b

Juan Soto - dh

Seiya Suzuki - rf
Ian Happ - lf
Dansby Swanson - ss
Matt Mervis - 1b
Yan Gomes - c
Pete Crow-Armstrong - cf
Nick Madrigal - 3b
That's not a markedly better lineup than the team fielded for much of last season. It includes an upgrade from Cody Bellinger to Soto, but that comes at the cost of the downgrade from Morel to Mervis. To whatever extent this lineup would outscore the 2023 version, it would be mostly because Suzuki sustains his improvement from the final two months of this year.
You're saying, "Matt, they wouldn't stop with acquiring Soto. And landing him would only redouble their urgency to re-sign Bellinger." You're probably right. Go ahead and swap Bellinger into Mervis's place, and swap him with Happ in the batting order. Now, that's a handsome lineup. It can hit, too. To do that, though, you plunged a bunch of long-term resources into what figure to be two very short-term improvements. Soto will be a free agent after just one year, and Bellinger suddenly takes up $25 million per annum on the payroll, guaranteed until the 21st century is in its 30s. Meanwhile, as Crow-Armstrong takes the requisite time to adjust to big-league pitching, the team is getting minimal production from the bottom of the order.
Still, we do have a productive lineup here. We can even imagine it as a better one, if Cronenworth does come along for the ride with Soto. (Just don't expect the savings in acquisition cost to be as great, if he does, as they were for the Dodgers when they took on Price. Cronenworth's deal is a problem for San Diego, given their roster and their finances. It would be closer to asset than liability for the Cubs, and the magnitude of any change in price would reflect that fact.) It's awfully expensive, though, and the team is probably out of money already, with some major changes still needed on the pitching side. So, let's make the next logical maneuver: trade Ian Happ for young talent, balancing the ledgers somewhat in terms of both talent and money. Maybe Happ gets you a starter who can slot into the middle of the rotation. If not, dealing him creates monetary wiggle room. You could go sign a helpful arm with the savings from not paying him.
That leaves us with:
Hoerner - 2b

Soto - lf

Suzuki - rf

Bellinger - 1b

Swanson - ss

Cronenworth - 3b

Patrick Wisdom - dh

Gomes - c

Crow-Armstrong - cf
Once you account for the opportunity to platoon Wisdom with Mike Tauchman, rotate Tauchman and Alexander Canario through the outfield spots to keep people fresh, and slide Bellinger or Hoerner up the defensive spectrum in case of injury, this is an exciting and dynamic lineup. Kevin Alcantara and Matt Shaw are probably still in the organization. Maybe Owen Caissie is, too. By the stretch run, this could be an elite offense, with star defenders up the middle (including, perhaps, Miguel Amaya, unseating Gomes as the regular backstop). 
We still have the problem of being very expensive, and spending so lavishly on Bellinger probably precludes you from dreaming much on retaining Soto at the astronomical number we all know he'll find next winter. This is a championship-caliber club, though, if things break right--especially since we can assume the pitching staff got a bit better in the process.
Is all of this feasible?
My final analysis, then, is that a Soto pursuit makes ample sense for this team. It's just that, at least at this early stage, the excitement has far outrun rational expectations. I just laid out a path to making a Soto deal truly helpful that includes not only winning the lively sweepstakes for him, but re-signing a player to a deal worth more than $150 million, and trading a fan favorite who just signed a contract extension six months ago. To call it a long shot would be a nigh criminal understatement.
If you're especially bullish on Happ, Hoerner, Crow-Armstrong, and Gomes, and if you believe the Ricketts' budget for 2024 is going to approach $275 million, then you don't need to dream on this complicated, gilded trifecta of moves--although, potentially, we're also talking about a fourth move, offscreen for now, in which the team lands a top-flight pitcher. If you think Bellinger can repeat what he just did in 2023, then re-signing him is so desirable as to feel almost necessary, and doesn't feel like a complication in a scheme to land Soto--but rather, like a bonus. All of that is fair and valid. 
Still, the needle the Cubs would be attempting to thread by pegging their winter strategy to a Soto trade has an eye smaller than Madrigal's pinky toenail. It would require an improbably risky trade by a risk-averse front office; a big investment by an ownership group that has been unpredictable and often stingy; and better player development and roster management at the big-league level than they've gotten at any time since 2016. Soto is a historic talent, and it's an absolute requirement that the Cubs explore landing him if that's even a remote possibility. For the moment, though, 'remote' should get more emphasis than 'possibility' when you ponder these rumors.