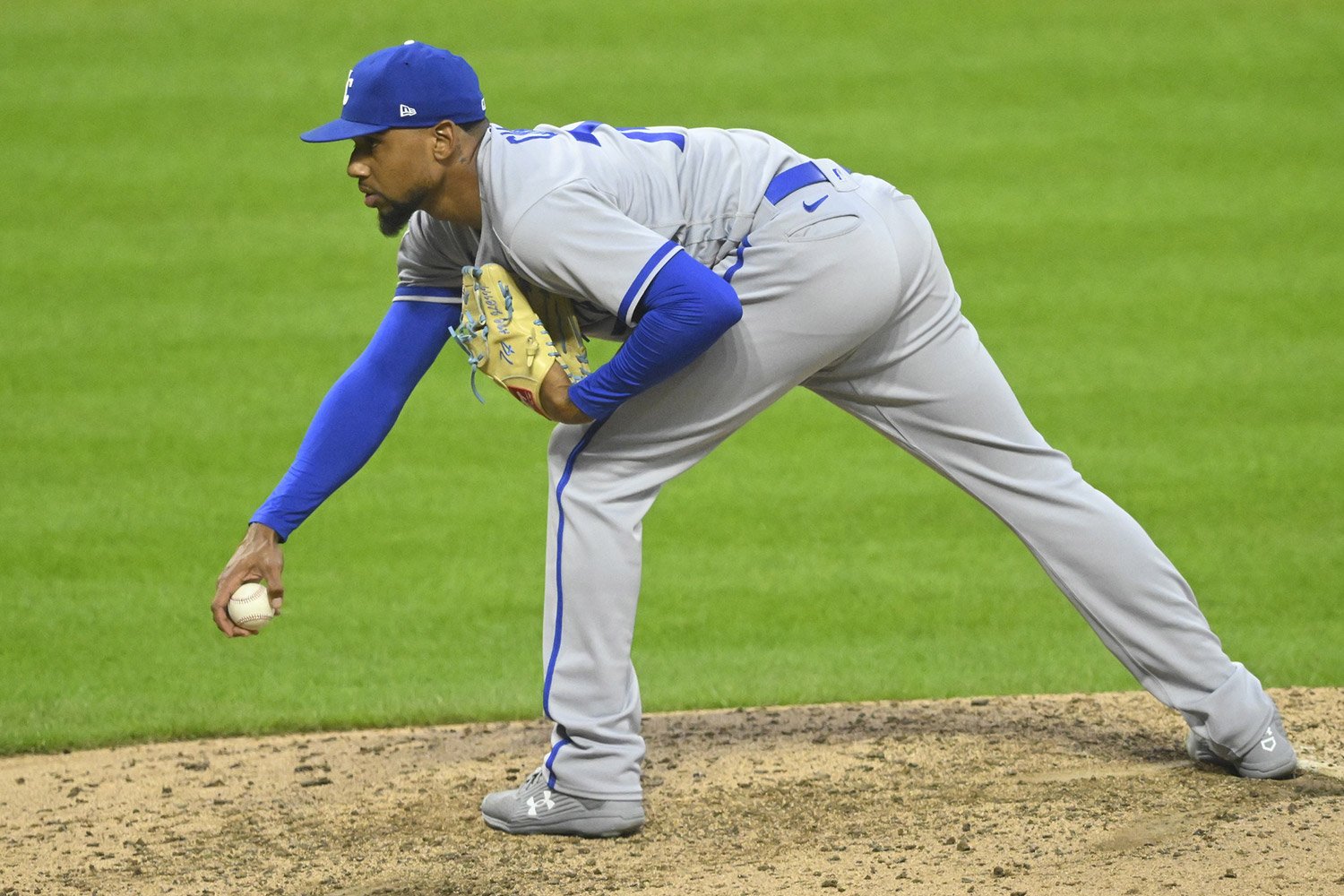 Image courtesy of © David Richard-USA TODAY Sports
The move ostensibly opened up a spot for top prospect Pete Crow-Armstrong in the crowded Iowa outfield while giving the Cubs some much-needed relief pitching depth. However, the Cubs aren't just giving away a guy with the talent Nelson Velazquez has - Cuas has some legitimate A-grade stuff when he's on, and it's worth a deeper dive to see what he can provide to the Cubs now and in the future. 
The first move that will likely pop into people's minds when seeing this one is the Wade Davis for Jorge Soler trade following the 2016 World Series win. Though the teams and positions of the players are the same (which in and of itself is a crazy coincidence), there are plenty of differences. Soler was far more accomplished in his time in the big leagues at the time of that trade, while Davis was one of the best relief pitchers in all of baseball. On the flip side, Velazquez has received sporadic (at best) playing time when on the Cubs, and Cuas is still figuring out how to harness his elite stuff. It's also worth mentioning: Cuas is under control through 2029, not even reaching arbitration until the 2026 season. 
Looking at him deeper, the basic stats don't tell the whole story; Cuas has a 4.54 ERA and nearly-matching 4.46 FIP, suggesting he's mostly earned his mediocre results this year. He's got an impressive 11.2 K/9, though his 1.608 WHIP (inflated by an unsightly 4.5 BB/9) suggests he's still unrefined as a pitcher. His results this year are pretty similar to last year's (his first in the big leagues), though his ERA+ has dropped from 114 to a below-average 98. 
What stands out most about Cuas is actually the eye test: his fastball has the ninth-best Stuff+ score (minimum 20 innings pitched this year) according to FanGraphs, despite the fact it's his third most used pitch. His slider/sweeper is inconsistent but absolutely filthy when at its best. This seems like a guy destined for a dominant two-pitch mix, which should make him an effective reliever in time when paired with his unique sidearm delivery. 
The Cubs, especially since the hiring of Carter Hawkins as GM, have touted the proficiency of their Pitch Lab™, and they clearly see a guy whose stuff and makeup suggest there's more in store than just a league-average reliever. Cuas also has a number of option years remaining (i.e., he can be shuttled back and forth between the big leagues and the minors), providing the Cubs invaluable flexibility in the bullpen as he learns to pitch more to his strengths. And, of course, should the Cubs unlock him immediately, he'll remain in the majors as a cost-effective setup man to newly minted closer Adbert Alzolay. 
It's a smaller trade than the Jeimer Candelario one from earlier today, but it could prove prudent in due time should the Cubs help unlock Cuas' next level. It's a bittersweet pill to swallow to say goodbye to Velasquez, who electrified at times in his short stints in Chicago, but the Cubs have signaled today once and for all: they are ready to win now.