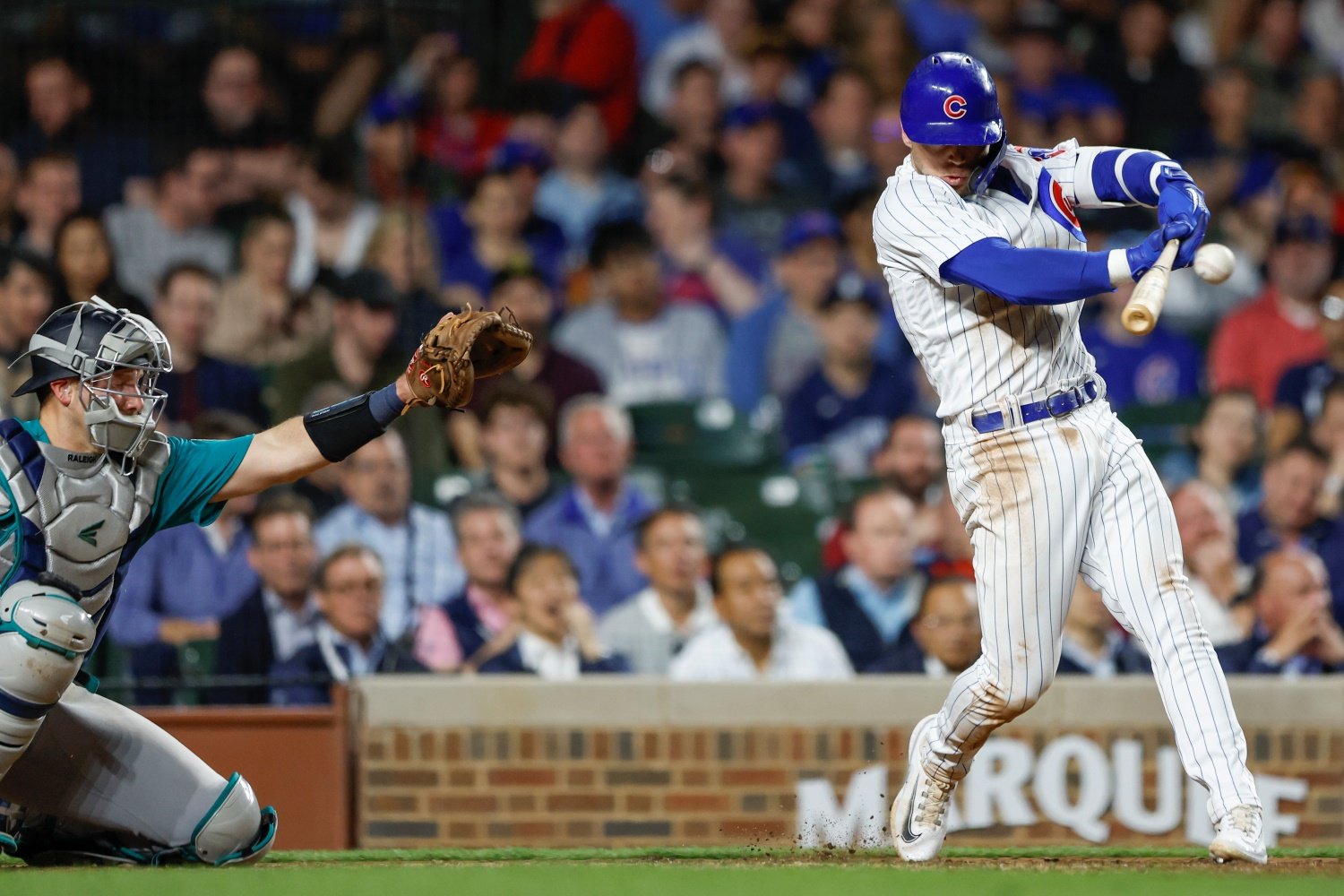 Image courtesy of © Kamil Krzaczynski-USA TODAY Sports
Every great hitter has great hands. They all have sharp eyes. They all have strength from elbow to fingertips. Nico Hoerner has all of those things, but he doesn't deploy them in especially traditional, straightforward ways. He has his own wrinkle, and it's a doozy.
Let's look at what is a quintessential Hoerner hit, a single he cracked against the Rangers last week.
 And then let's hone in on a still from that clip that really captures what Hoerner does differently from the rest of the league.
Look at the angle of Hoerner's bottom hand and wrist to the bat. For that matter, look at the top hand, too. That's not normal. The cooperation between his arms and the way they keep the bat even with his rotating torso is unusual, but that bottom hand--crooked so far that he's almost leading with his wrist, leaving the palm, thumb, and fingers slightly behind. This is the motion of a man gently shooing away a cat with the back of his hand, not an MLB-caliber swing. It looks like it would sap all the strength and bat speed from the whole thing.
It doesn't. Hoerner has meaty forearms that let him apply plenty of force through contact, and he gets most of his sheer bat speed from his lower half. His bat whips through the zone in rhythm with his fast stride and weight transfer, and despite the fact that he really blocks himself off with the way he lands on the front foot, he generates plenty of energy that way. The still is also a little bit misleading. He extends through contact, and finishes with his hands seeming to reach up the bat, rather than gripping it in his fists.
What he can do with that peculiar hand movement, though, is adjust the plane or speed of his swing more easily at the last moment. That's why he seems to make fairly solid contact even when fooled, and why he so rarely whiffs on anything. When he starts his swing, his top hand is almost cocked backward, and his bottom wrist is straight. As he executes his swing, he's slightly rolling the two, until it feels like his top hand is just a guide and his bottom hand is doing the real attacking. Letting his forearm and wrist lead that movement give him finer, smoother control of the bat all the way through the hitting zone.
This wouldn't work, except that Hoerner keeps his hands about as close to himself (on average) as any hitter in MLB. In the clip above, he's reaching a bit for the ball, but even that doesn't look exaggerated. Here's a more typical Hoerner swing, and another single up the middle against Texas.
His whole swing is such a quick and compact movement that Hoerner doesn't feel a need to extend his hands in search of great power or to separate his hips, shoulders, and hands to maximize torque. He keeps that parity between both arms; the chest and back; and the lower half as well as anyone, and it makes him quick to the ball.
That style has drawbacks, too. Go back to the still shot of the first single, above. Note that it's a pitch on the outer part of the plate, but not even off of it, and that Hoerner still hits it off the end of the bat. That happens to Hoerner a lot, especially for a man who stands 6-foot-1 and has such a reliable eye for hittable pitches. By keeping his hands tucked in so close, including that way of gripping the bat that lends him extra control, he's missing the chance to barrel the ball up more often.
On balance, though, it's all worth it. The extra control Hoerner derives from this quirk of mechanics more than makes up for the price he pays in extra-base hits. He could still make some minor adjustments, and he might find more power that way without sacrificing much pop. If he never changes a thing, though, he can hit for a high average in MLB for another several seasons, and he'll continue to be fun to watch. His hands make the bat more a precision instrument than a blunt object, and Hoerner is looking like a virtuoso to open 2023.