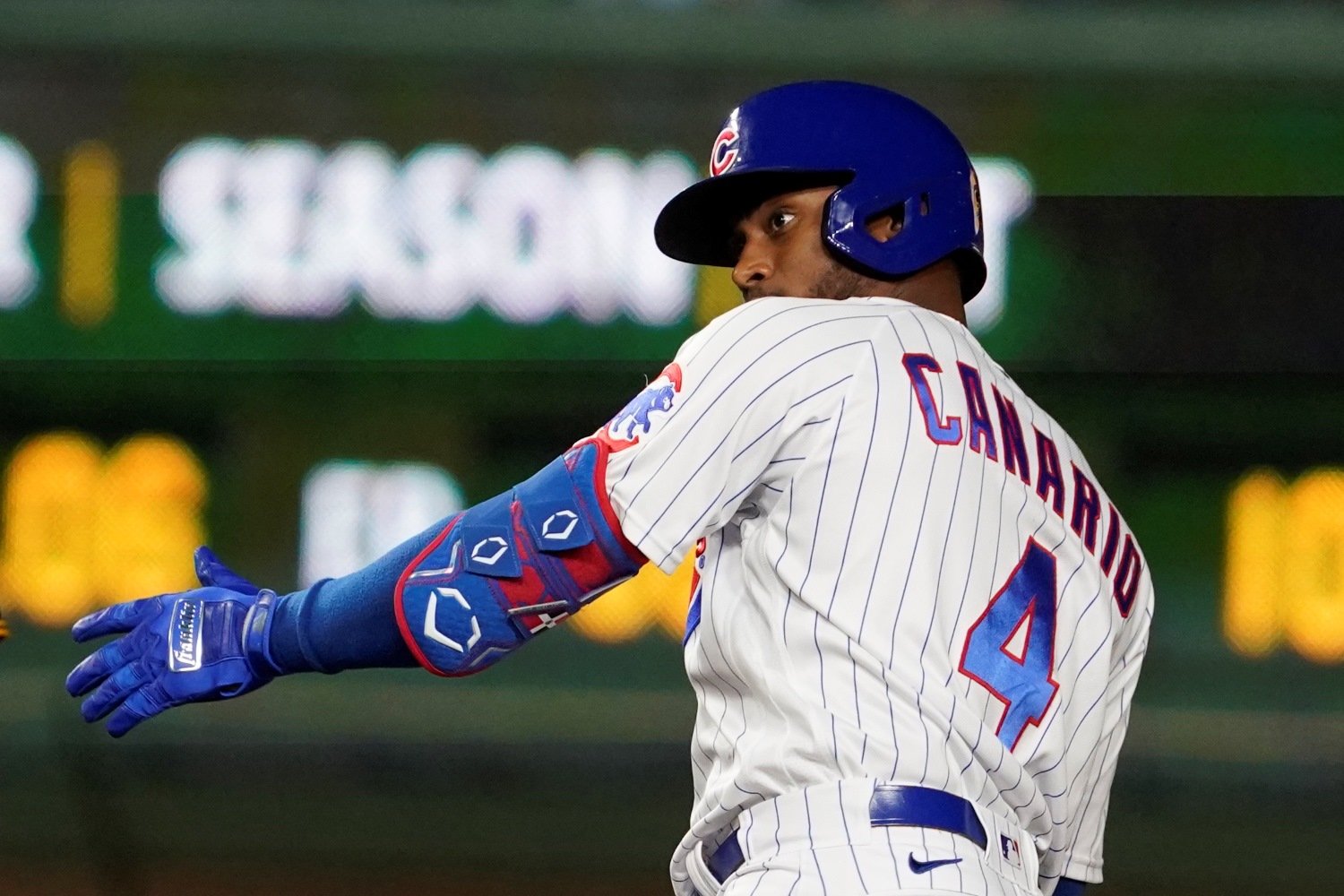 Image courtesy of © David Banks-USA TODAY Sports
For Kevin Alcantara, the big roster clock in the sky is already ticking. The fact that he needed to be placed on the 40-man roster last November is one reason why he was available to the Cubs in the Anthony Rizzo trade the previous July. Teams always have one eye on the countdown to when a player needs to go on the 40-man, and once they're there, that attention shifts to the number of years left in which a player can be optioned to the minors. Alcantara spent most of his first season on the 40-man in High A, where he could be of no help to the parent club, and that also took up one of his option years.
At least Alcantara has two of those remaining. Alexander Canario is due to be out of them altogether, having used up all three of his option years already. Again, one reason for the Giants' willingness to surrender him in the Kris Bryant trade in 2021 was that Canario was already on the 40-man but still playing in High A--essentially, that he was Alcantara, two years before Alcantara was. The good news for the Cubs is that, because of the injury Canario suffered last fall that cost him a good chunk of 2023, he's eligible for a fourth option, so he can still be stashed in Iowa in 2024.
In practice, though, these two can't be almost dead 40-man spots in 2024, as they were in 2023. We saw the team get cornered in terms of roster moves more than once in the second half, and much of it was because they had players like these two--too good to try to remove from the roster, but not in position to contribute to the team of which they were theoretically a part. Besides, the Cubs have to make an aggressive trade or two this winter, and they'll need to add at least a couple players to their 40-man again next month, to protect them from the Rule 5 Draft. They need to know what they have in Alcantara and Canario, so they can plan their next moves.
For those reasons, Alcantara's current stint in the Arizona Fall League has unusually high stakes. He only got a brief taste of Double A in 2023. He's seen very little advanced pitching, for a guy the team could remotely hope to use next year. The AFL is not a great place to check that box, especially this year, but it's still a step up from day-to-day competition in the Midwest League--at least in terms of the polish and command of the pitchers. Alcantara has responded well to the much-needed challenge so far, but it's also clear that he needs time and reps to figure things out.
In 30 plate appearances so far, Alcantara is hitting just .185/.267/.407. He's hit two home runs and drawn three walks, but fanned nine times. That's a sufficiently encouraging start, but obviously, the hope will be that he can get some more hits and put the ball in play more often the rest of the way. Strikeouts are the big concern about his game, but he trimmed his strikeout rate during the regular season--not only from the previous season, but as this one went along. From July 1 onward, including his stint in Tennessee, Alcantara batted .336/.416/.552, walked 12 percent of the time, and only fanned at a 22,3 percent clip. The Cubs will want to see him adjust and attack the same way against AFL pitching.
Canario, meanwhile, canceled his initial plans to join Alcantara in Arizona. Instead, he'll be playing in the Dominican Winter League. The Cubs had to sign off on that alternative arrangement, and the fact that they did so is somewhat telling. Think a bit about the offseason calendar, and how it matches up with that of fall and winter ball. The AFL is almost a fortnight old already. It will wrap up in less than a month, just before teams need to make decisions about whom to add to their 40-man and whom to leave exposed to the Rule 5. Traditionally, that window--mid-November, through Thanksgiving--is the first active trade window of the offseason. It's in that stretch, for instance, that the Braves traded Jason Heyward to St. Louis in 2014, and that Jeff Samardzija was traded to the White Sox by Oakland the same year.
Meanwhile, the Dominican league (LIDOM) doesn't even start for another week. Teams could play well into January. That the Cubs are ok with Canario going to that league to make up the time he lost due to injury in 2023 signals that they're in less of a hurry to establish his value for 2024--be that to themselves or on the trade market. To put it another way: they're more concerned about scouts for other teams seeing Alcantara right away than about getting the same eyes on Canario.
Though he's a very exciting prospect, perhaps with the best sheer upside in the entire system, Alcantara is going to come up in trade rumors a lot this winter. It makes sense, if the Cubs find themselves engaged with a trade partner who isn't in a 40-man crunch, for them to at least listen on him. The presence of Pete Crow-Armstrong ensures that most of Alcantara's playing time in the big leagues would have to come in the corner outfield spots, where Ian Happ and Seiya Suzuki are each under contract for the next three years. Crow-Armstrong's disappointing September audition notwithstanding, he's very likely to be the Cubs' primary center fielder in 2024. Alcantara won't be able to push him off that position unless Crow-Armstrong totally collapses at the plate, which few people expect.
In theory, of course, there's an open role there. Alcantara could spend much of 2024 in the minors, anyway, and in 2025, he might platoon with Crow-Armstrong in center or with Happ in left, while frequently spelling Suzuki (who could DH instead on those days) in right. That's a tough thing to ask a toolsy 22-year-old to do, though, and holding onto a player for an entire year when it's not clear that they'll have a more steady gig than that the following year is a tough ask for a contending team.
The role just described fits Canario perfectly, though, and the team doesn't have to wait a year for him to be ready for it. He's likely to be available in trades, too, but since his value to acquiring teams would be much lower and his value to the 2024 Cubs is much higher, he's less likely to be dealt. It feels like the Cubs sent him to LIDOM because he can best prepare for helping them in the big leagues next year by going there. It feels like they sent Alcantara to Arizona not only because it's the next natural step in his prospect progression, but to showcase him as a potential centerpiece in a big deal.
The sledding is not going to get easier in 2024, within the NL Central or the National League as a whole. The Cubs have to improve significantly in order to get over the hump and into the postseason next year. Canario and Alcantara can each make big contributions to that endeavor, but those contributions are likely to be very different from one another. It made sense, then, to give them these very different offseason assignments.