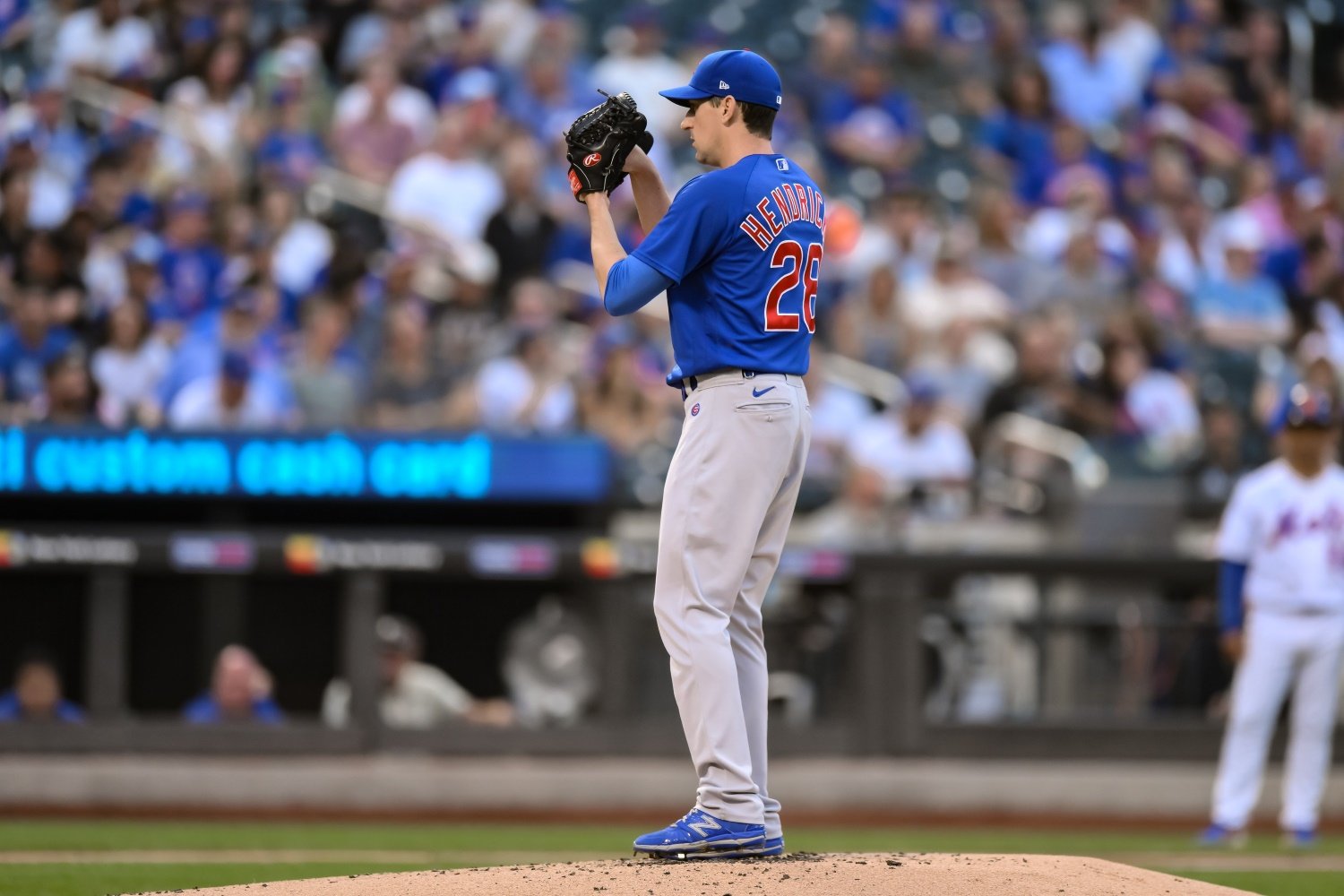 Image courtesy of © John Jones-USA TODAY Sports
It's not as though Kyle Hendricks has ever had as wide a margin for error as most pitchers enjoy. With his relatively simple pitch mix and lack of velocity, he needs to have good movement and location to get opponents out consistently. He's more dependent on the former (and less so on the latter) than most fans believe, but everyone understands that when Hendricks lacks command of either his sinker or his changeup, he's in for a long day.
For the most part, Hendricks has thrived this season, and his mistakes have been within that narrow margin. Since the All-Star break, though, he's struggled significantly with commanding his fastball to its desired location on the third-base side of home plate, and it's put the team in early holes that could be avoided. They could be, that is, if Hendricks can by some means break the pattern.
First, a clarifying note: As I've written often, Hendricks's changeup has long since become (basically) two different pitches, and the difference between them has never been more stark. He's also been increasingly reliant on that pitch (well, those pitches) to both lefties and righties this year. That has increased the importance of distinguishing his four-seam fastball from his sinker. He throws the former in conjunction with his fading changeup, to left-handed batters, and the latter as a pair with the cut-change he uses against righties. For the purposes of this quick study and presentation, though, I'm lumping the two fastballs together.
There's a good and simple reason for this. I want to talk specifically about location, and while he pairs his pitches differently, Hendricks is pretty consistent in aiming for that outside edge to lefthanders (and the inside one to righties) with his heat. That's where both pitches set up their partner changeup varietal best. Thus, we can safely examine them as a group, without breaking things out by specific fastball type or handedness.
Here's where Hendricks's four-seamers and sinkers have gone in Innings 3 and 4 of his starts this year. 
You can see him missing on some occasions; coming over the plate to fool hitters or steal a strike on others; and teasing the corners to induce chases at still others, but it's pretty clear that Hendricks is trying to paint that corner most of the time, right? Look how well he does it late in his starts, from the fifth frame onward.
That's why they call him Professor. He's clinical. He's careful. He's precise. 
Alas, early in games, that same refinement is not at all in evidence. Here are his locations in Innings 1 and 2 of starts this season.
These heat maps are made of objective data, but they can invite some subjective readings. To lend greater clarity to the problem, then, consider these less negotiable facts:
Hitters have a .395 weighted on-base average (wOBA) against Hendricks's fastballs in the first two innings, and a .350 mark thereafter; and

They're batting .293/.341/.440 against Hendricks in his first 25 pitches of outings in 2023, but for the rest of his appearances, they run an OPS just south of .600.
Simply put, for whatever reason, Hendricks has trouble locking in the command of his fastballs prior to his starts this year. He's only walked 20 batters for the campaign, but half of those have come within the first two innings, and nine of them within that first 25-pitch window. Wildness, even if it be comparatively mild, is a problem for Hendricks, because any batter who reaches base might wreak havoc on the bases and augment the opponents' hope of another hit. Hendricks once controlled the running game well, but no longer, and he has had to yield to more pulled contact in order to get more weak contact on the ground this year.
The Cubs offense has, by and large, provided sufficient margin for error to make up for the fact that Hendricks has gotten into an unusual number of jams and given up a few too many early runs. Like any success Hendricks finds without command of the fastball, though, that state of affairs feels fragile. He's been good, but needs to be even better in order to sustain anywhere near the results he and the team have enjoyed recently.
That might mean a new approach to the pre-game bullpen work, if Hendricks is idiosyncratic that way. It might mean leaning more on his changeups early. He's used the fastballs about 62 percent of the time through two innings, then 58 percent of the time in the third and fourth, and it's come all the way down to 51 percent thereafter. If Hendricks is going to scuffle with finding that edge, he might need to swap a few of those early fastballs in for sharper changeups--even if it means that he's less effective later. At this time of year, surely, David Ross will be proactive with his starting pitchers, anyway.
Hendricks is a savvy veteran, more than capable of this type of adjustment. The Cubs must be aware of the problem: it shows up in even a relatively cursory watch of the early portions of Hendricks's outings. The question is whether this is an unchangeable aspect of aging, and of his body turning ever so slightly and slowly away from his craft, or whether it's something more easily identified and corrected.