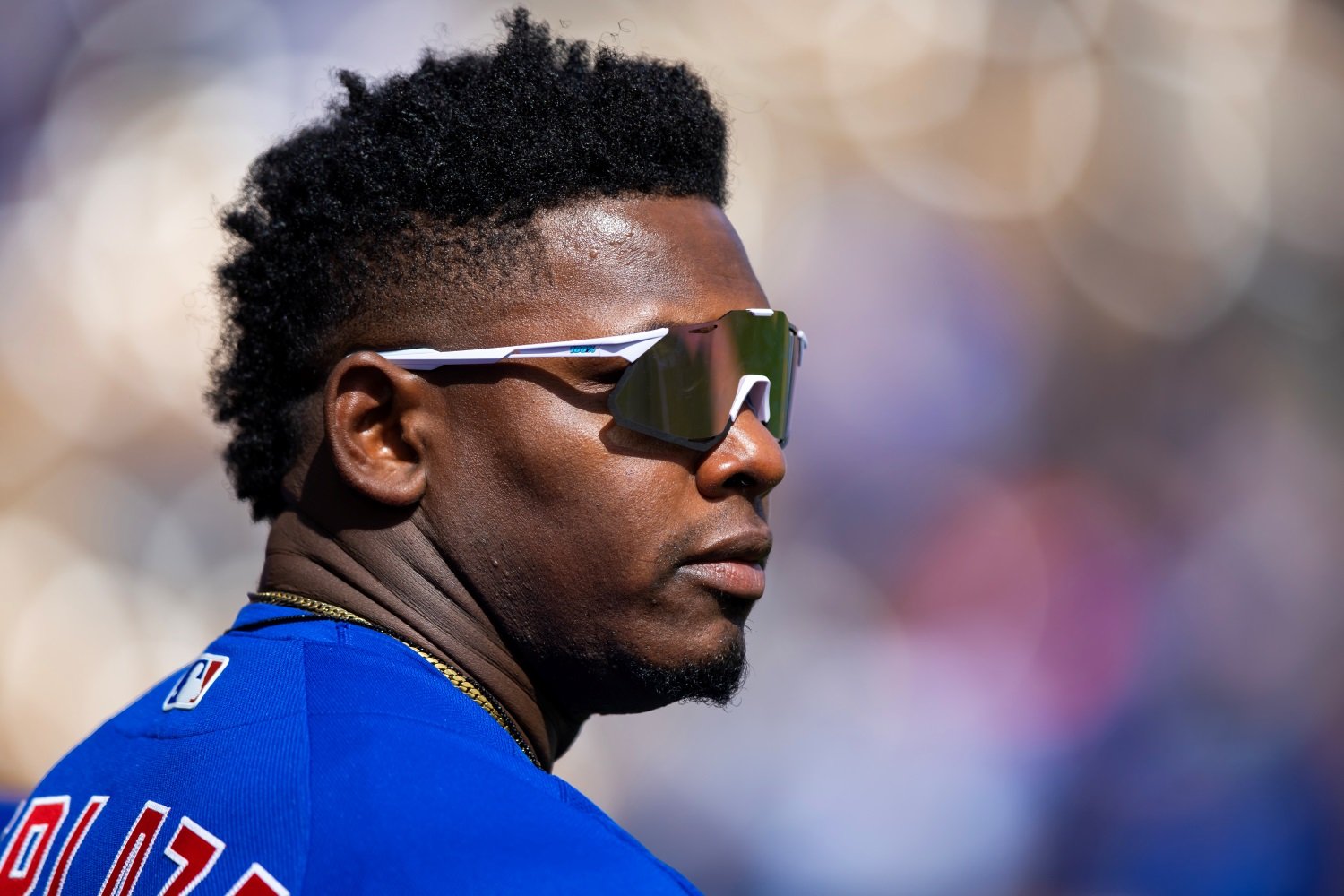 Image courtesy of © Mark J. Rebilas-USA TODAY Sports
Though the Cubs are 42-47 as they prepare to start the unofficial second half, their pitching staff is much stronger than that. The roster needs more offensive punch, and the players likely to be available over the next fortnight are not great solutions to what ails the lineup. Before looking outside, then, the team should use the time they still have to do a couple of high-stakes, urgent evaluations.
Doing so will require some roster machinations. Firstly, they should swap Jared Young and Matt Mervis, bringing the latter back to the big leagues for a second and final 2023 audition. Since being farmed back out last month, Mervis is hitting .264/.418/.528 in 67 plate appearances. Despite a minor hand injury and an understandably slow start as he landed back in the minors and went about some adjustments, he's looking more or less the way he has since the start of 2022: like a player who needs a greater challenge.
Mervis might not work out, but if he doesn't, there's value in finding that out sooner. Young briefly acquitted himself well when he came up to the parent club, but has quickly turned into a pumpkin, and there's little to suggest that he'll turn it around and be an above-average hitter at the MLB level the rest of the way. He's a dead-pull hitter, which is actually a dynamic the Cubs lineup needs, but he hits too many ground balls and whiffs too much to be the kind of dangerous hitter the team needs at first base.
Recalling Mervis, then, would give the team a chance to quickly assess the depth of their need for help at the cold corner before the deadline. Similarly, the team should use a phantom injured list stint to shelve Tucker Barnhart, so that they can both get a better idea of Miguel Amaya's short-term value and bring up Yonathan Perlaza for a look as a DH option for the stretch drive. Perlaza, 24, is in the middle of a third straight season with a wRC+ over 120, and while that's come without evidence of elite power potential or exceptional contact skills, he does everything pretty well at the plate. He's a switch-hitter. He has some pop. He's modestly fast and can steal some bases.
If Perlaza, Amaya and/or Mervis are useful hitters, the Cubs' needs are so much smaller and less scary that they'll gain leverage in any trade talks. The trio could also give the offense the jolt needed to ensure that they win enough games to position themselves as buyers in the first place. If they flop, it will increase the chances that the team has to act as sellers at the end of the month, but that could come to fruition even without these moves. On balance, it makes sense to work hard to get a better idea of what the organization can expect from these guys as soon as possible, even understanding that that might be a painful, disappointing process.
Dansby Swanson should return from the injured list fairly quickly after the break. When he does, the team will face the choice of whether to jettison Patrick Wisdom or send down Miles Mastrobuoni, whose disparate skill sets are so tantalizing but who just haven't been good enough for the last few months. Mastrobuoni's speed is nice, and he did make hard contact three times against the Yankees in his first game back after his latest Iowa sojourn, but his defense isn't quite good enough at the positions where the Cubs really need him, and meaningful power remains beyond his reach. 
Alas, power (like everything else) seems to be beyond Wisdom's reach right now, too. He's completely lost at the plate, or he was, at least, at the end of the first half. He's rebounded from deep slumps before, and maybe he fixed something during the downtime, but if he doesn't come out of the break roaring and mashing, it's time to move on. As an added bonus, taking either Wisdom or Mastrobuoni off the roster will make it easier to get Christopher Morel consistent playing time, including and especially at third base, so he, too, can be evaluated well before the deadline.
Needing to make rapid player evaluations under the pressure of a buy/sell decision with less than three weeks to go before the deadline is an undesirable situation. The Cubs put themselves in that position with their frustrating, inconsistent first half, though, and it's time for them to gain as much useful information as possible before things lock in. To gauge the needed external moves, they need to start with some internal ones.