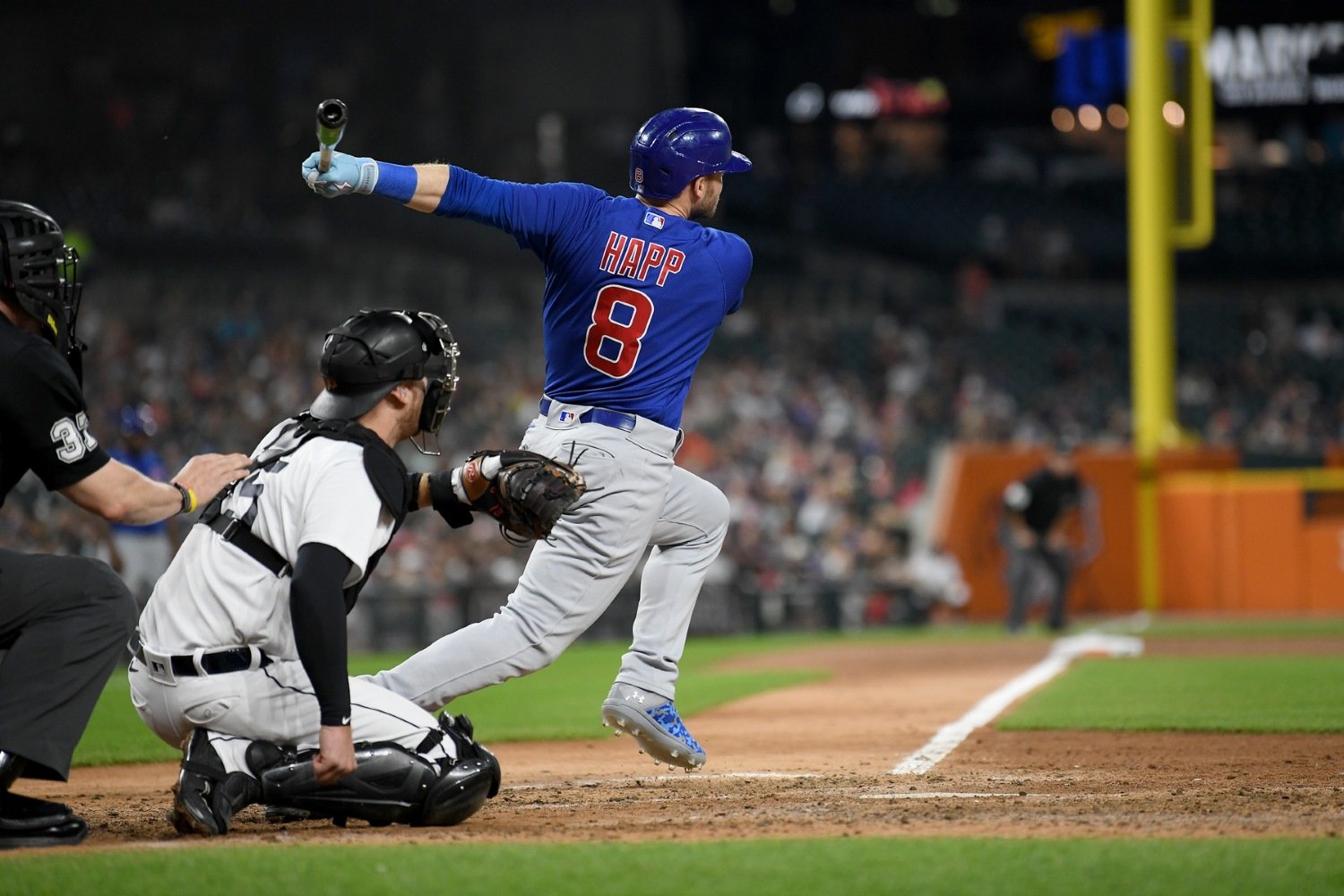 Image courtesy of © Lon Horwedel-USA TODAY Sports
Since the Cubs acquired Jeimer Candelario, he's played 20 games. In them, he's batted .333/.405/.551. He's cranked out 10 extra-base hits, drawn nine walks, and struck out just 17 times. He's even 2-for-2 stealing bases. The only troubling number on his entire line is his total number of plate appearances: 79. That's 12 fewer than Ian Happ has over the same span, even though Happ has played just one more game. Happ, somewhat infamously, has batted third in every game this month, and has been untouchably ensconced there since the end of June. 
Neither the above nor the forthcoming is meant as a criticism of Happ. It's becoming somewhat trendy to bash Happ on social media, mostly because the team has been so slow to take any action with regard to his prolonged slump at the plate. Truthfully, though, he's coming out of it. His worst stretch was from mid-May through mid-July. Admittedly, this is an arbitrary starting point, but since July 22, Happ is batting .225/.326/.460 in 129 plate appearances. The power that was utterly absent during his worst doldrums has returned, and he's walked 15 times against 24 strikeouts in this slow recovery period. 
It's not necessary, then, to call for Happ to be benched, even against left-handed pitchers. If Patrick Wisdom were going a bit better, that might be a more valid conversation, and we'll need to revisit things if the Cubs call up Alexander Canario next month, but as things stand, Happ belongs in the lineup every day. He and Candelario just need to switch places. Ross has yet to write Candelario into his lineup at any spot higher than sixth, and he's most often slotted him in seventh. In any given game, that creates roughly a 45-percent chance that Happ will get one plate appearance more than Candelario. That's backward. 
Candelario has been an excellent hitter against relief pitchers since 2020, Happ has been similarly good this year, but not nearly as consistently so. Ross might be trying to protect Happ's ability to see opposing starters a third time, because he's hitting .394/.488/.634 when he does so this season. He's always excelled in that split, because he's the kind of hitter who learns a lot even from his misses--pitches he mishits, fouls off, or whiffs on altogether, but which he can square up a couple innings later after going to the video and adjusting his approach. Rarely does the batter hitting seventh get that third look at the starter.
If that's Ross's concern, though, there's another way to ensure it. Against righties, Happ could bat second or third, with Candelario in the other spot, and Nico Hoerner could slide down to that seventh spot. Hoerner is running exactly a .730 OPS against righties for the second season in a row. That's a fine number, but it ought not to garner him a spot at the top of the lineup, when Happ and Candelario are available. Meanwhile, when the Cubs face a left-handed starter, they can and should just put Happ seventh--or even ninth, where he's less likely to see that lefty a third time and can act as a second leadoff hitter.
It's clear that clubhouse politics are a part of the rationale for the status quo, so it's not all that likely that it will change. To make the Cubs offense fully functional and give them the best chance they can manage to win the division, though, something needs to be done.