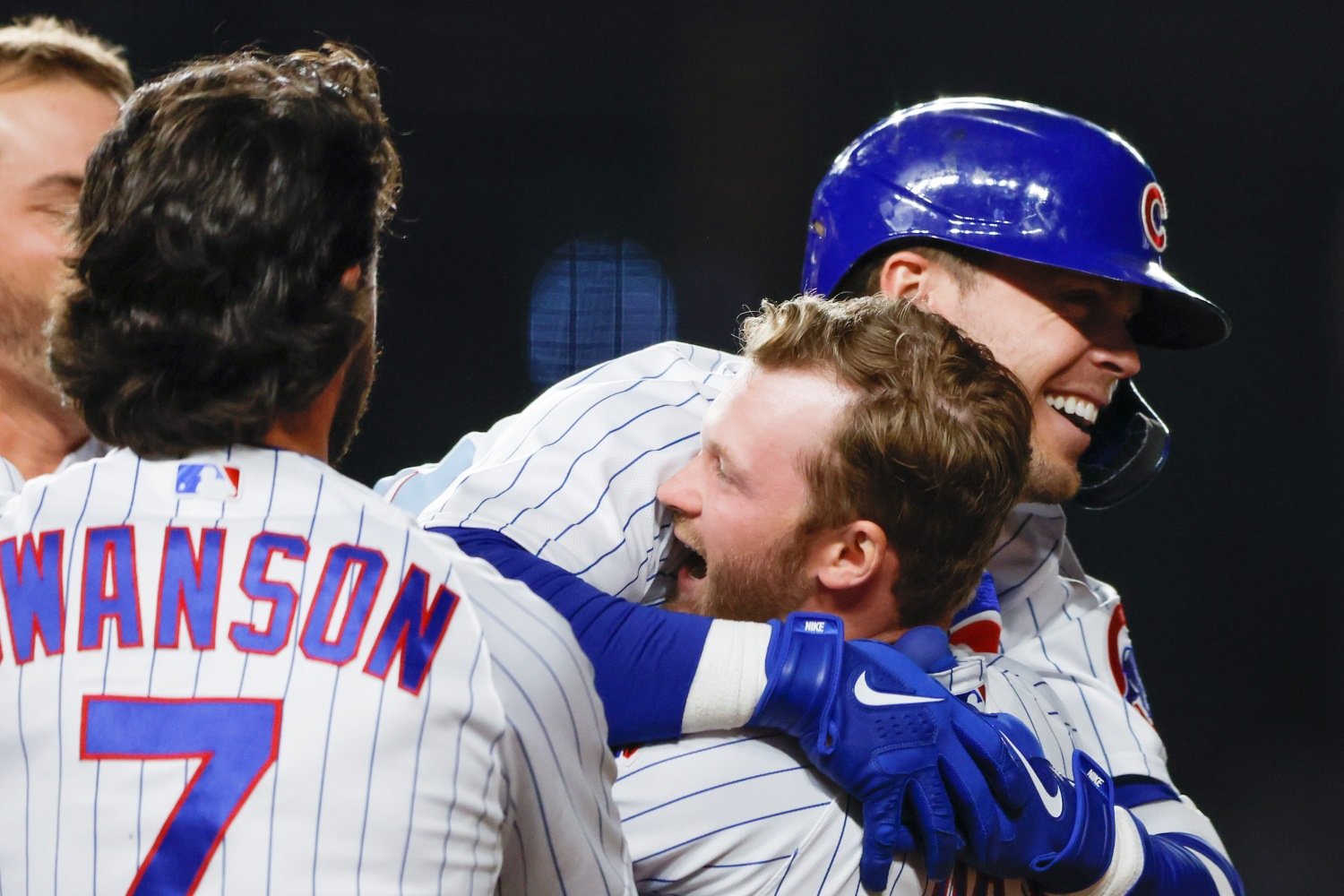 Image courtesy of © Kamil Krzaczynski-USA TODAY Sports
As a reminder, our premise here is the old cliché that every team will win 54 games and lose 54 games in an MLB season, and that success or failure over that long season depends on how a club does in the other 54. After dropping the first two games that felt like real Bucket Three contests this year, the Cubs got their first win in that bucket in walkoff style.
After a disquieting spring training and a discouraging season debut in Cincinnati, Drew Smyly got back into his groove on Monday night. The key was throttling back on his sinker and relying more on his curve and cutter. Against the Reds, 48 of his 93 pitches were sinkers. Monday against the Mariners, only 33 of 76 were. That's the ratio he needs to shoot for. His curve doesn't need to constitute the majority of his pitches, but it needs to claim the plurality, and the cutter is a pitch he could stand to throw even more than he currently does.
With the curve yielding some whiffs, Smyly gave the team five innings of one-run ball, and that looked like it might be all the team needed. We've all understood, since even before Opening Day, that this team will need to win some 2-1 games in order to be better than .500 for the season, let alone in the playoff hunt. Their offense is not going to morph into a juggernaut at any point, and right now, it's not even an average group, but they pushed across two runs with a sequence that should be typical of this offense when things are going well: walk, double, single, single. 
Adbert Alzolay, Mark Leiter, Jr., and Brad Boxberger formed a solid bridge from Smyly to Michael Fulmer. They needed a little help and survived a few tense moments along the way, as one line drive hit off Leiter just happened to hang up enough for Miles Mastrobuoni in right field and Dansby Swanson made a heads-up throw to cut down a lead runner for Boxberger, but the stage was set.
Fulmer made a bad mistake on a 1-0 count. Sometimes, the game is that simple. When Jarred Kelenic laid into a cutter that had spun right into his bat path and sat in the middle of the plate, the only question was whether he'd stayed back well enough to keep it fair. He had, and the game was tied, and the kind of loss the Cubs just can't afford suddenly loomed as a real possibility. 
All night, the Cubs were just missing adding onto their lead at the plate. Swanson drove a ball to the wall in right field in the third. Patrick Wisdom had three well-hit fly balls on the night, but got too far under each. Between those misses and the blown save, losing would have been a gut punch. That's what made the 10th inning such a rollercoaster, and the finale so cathartic. Keegan Thompson continues to battle control problems, which is a troubling trend, but he managed to work out of the jam that the automatic runner creates and free passes exacerbate. Then, Nick Madrigal nearly gave away the automatic runner for free to open the 10th, but the Mariners didn't execute a pickoff and he was able to steal third instead. 
All of that set up Nico Hoerner. Whatever else has happened already this year, and however unclear many things about this team remain, Hoerner increasingly feels like the heart of the team, and the guy whose energy fuels it. He had hard-hit balls in his first three plate appearances Monday night, and his rate of hard contact is up this year overall. He stole his fourth base of the season during the game. There's much more to discuss with Hoerner, but in the moment, when he stepped to the plate with a runner on third base and one out, everything about the situation favored him.
It was possible to see what Hoerner wanted to do on that first slider. He saw lots of potential hits on the field in front of him, with the infield pulled in tight, and he wasn't going to get big or try to pull the ball. On the high fastball on a 1-1 count, he tried to stay on top of the ball, and he made contact, which invited Matt Brash to try another slider to expand the zone. That played right into Hoerner's plan, though. He was looking away. He wanted to go to right field. Though not a strike, that 1-2 slider was the pitch Hoerner needed.
First career walk-off for @nico_hoerner! pic.twitter.com/Gov2ZUmVZm

— Chicago Cubs (@Cubs) April 11, 2023
Already, we've seen and felt the impact of Seiya Suzuki and Brandon Hughes opening the season on the injured list. Those things were on display even in this win. The 2023 Cubs are not yet a finished product, so being competitive and winning five of their first nine is enough to increase our hope a bit. Winning Monday night, specifically, was not a make-or-break thing, but that type of game is one the team needs to prove it can win, and to get it from the man in whom the front office just made a long-awaited (if small) investment was especially exciting.