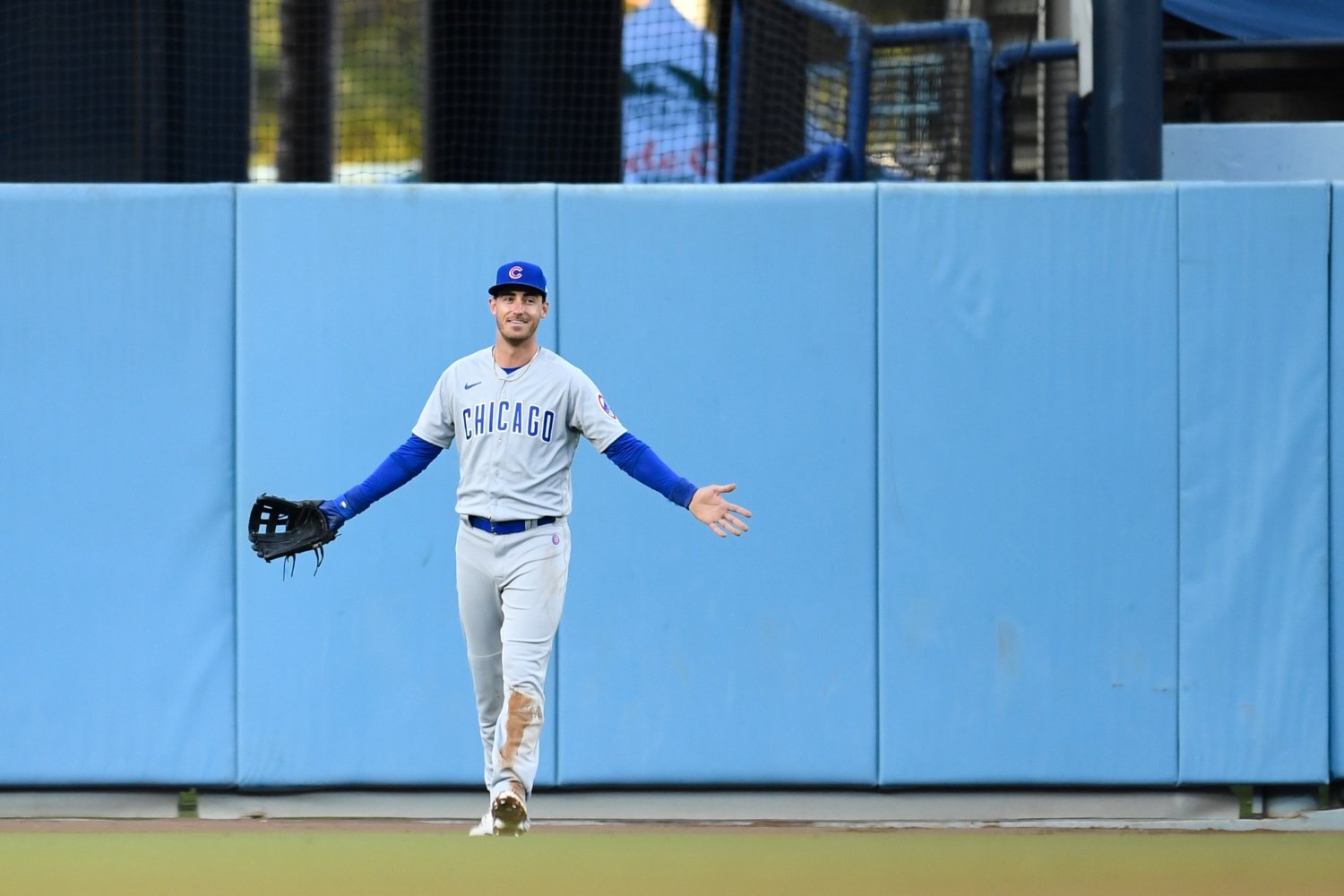 Image courtesy of © Jonathan Hui-USA TODAY Sports
Jameson Taillon still hasn't fully found his form for the Cubs yet, and the team paid the price for that on Saturday, even though Taillon managed five scoreless innings. The cost took the form of Taillon having to leave after five, because he'd expended too much energy and showed Dodgers hitters too much of his repertoire in order to survive a rocky first inning and a half. One could argue that he would have been lifted at that point anyway, with Freddie Freeman, Max Muncy, and J.D. Martinez due for their third looks at him in the bottom of the sixth inning, but David Ross's recent managerial style and Taillon's status as a well-paid workhorse make it more likely he'd have gotten the sixth if he had more left in his arm by then.
If that had been the case, Keegan Thompson and Mark Leiter, Jr. probably could have carried the Cubs home. Instead, they needed a third reliever, and Michael Fulmer simply didn't have his best stuff. As we've mentioned before, it's always a bad thing when your closer is off, but some guys have a greater margin for error than others. A walk here and a bloop single there hurt less if a pitcher has the ability to consistently miss bats at an elite rate, but Fulmer doesn't have that skill. In fact, at the moment, no one in the Chicago bullpen does.
Ross didn't make any mistakes, in going from Taillon to Leiter (one inning, against a pocket of the lineup for whom the Cubs view him as a good matchup), Thompson (two frames, looking as sharp and gassed up as he has at any point in 2023, and with better command of his slider than he'd had in his previous two outings), and Fulmer. It just didn't quite work. The Dodgers nudged across the winning runs with a single through the infield, a batted ball that would have been a sure out prior to the advent of the rules constraining defensive shifts.
DAVID PERALTA WINS IT FOR THE DODGERS pic.twitter.com/ocQlFwlXxs

— Talkin' Baseball (@TalkinBaseball_) April 16, 2023
The bigger problem in the game was the Cubs' failure to produce more than one run, especially when they had a chance to add to that cushion late. Patrick Wisdom absolutely obliterated a ball to dead center field, giving the team the 1-0 lead to which they would cling for much of the game. Beyond that, though, they couldn't create any runs, and even good chances were in short supply. 
Would you believe that, entering Saturday, the Cubs ranked second in MLB in expected weighted on-base average (xwOBA) against breaking stuff? Even taking actual run value, rather than using sometimes-wonky expected stats, they ranked fourth. That was hard to see in the way things unfolded Saturday night, though. Michael Grove had both his slider and his curveball working, and the Cubs were flummoxed. They whiffed eight times on 20 swings against his breaking balls, and watched another 11 of the offerings go by for called strikes. They had no answer for it, and did no better against the Dodgers bullpen.
Dansby Swanson appears to be in the first funk (that counts) of his Cubs career. One can read the following as either reassuring or exasperating, but this is a normal part of his game. It will be wonderful if the Cubs find ways to shorten or (eventually) eliminate stretches where he looks utterly lost at the plate, and it was good to see him gather himself enough to draw a potentially pivotal walk in the eighth inning, but his strikeouts and empty plate appearances can sometimes pile up for a week or two before he finds his heat again.
Ian Happ had a chance to break the game open, on the heels of the Swanson walk. The bases were loaded with one out, and (for the second time in the game) Dave Roberts elected to bring in a southpaw to turn Happ around in a key situation. Though he did nominally even things out in terms of his platoon splits last year, it's important to remember that Happ is still very limited as a right-handed batter. His .788 OPS against lefties last year was built on a .425 BABIP in a sample of 137 plate appearances. He still struck out far too often (28.5 percent of the time), and crucially, he hardly ever walks from that side. He drew just seven of them as a righty all last season. On the Marquee broadcast, Boog Sciambi mentioned Happ having a great idea of the zone from each side, but it's simply untrue.
All of that was made worse, of course, by a dreadful call of strike one on the first pitch to Happ, which was well outside. That pitch changed the at-bat, because Happ still got ahead in the count and might have been in position to work a rare right-handed free pass, or at least get a fat pitch to hit. Instead, he expanded his zone and made a bad out, and Seiya Suzuki followed that with a plate appearance that reminded all viewers that he's been facing Triple-A pitching and worse for the last couple of weeks. 
There wasn't much to be done, there, except for Happ to take a slightly better approach. He has to be more ready for teams to target him with lefties in those spots, and he has to make some adjustments. Ross might have had more options to consider, though, if the roster were more optimized. He'd already burned Luis Torrens in a dance with Roberts the previous inning, deciding he preferred Edwin Ríos against Yency Almonte to Eric Hosmer against Alex Vesia, even at the cost of Torrens. That, like his pitching choices, was a sound decision that just didn't pay off.
If Matt Mervis had Hosmer's place on the roster, though, the choice would have been much more interesting, and Ross might well have kept his starting DH in there, keeping both Ríos and Torrens available. Better still, if Torrens, Ríos, or Nick Madrigal were replaced with Christopher Morel on the roster, Ross might have entertained going to Morel during that long sequence somewhere--be it as the pinch-hitter for Hosmer (or Mervis) in the seventh, or instead of Happ against Caleb Ferguson in the eighth. He probably wouldn't have done the latter, anyway. Again, Happ just has to get better as a right-handed hitter, and as a manager of the moment when he comes up in clutch situations. 
Still, the absence of Mervis, Morel, and even Nelson Velázquez was felt Saturday night. The Cubs are built around pitching and defense, but any team that wants to win a series at Dodger Stadium also needs to have some punch. Because they currently have such a deeply flawed offensive squad, Chicago couldn't hold onto a lead in a winnable game, and they still feel more like a team fighting to stay afloat than one swimming confidently toward a particular destination. Hopefully, be it via a roster shakeup or a series of small improvements by key veterans, they can change that soon.
Third Bucket Record: 2-3