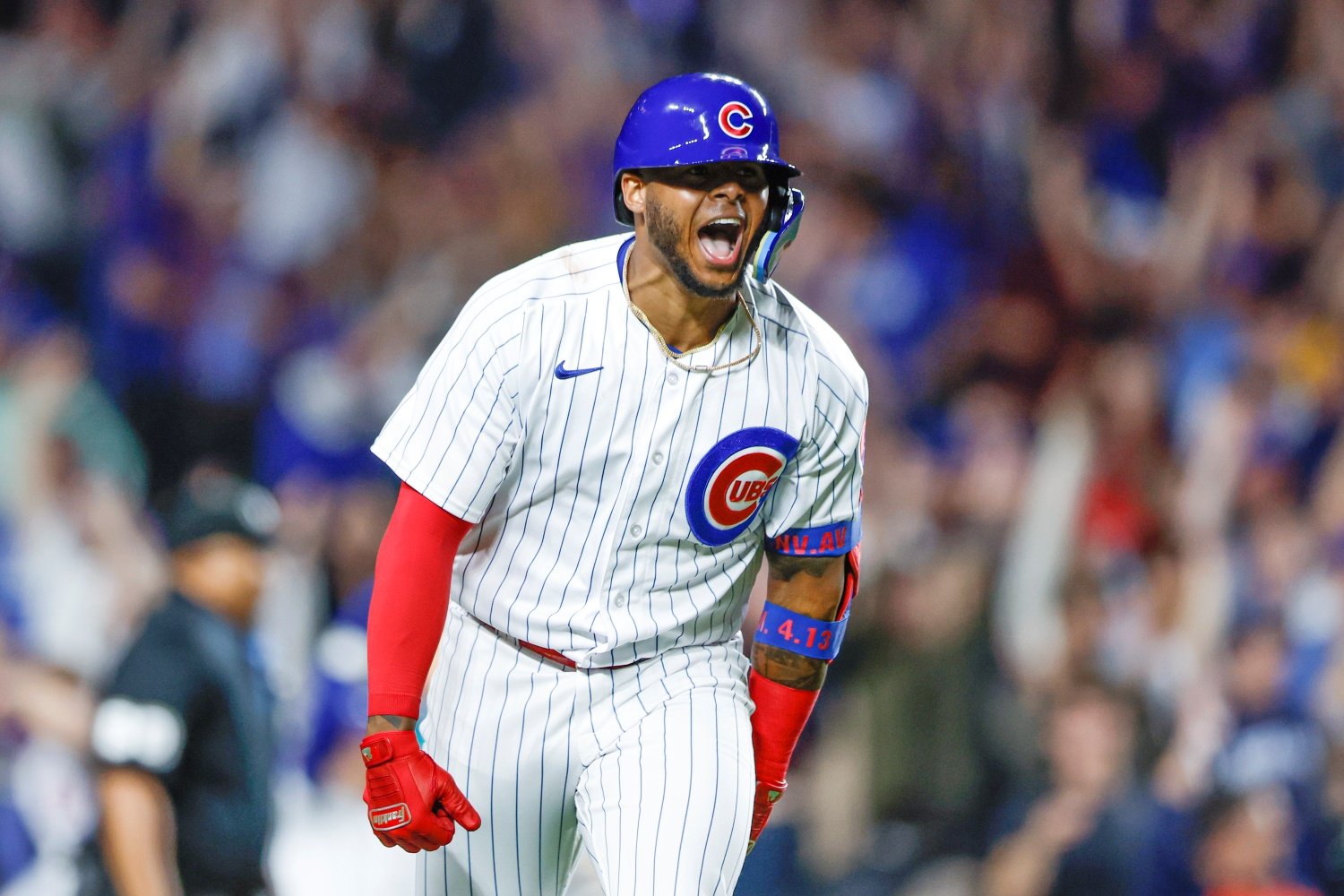 Image courtesy of © Kamil Krzaczynski-USA TODAY Sports
If the Cubs had stayed down when the Mariners pounced on them, this would not have been one of those games that falls into the Third 54, the bucket of contests that supposedly separates the good teams from the bad ones. There's no better example of "you win some, you lose some" than a night on which your exciting rookie starter gets knocked out of the box after recording just four outs, with the team trailing 7-0. Once they roared back to take the lead, though, hanging on for the win was essential. The deflation of giving back a game like that would outweigh the elation of having made the comeback in the first place.
That the team came back at all was deeply impressive, and pretty surprising. In the bottom of the second inning, when they nudged across a lone run to cut the Seattle lead to 7-1, they had an opportunity for much more. Cody Bellinger started that inning with an infield single, and Patrick Wisdom drew a walk. Eric Hosmer then hit into a painfully predictable double play, though, stunting the rally. Thus, when Hosmer came up again with runners on first and second and one out in the third, it was easy to feel bitter and pre-miserable. The score had tightened to 7-3, but another twin killing likely would have torpedoed the Cubs' chances of coming back.
Hosmer did crack another ground ball to the right side. This one was much more sharply hit, though, and instead of drawing the infielders right to the keystone, it was to the hole between first and second. It snuck through, scoring another run, and the inning got away from the Mariners. As seems to be happening more often this year (with the pitch clock effecting a rhythm that can be very dangerous to pitchers when they get out of phase with it, and with mound visits a more scarce commodity, not to be used up too soon or too lightly), the energy of the frame continued to build.
Obviously, Nelson Velázquez's grand slam was the play of the game. Velázquez's demotion to Iowa to open the season was justifiable, given the swing-and-miss he showed in 2022 and the fact that he didn't acquit himself in center field, but a week and a half into the experiment, it no longer looked that way. Of Trey Mancini, Miles Mastrobuoni, and Patrick Wisdom, only Wisdom showed any semblance of competence in defending right field, and he's needed at third base. Finally having a right fielder who is familiar with and comfortable in that position, alone, has real value. 
NELSON VELAZQUEZ GRAND SLAM GIVES THE CUBS THE LEAD 🤯🤯🤯 pic.twitter.com/xvj3iuHL88

— Cubs Zone

™️

(@CubsZone) April 12, 2023
The more important role Velázquez can play, though, is in doing what he did Tuesday night. He worked the count into his favor (something he'll need to do more consistently in order to be a viable big-leaguer, which made it especially delightful to see), and then he demolished a ball. He has that ability. He, like Christopher Morel, embodies and symbolizes upside, especially in the power department. Mastrobuoni, Nick Madrigal, and Luis Torrens, who got the jobs that might otherwise have gone to Velázquez and Morel to open the season, embody and symbolize safety, at the expense of upside. The Cubs have consistently opted for contact skills and versatility of late. They're emphasizing run prevention, but they're also trying to minimize risk.
That's a lousy way to approach this season, with this team. The median outcome for a roster with this talent level is something like 80 wins, which would please hardly anyone and probably lead to another deconstruction at the trade deadline. What Velázquez's huge moment should remind us is that the Cubs badly need to embrace some risk and find their 80th- or 90th-percentile outcome, if they want to make any noise in 2023. 
That doesn't mean that they need to immediately install Velázquez and Morel as everyday players, or push Hosmer aside in favor of Matt Mervis. There's a balance to be struck, and this 6-4 start is evidence that the team is doing a decent job of striking it. They won a very losable game Tuesday night because they had some good luck, some impressive depth, and the dynamism to put a lot of runs on the board quickly, but they also needed good pitching and defense to seal it. They can stay the course, in some measure. They just need to stay open to trying things, the same way they stayed relentlessly aggressive in adding to their lead in this (eventually) comfortable win.
Third Bucket Record: 2-2
1