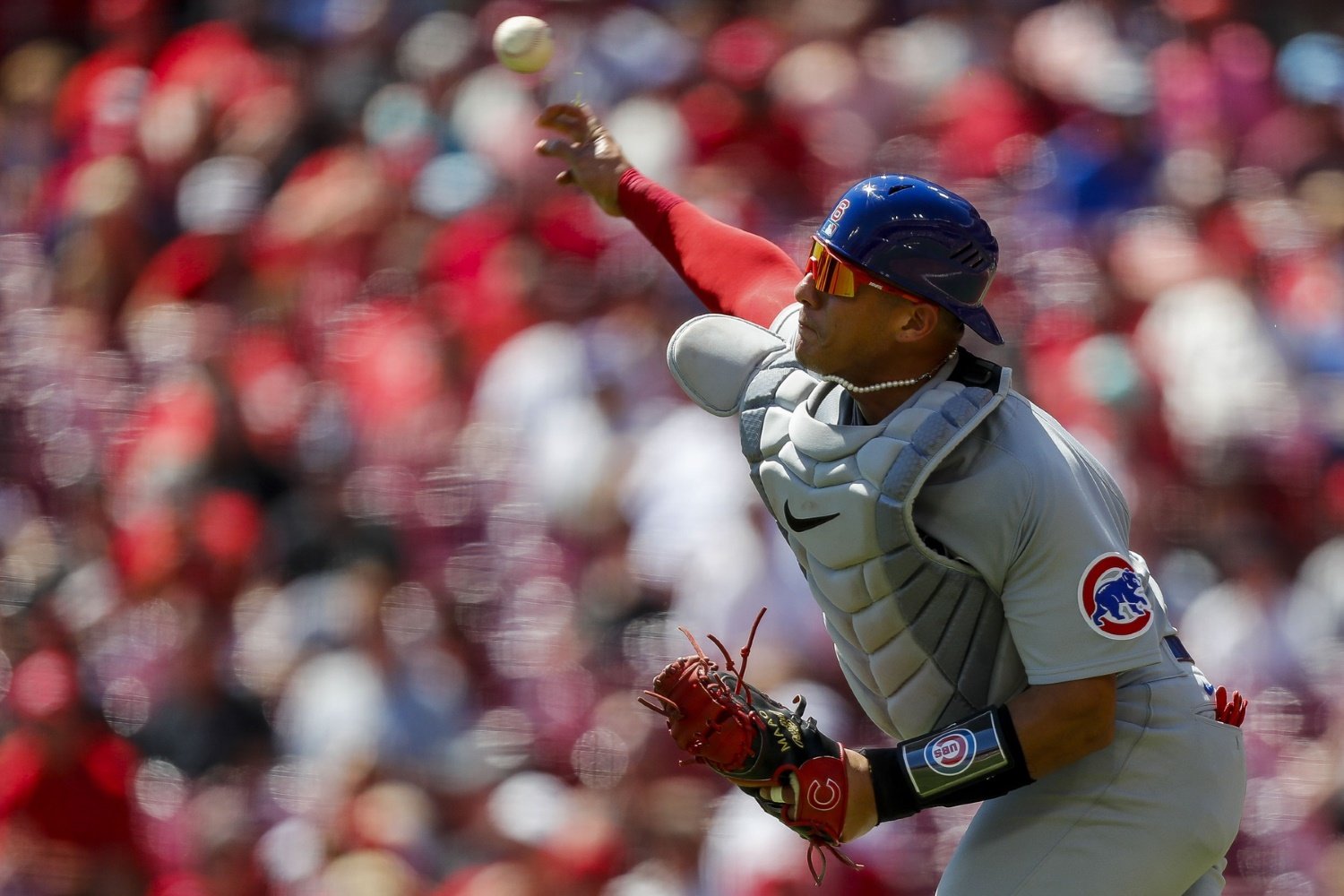 Image courtesy of © Katie Stratman-USA TODAY Sports
When the Chicago Cubs decided to go a different direction with the catcher position and let Willson Contreras walk in free agency this past offseason, it became clear that there were skills that they valued at the catcher position that Contreras did not offer. Framing, game-calling, and an ability to work with a pitching staff on a strategic and an emotional level were just a few of the things that were mentioned often.
I'll be honest: I thought this would be something that was discussed significantly more throughout the course of this season than it has been, particularly with Contreras now playing for the St. Louis Cardinals. However, between the way Yan Gomes has played and the emergence of Miguel Amaya, I haven't been thinking about this nearly as much as I thought I would be.
That was true, at least, until this past series against the Arizona Diamondbacks. Through Saturday's loss, the Diamondbacks racked up 10 stolen bases in three games, to just two for the Cubs. Combine that with the fact that the Cubs were also caught stealing two times and the Diamondbacks only once, and I have definitely found myself thinking back on Contreras.
Don't get me wrong: it seems like the Cubs made the correct decision with Contreras, all things considered. However, if there was one thing Contreras was good at defensively, it was his ability to control the running game. With the Cubs losing two straight one-run games to a team that is so clearly better at this than they are, it has been frustrating to watch as a fan. 
Thankfully, we have stats to quantify this. Baseball Savant estimates how many runs a catcher gains or loses for his team with Catcher Stealing Runs. The Cubs, of course, have primarily used three catchers this season: Yan Gomes, Miguel Amaya, and Tucker Barnhart. All of those catchers have been worth -1 Catcher Stealing Run, meaning they have combined to cost the Cubs three runs this season with their ability (or, rather, minor inability) to control the running game.
The stark contrast that has been on display this weekend is mostly thanks to the guy catching for the other team, Gabriel Moreno. Moreno, according to this stat, is the best catcher in baseball when it comes to throwing out runners trying to steal. He has been worth six runs, which is two more than the next guys on the list in Connor Wong and Shea Langeliers. To complete the overall comparison, old friend Willson Contreras has been worth 3 Catcher Stealing Runs. 
So we have essentially been watching two guys for the Cubs who are slightly below average when it comes to preventing steals against a guy for the Diamondbacks who is the best in baseball. Of course that is going to make Gomes and Amaya look bad, comparatively. 
How much does this matter? Converting runs to wins varies according to the run-scoring environment. FanGraphs estimates that nine or 10 marginal runs usually equate to a marginal win in the standings by the end of the year. So to this point in the season, if the three Cubs catchers have combined to cost them three runs, that has only cost the Cubs about a third of a win. The dropoff from Contreras to Gomes, Amaya, and Barnhart has cost the Cubs about two-thirds of a win. Lastly, the difference between Moreno and the catching trio for the Cubs has been worth about one additional win for the Diamondbacks over the 140ish games that have been played to this point. 
To wrap this up with a nice bow, the Cubs are definitely worse at controlling the running game than they would have been with Contreras behind the plate. This has definitely been on display this weekend. Although most catchers would look bad when compared to Moreno, over the course of the season, this has likely only cost the Cubs a few fractions of a win. While that would certainly be nice to have in the middle of a playoff chase, there are plenty of other positives that both Gomes and Amaya bring to the table to forgive them for being slightly below-average in this one area.