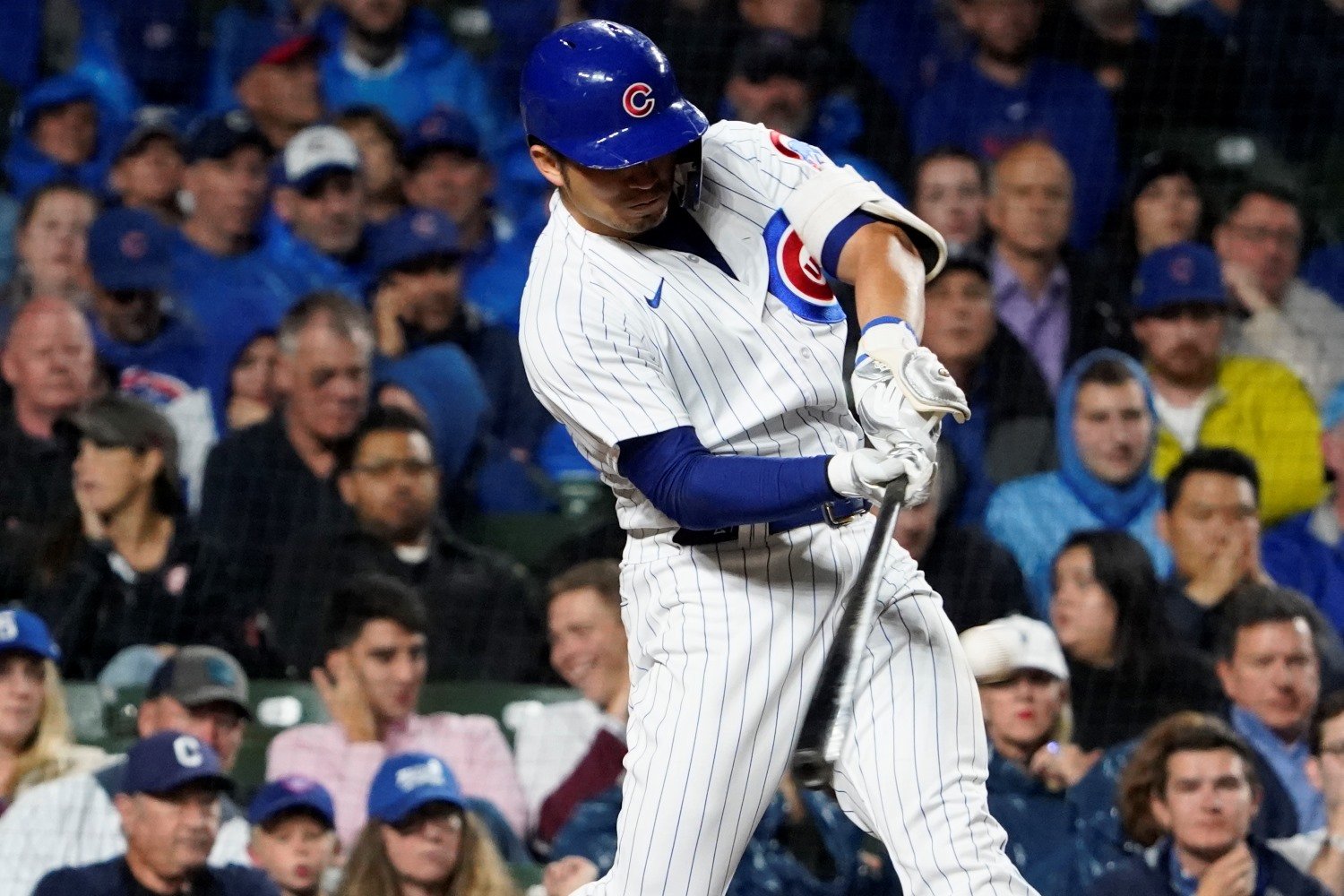 Image courtesy of © David Banks-USA TODAY Sports
When this team has done well this season, it has very often been because they took tough pitches, fouled off others, and made opposing pitching staffs work themselves thin. Only the Brewers have seen more pitches per plate appearance this year than have the Cubs, and even that is a new development. This offense has about average power. To be more than average, they need to draw walks and work deep counts, the better to gain access to the worst hurlers on the other guys' roster.
That hasn't been happening for the bulk of this month. Here are the Cubs' swing rates, as a team, by month for 2023:
April: 45.2

May: 45.9

June: 46.8

July: 46.5

August: 46.7

September: 47.8
You can trace a similar trend by isolating pitches outside the strike zone, too. There, the team has gone from chasing 26.4 percent of would-be balls in April to 29 percent for September. This is a broad, sweeping way to look at what is really a series of granular adjustments, of course, because each player is an individual, and their approaches might need to vary based on how they're being pitched or how well they're actually swinging, but it tells us something true. The Cubs' plate discipline, overall, has deteriorated near the end of this season.
On Monday night, it was restored, at least briefly. The team swung at just 43.5 percent of the 163 pitches thrown by four Pirates pitchers. The game was less of a laugher than the final score implied, and it offers relatively little solace after a 10-game stretch in which the team lost so much ground in the Wild Card and NL Central races, but it was an important step in the right direction. After two off days in five, and with the home crowd cheering them on, the team seemed more relaxed. Facing a parade of inexperienced and overmatched Pirates hurlers helped.
They'll get none of that kind of assistance over the next two days, though. In Mitch Keller, the team will face one of the pitchers who started to expose the cracks in their offensive foundation, just as they were forming a few weeks ago. It was Keller who pitched eight dominant innings in the only game in which the Pirates have beaten the Cubs this season, and that night, they were way too aggressive with him. Keller does throw plenty of strikes, but the Cubs need to adjust and go up there with a more concertedly patient approach this time around. They might be hitting from behind in the count at times, but they can't allow Derek Shelton to go straight from Keller to David Bednar and beat them 2-1 again. 
It sounds like an excuse, but the grind of the long season really does systematically erode plate discipline. When a team has played as many taut and important games as the Cubs have lately, and when they don't get many days off, that effect can be magnified. In this particular sense, certainly, David Ross's new tack of sticking to a set of trusted position players and letting the rest wilt on the bench has been problematic. I was in favor of that approach as of a few weeks ago, and it looks like a much worse course than it did at that time, thanks to injuries to Jeimer Candelario and Nick Madrigal. Still, many of the guys Ross has so stubbornly played every day are necessary to any hopes the Cubs have of reaching and succeeding in October, and many of them (especially Nico Hoerner and Dansby Swanson) have been clear about their desire to play every inning they can play. It's hard to fault the manager, exactly, for not having headed off this problem, since he's not armed with an especially deep roster in the first place.
One way or another, the change demonstrated Monday needs to be locked in and sustained for the balance of the regular season. That's much, much easier said than done, and the coaching staff will need to get creative about reinforcing what just happened, without overreacting to it. The Cubs' playoff hopes ride, to some extent, on Ross and his lieutenants successfully striking that balance.