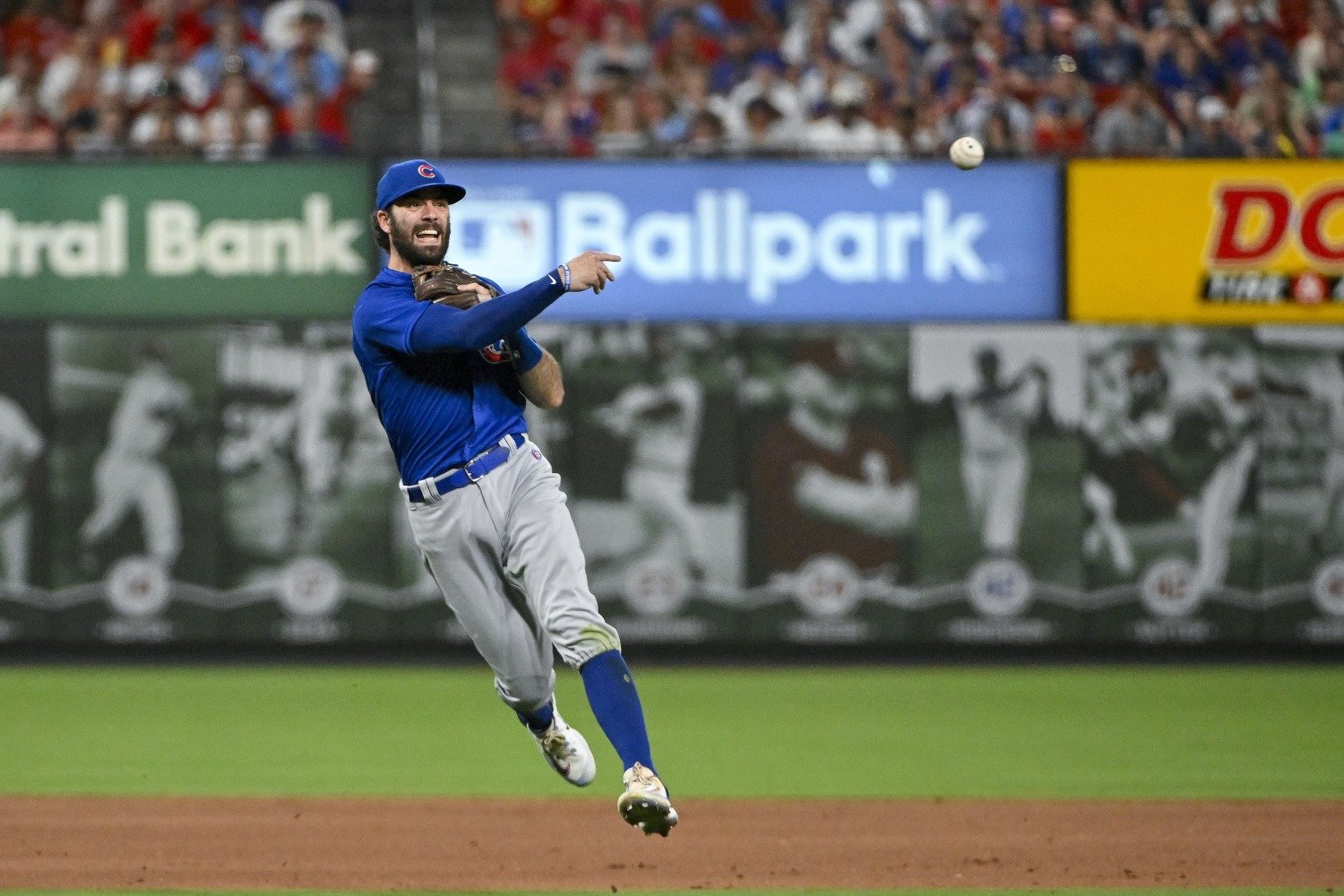 Image courtesy of © Jeff Curry-USA TODAY Sports
The front office of the 2023 Chicago Cubs isn't in a tough spot. The front office of the 1997 White Sox was. That was a team that tumbled to below .500 by losing six of seven games during the final third of July. That team had a negative run differential, and they just got Robin Ventura back a week before the trade deadline, after he missed nearly 100 games due to injury. That front office made the infamous White Flag Trade that July 31, sending two of the team's key starting pitchers and its closer to the Giants.
That might or might not have been the right call, but it was (rightfully) wildly unpopular. That's because a ball club, however much owners and jaded media members might insist otherwise, is a public trust, and the chance to win a division or reach the postseason is a sacred one that the stewards of a club are obligated to respect. To abdicate that duty is to betray the fan base, even if there's a rational, farsighted case for doing it.
Now, thanks to their first eight-game winning streak since the year they won the World Series, the Cubs have one of those sacred opportunities. They're not burdened by mixed signals from the team on the field, either in the whole data set of the season or in their recent play. This team is now two games over .500, with the winning streak just part of the reason why their playoff odds are steadily rising. They have four games against the Reds at home this week. They bookend August with home series against the Reds and Brewers, and they bookend September with road series against the Reds and Brewers. They're not on any reasonably drawn borderline between buyer and seller. They're way too in this not to give it their best.
That doesn't mean they need to plow under their fields to try to build a dream in this one season. The hope is that this is the first of several competitive seasons over the next decade, and it would be foolish to fritter that chance away by calling too big on a flush draw. I don't like the extent to which we've made deadline activity a defining and primary indicator for every team, every year, anyway. It only means that Hoyer and Carter Hawkins (not to mention the Ricketts family) have a fiduciary duty to make an earnest effort here, and not in the direction of trading Marcus Stroman--or anyone else who can help this team win.
We've already written about whom the team could target to upgrade their bullpen (from both the left and the right side), how they might acquire a controllable starter, and a few bats who could hold unique appeal. Now, though, it's time to talk about what a successful big-picture deadline strategy should comprise.
Firstly, the Cubs do need relief reinforcements. Gambling on the consistency and reliability of Michael Fulmer, Julian Merryweather, Mark Leiter Jr., and several younger arms is a recipe for heartbreak at the end of the season. Besides, the Cubs are running out of healthy spare arms on their 40-man roster. They can't have a successful deadline without adding at least one helpful reliever.
Secondly, the team should definitely stay engaged on (and eventually acquire) another bat to add to their mix. That could take the form of a bigger-ticket item, but C.J. Cron, Randal Grichuk, Mark Canha, Ramon Laureano, and Daniel Vogelbach are all candidates to help them. The bare minimum expectation should be that, over the next two days, the team makes these two small improvements.
The only question left, to my eye, is whether or not a starting pitcher the team deems worth splurging on will become available at an appropriate cost. Drew Smyly shouldn't be relied upon, except in long or situational relief, down the stretch, but the team might not find a palatable price in this seller's market for a direct replacement for him.
One way or another, the team just needs to demonstrate its resolve, by giving the team the buttresses they'll need to serious threaten to beat the Dodgers or Atlanta in the playoffs, should they get that far. They've run out of acceptable excuses not to do so.