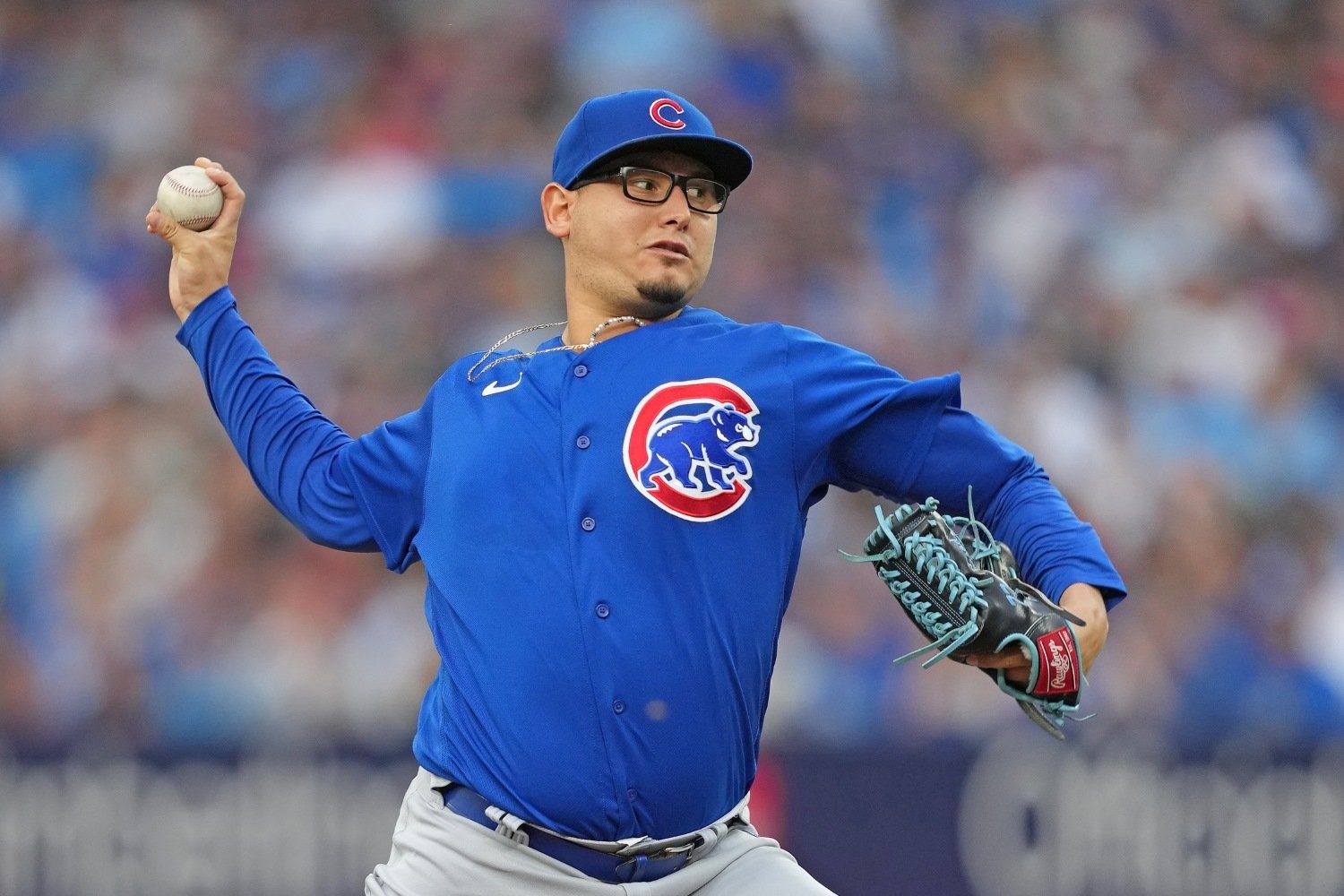 Image courtesy of © Nick Turchiaro-USA TODAY Sports
The Chicago Cubs' starting rotation has hit a rough patch. After a strong first half in which they had a 4.01 ERA (good for 10th-best in baseball, according to FanGraphs), the production has fallen dramatically in the second half. Entering Tuesday, their 5.54 ERA from starters since the All-Star break was third-worst in baseball.
Thankfully, this has been relatively little-discussed, because the offense is scoring almost 6.5 runs per game in the second half, and the team has been winning. However, I don't think the offense can keep performing at this level, and with the Cubs fighting for their playoff lives, they need all of the help that they can get on the pitching side. 
Enter: Javier Assad. The 25-year-old had pitched to a 0.47 ERA in 19 ⅓ innings from July 1 onward before being inserted into the starting rotation for an injured Marcus Stroman earlier this month. After posting a 2.53 ERA across 10 ⅔ innings in his two starts since, Assad has a very secure place in the starting crew, with Drew Smyly relegated to relief work and Marcus Stroman still shelved while he unkinks the right side of his kinetic chain.
The unimpressive thing about Assad is that he doesn't miss bats. Since July 1, his 6.8-percent whiff rate is 157th of 161 pitchers who have thrown at least 20 innings, per FanGraphs. His 22.1-percent strikeout rate is slightly more respectable, though, at 84th. How does he manage that?
Hitters facing Assad have a 63.8-percent in-zone swing rate in that period of time, and that is 19th-lowest in baseball. When you aren't going to miss bats, you have to manage contact quality. If hitters are taking a lot of strikes against Assad, this tells me that he is doing a good job of keeping them guessing and off-balance. For comparison, Kyle Hendricks, who is the gold standard at managing contact quality, is nearby on that leaderboard, with a 62.6-percent zone swing rate, and for his career, that figure sits at 62.1 percent. 
Assad's 87.6-MPH average exit velocity is 34th-lowest in baseball since July 1, and his 29.9-percent hard-hit rate is 49th-lowest. By these measures, he has been good, but not elite, at managing contact quality. Where he has been elite is that only 29.9 percent of balls in play against him since July 1 have been pulled. That is third-best in baseball during that time frame.
Why is this important? MLB hitters as a whole have a 169 wRC+ on balls that are pulled, according to FanGraphs. On balls hit to the center or opposite fields, they have a 115 wRC+. Sixty-three percent of homeruns hit this year have been to the pull side. Assad succeeds by staying away from a hitter's power. 
This is backed up by two other stats: Assad's home runs allowed per nine innings (0.89) this year is 26th in baseball, among the 162 pitchers who have thrown at least 60 innings. This could be luck, sure, but over the entire season, his expected isolated power against is 96th of 366 pitchers who have faced at least 150 hitters this season, per Baseball Savant. 
Will he continue to prevent runs at the rate that he has? Probably not. Since he pitches to contact, he is going to give up more base hits than he has been recently. Baseball Savant still gives him a 4.53 expected ERA, and he also walks way too many hitters. 
Not to keep making this comparison, but the counterargument to Assad's expected numbers would be that Kyle Hendricks has always far outperformed his expected ERA. So, while Assad will likely regress to the mean somewhat, it's not insane to think he might just be an average to slightly above-average pitcher. At this point, it is clear that he at least deserves a shot to prove that.