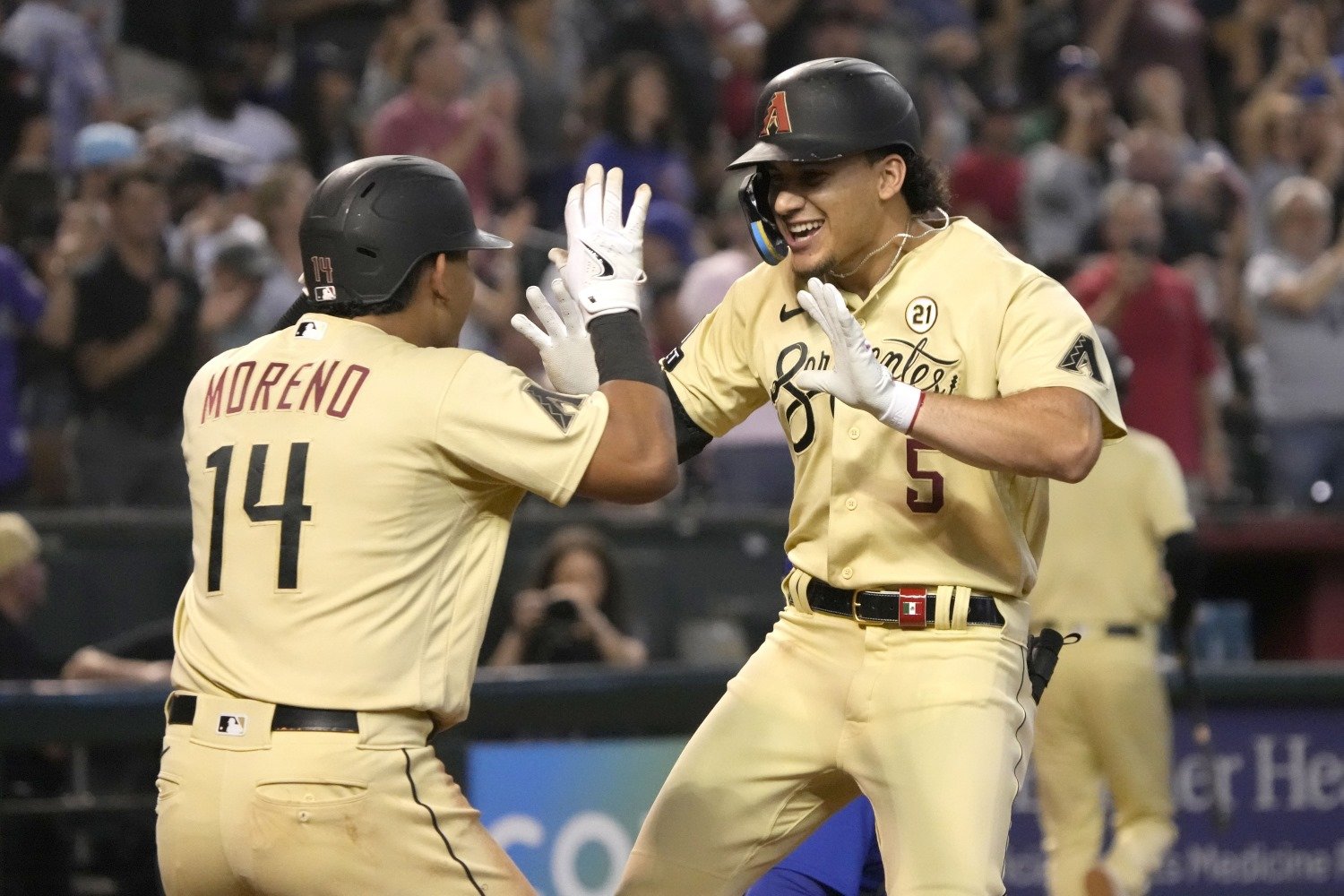 Image courtesy of © Rick Scuteri-USA TODAY Sports
It's mid-September, and every MLB player is tired. Justin Steele, 28, is not unusually tired. He's not folding under the pressure of this pennant race or cracking under a workload he's never borne in a single professional season before. Steele pitched six innings against the Diamondbacks Friday and averaged higher velocities on each of his two key pitches than the numbers he's posted for the season. His slider wasn't quite as sharp as usual, and that turned out to be a fatal shortcoming, but those nights happen, as surely as do the great days when everything's working and 12 Giants shrink to ants as they trudge back to the dugout, bats in hands.
A pair of three-run home runs felled the Cubs, both off of Steele. One came in the first inning, and one in the sixth. One came off the fairly thunderous bat of Lourdes Gurriel, Jr. The other came off pesky lefty speedster Alek Thomas. There should be important differences between the two, and there are a couple. There should be some narrative that we can weave--some tale of woe and incompetence, or at least of noble but doomed struggle against mounting weariness--but there really isn't. As best I can surmise, no one is at fault for these. They just happened. The other guys live in nice houses, too.
I was frustrated with the first home run. It felt like a lapse from Steele and Yan Gomes, after a two-out walk to Christian Walker on which Steele's cutter wouldn't obey him and missed on every side of the strike zone, four times in a row. The first-pitch slider to Gurriel seemed like a get-me-over, when what he needed was to shrug off the rough walk and rediscover the feel for that cutting heater.
It really, wasn't a bad pitch, though.
That's a little higher than you'd like the slider to be, and it hummed in at 84 miles per hour, so it was a bit firmer than usual for Steele. A little bit of the burbling frustration and (perhaps) nervousness of that moment leaked into it. Still, it's not a pitch that begs to be hammered. Gurriel seemed to be sitting all over it. That was the real problem.
Maybe, based on the fact that Steele had missed so badly with four straight heaters, Gurriel knew to switch up his approach in the moment. Based on the information Steele had on him, though, it was a fair guess that he would do well by starting him with the breaking stuff. Gurriel had seen 31 first-pitch breaking balls from lefties this year before that pitch, swung at only eight of them, and come up with zero hits. Nor was Steele falling into some predictable pattern. Only 42 percent of his first pitches to righty batters with runners on this year have been sliders. Gurriel does find most of his over-the-fence power against southpaws on the softer stuff, but in that situation, it was the single Steele and Gomes really wanted to avoid. Gurriel hammers fastballs off lefties, low on trajectory but high on exit velocity, so they went with the pitch that had a chance to buy them a strike and open things up. They got burned. If Gurriel guessed right because of the previous at-bat or the knowledge that they'd want not to let him line a single off a fastball, then he earned that homer. The shortest answer, though, is that that was a tough matchup, and Steele caught a bad break.
The Thomas homer deserves a bit more of a raised eyebrow, perhaps. It, too, came with two outs, and right after a maddeningly perfect opposite-field single by Gabriel Moreno, on a fine pitch. Tommy Hottovy had come to the mound to reset things, but Steele still looked upset afterward. This time, he made a genuine mistake, and Thomas punished it, relatively underpowered though he is.
Was it a mistake to try for a slider on the outside corner, though, or did Steele just miss, near the end of a cursed outing in a hard final month of a long season? Again, it looks like the latter. Thomas has a bit of a slider-speed bat, so you can always make the case for hammering away at him with the heat, but Steele doesn't have even average heat in the first place. Overpowering guys, at least speed-wise, is not his game. On the outer edge of the plate, that pitch probably gets the ground ball Steele was seeking, and ends the inning, keeping the Cubs in the game going into the final act of the drama.
It was two first-pitch sliders--no gathering drama, no at-bat in which a cue or a call was missed or in which Steele gave in, however begrudgingly. The Diamondbacks seemed to sit on his slider in his last start against them, and got virtually nothing from it. They seemed to sit on it again Friday night, and this time, they were rewarded. They whiffed on six of their 15 swings, but all of those swings were exceptionally aggressive.
This isn't how almost anyone thinks of baseball luck. Luck is the bad bounce, the bad call, the untimely gust of wind or the rainout when your ace is scheduled and everyone's bat is hot. Luck is a blooper landing between three good defenders, not a 411-foot home run. Yet, sometimes, luck is absolutely that last thing. If it's true that an eighth of an inch on the bat can be the difference between four bags and a pop-up, Steele was an eighth of an inch from getting out of two jams. The Diamondbacks' runs are not in any sense unearned; they were won by great swings.
Still, all the numbers and the matchups say Steele could have gotten away with it. Maybe he even should have. He just didn't. Every now and then--and especially, perhaps, when you're a team that got so hot in the summer that it was possible to almost forget how bad you were in the chilly spring--the baseball gods flick your ear with a fair-and-square thumping, instead of leaving any way for you to squirm out of the responsibility. Steele made mistakes. Not all mistakes were punished, but these were, and now he's out a Cy Young shot, and his team is suddenly under threat in the playoff hunt.
The Cubs got consolation, at the end of the game. Marcus Stroman's return from the injured list was not exactly triumphant, given the score, but he looked terrific. If he's a force the rest of the way, the thinness of the relief corps will feel less dire. The team cracked three home runs in the ninth inning to tighten a loose game and force Paul Sewald into the game. Maybe that will pay off in the final two contests of the series, which they now need to win badly. Still, that kind of succor is hollow at this time of year. Every win is precious, and every loss is sawtoothed.
Steele got unlucky. That's the bone-rattling truth of it. You can get beaten at just the wrong times, halfway by accident, and it can be curtains for that night, when the team needed the win so badly you all tasted the adrenaline in the backs of your mouths the moment that first home flew out of the park. Keep calm, and win the weekend. That's the attitude the team needs. Alas, it's not as simple as saying it. Bad luck, like a threatened snake, can strike twice. The Cubs have to play better, and they have to get luckier, and they're running out of time to get both of those forms of relief.