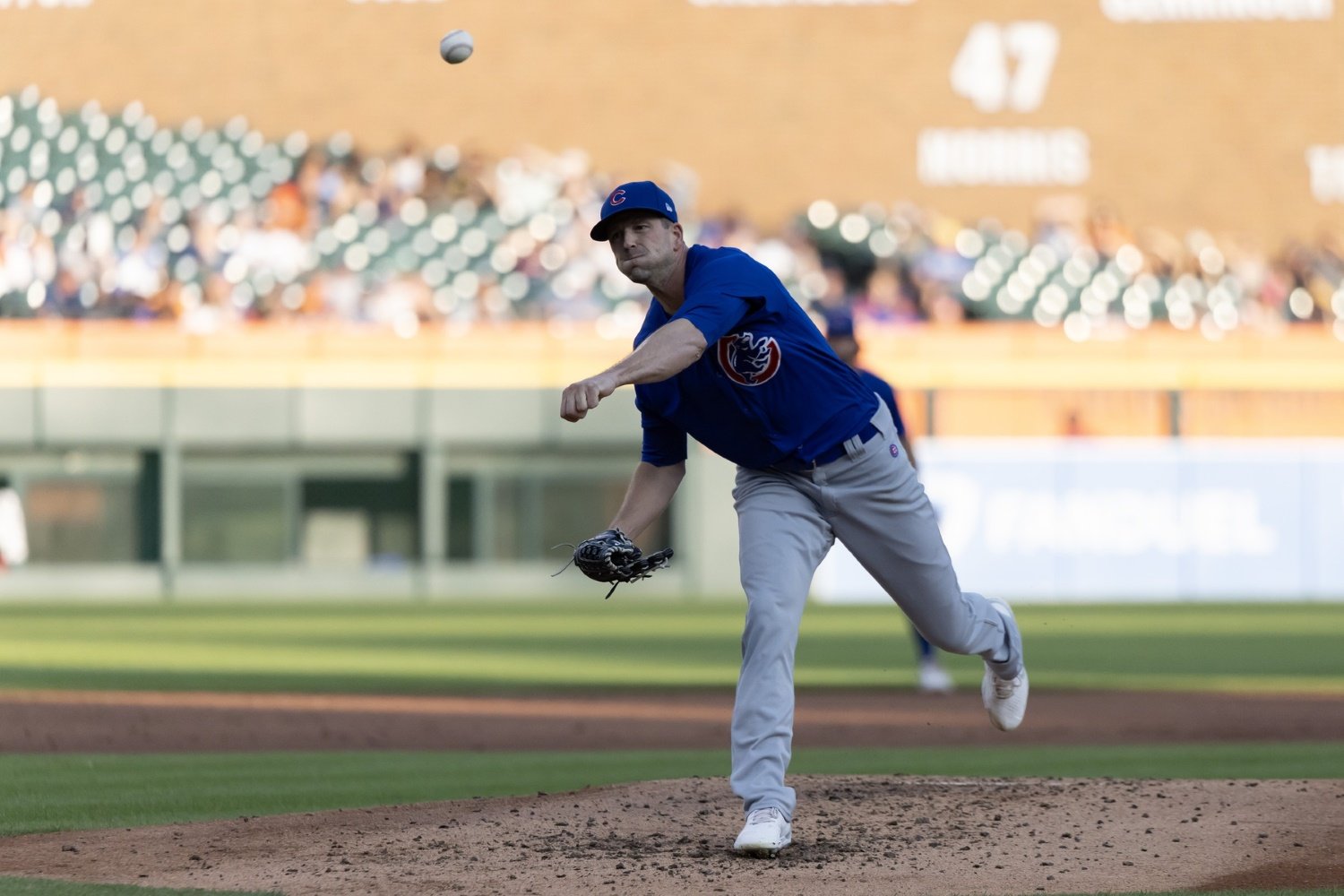 Image courtesy of © David Reginek-USA TODAY Sports
To be fair to Jed Hoyer, it wasn't he who said that every opportunity to win is sacred. That was his former boss, Theo Epstein, at his introductory press conference in October 2011. Ultimately, Epstein wasn't able to uphold his own purpose statement, and it's never been clear that Hoyer holds winning as dear as Epstein does, anyway. Still, sending Drew Smyly out there to give away Tuesday night's game was a galling betrayal of the principle that should underlie every baseball team's enduring endeavor. Every opportunity really is sacred, and the Cubs desecrated a pretty big one.
Thankfully, every cloud has a silver lining. It's really just the sun shining, back there, and sunlight can be harsh, but it's a welcome respite from the storm the clouds brought. This sunlight is going to hit Hoyer and David Ross in the eyes like it hits the brutally hungover (fitting, since Tuesday night's choice suggested a certain measure of baseball inebriation), but they ought to see everything clearly in it. Smyly has demonstrated his inutility as a starter beyond any refutation or excuse. He's done in the rotation for the rest of this season, and if Tuesday night's calamity was what it took to finally effect that, then we can count it as a tiny win.
The Cubs have only deeply imperfect options behind Smyly. They'll need to ask for more innings from Hayden Wesneski, even though he's made strikingly little progress in his struggles with left-handed batters this year. They'll need to recall Jordan Wicks, whose performance at Iowa suggests that he's ready but who will be limited both by their willingness to let him pile up innings and by the rough edges he has not had time to sand off his game in the minors. In all likelihood, they'll call upon erstwhile Tigers and Atlanta reliever Shane Greene, too, but as something closer to a starter than to his old single-inning, high-leverage role.
I wrote about what Cubs fans should (and shouldn't) expect from Wicks in my piece Monday morning, excoriating the choice of Smyly to toe the slab Tuesday night. He'll be a competent fifth starter, though probably not (immediately) any more than that. Let's discuss, briefly, what Greene brings to the table.
About seven months older than Smyly and without any meaningful success in MLB since 2020, Greene is an unlikely candidate to show up and pitch at a three- or four-inning stretch in a playoff race in 2023. Yet, he's posted a 2.84 ERA in four appearances with Triple-A Iowa this month, including five scoreless innings as a starter Tuesday night. His fastball velocity (unsurprisingly) faded badly late in that outing, and it would be surprising and ill-advised if the Cubs asked him to do that much in any single game if and when he gets the call.
That, however, doesn't mean he can't contribute in a multi-inning role of some description. Greene has tweaked a couple of things in his work since signing a minor-league deal with the Cubs in late June. He's now sporting a sinker that actually has heavier downward movement than his cutter and slider, the secondary pitches he uses most against lefties and righties, respectively. Here are his pitches charted by horizontal and vertical movement by year, with this month's Triple-A work in the blue boxes. 
Greene has also become an increasingly furious slider slinger, against righties. He's developed a second variation of the pitch (not pictured here, but obvious in parsing his data) that looks more like a sweeper, too.
Greene hasn't recovered the mid-90s velocity he had when he was a successful closer in Detroit, and he's unlikely to overwhelm big-league hitters at this stage. His sinker and four-seamer consistently get hit hard, and his only future in the majors is as a junkballer. With his command of the slider and cutter, though, he might well be able to give the Cubs 15 or 20 good innings down the stretch. At this point, the worst-case scenario for him is just that he produces exactly the way Smyly has for over two months.
There are bad days, even in good seasons. The Cubs fought valiantly to try to pull out Tuesday night's game, but the front office and the manager cornered them. When the front office and coaching staff chose to send Smyly to the mound, and then when Ross chose to let him take the mound again for the fourth inning with a one-run lead, the rest of the team was compelled to be perfect. They nearly managed it, but it wasn't fair to ask it of them. 
Compounding the misery of that game itself, the Reds, Brewers, Marlins, Phillies, and Diamondbacks all won. There's no truly good news here. All that's left is to flush the day, secure a series win Wednesday afternoon, and turn all eyes forward. There's a risk, right now, that this team will vitrify and shatter in the August shelter, the same way they did in 2001. Smyly's start had all the overconfident front-office overtones of the Brian Matusz Game in 2016, but this team shares much more in common with those 2001 Cubs than with the essentially bulletproof eventual champions. To thwart that risk, they need to take action. Thankfully, even while it damaged their playoff odds, Tuesday probably gave team management the wake-up call it needs to increase those odds by making more serious choices the rest of the way.
1