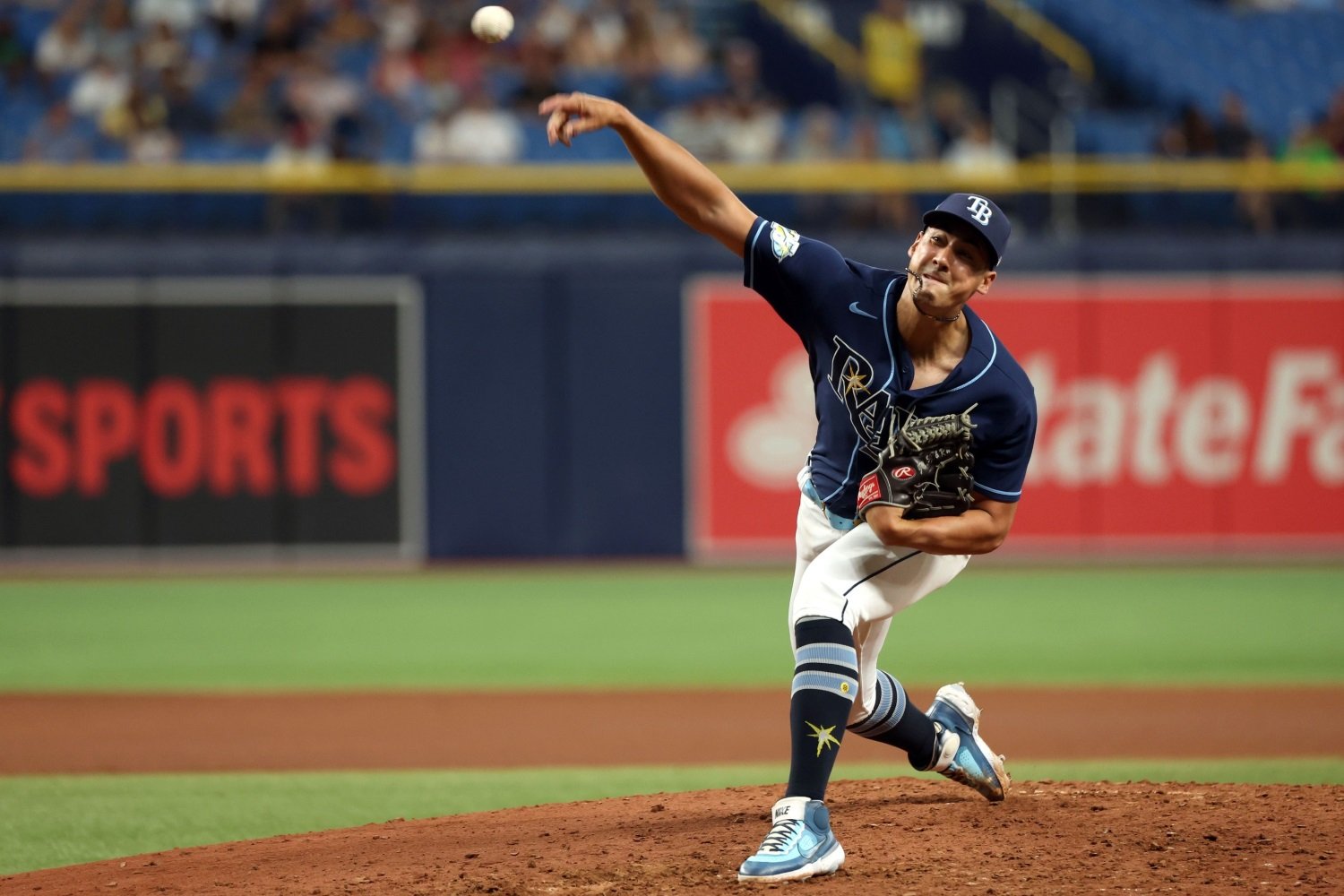 Image courtesy of © Kim Klement Neitzel-USA TODAY Sports
In Part One of this series, I wrote about the starting pitchers who could fill out the front end of the rotation, and about the urgency of bringing back Cody Bellinger. In Part Two, we discussed the hurlers who could transform the back end of the bullpen, and those who can give the middle of the lineup the thump and thwack it needs. Now, let's round out the picture.
Third Base
Nick Madrigal showed flashes of promise, especially on defense, but the bat isn't there, and the repeated soft-tissue injuries make him unreliable. The Cubs need a steadying presence. With Matt Shaw potentially coming soon, it's okay if that is a short-term option, though we still don't even really know if Shaw can play third or not. Someone here to stabilize the position and push guys like Madrigal, Miles Mastrobuoni and Patrick Wisdom to the bench or off the 26-man roster is a clear area for improvement.
The Options
Jeimer Candelario (30), 3B/1B
Stats: .251/.336/.471 (117 wRC+), 22% K, 9.2% BB
The Cubs brought Candelario over in a mid-season trade, and while there were injury problems, he was raved about in the clubhouse. Prior to the back injury he suffered in Pittsburgh, Candelario slashed .312/.379/.506 in 87 plate appearances--only to see his production crater after he got hurt. He eventually spent significant time on the injured list. Candelario brings corner infield versatility and is a solid all-around hitter who isn't a liability from either side of the plate. He's a really nice fit for this club, shouldn't require a long-term commitment and doesn't block Shaw if he proves to be a legitimate option at the hot corner soon. Something a little above what Brandon Drury got last offseason would seem to make sense for both sides, who seem equally interested in a reunion. This would be my betting favorite for 2024 Cubs third baseman.
Justin Turner (39), 3B/1B
Stats: .276/.345/.455 (114 wRC+), 17.6% K, 8.1% BB
Turner was available and would have been a great option prior to 2023, but he signed for more than I assume the Cubs were comfortable with. He went on to be his usual self with Boston. Even at age 38 he continued with low strikeouts (17.6%) and some power (23 HRs on the year) on his way to another .800 OPS season. Turner would be another bridge option, but I'm not so sure he's capable of playing 3B anymore at age 39. He had -4 OAA in just 25 attempts in 2023, so he may be more of a 1B/DH at this point.
Matt Chapman (31), 3B
Stats: .240/.330/.424 (110 wRC+), 28.4% K, 10.7% BB
Chapman was everyone's favorite option prior to the 2023 season, but he struggled a bit with Toronto. After a scorching-hot April, he slashed only .205/.298/.361 with a 30% strikeout rate the rest of the way. The quality of contact (when he did make contact) was fantastic, though. He ranked 98th percentile or better in: Barrel rate, Hard Hit rate, and average exit velocity. The defense is also still very good. Chapman is a very good option for a team theoretically in need of power, but will the power translate? I'd bet on it on a shorter-term deal, but Chapman may end up getting a commitment with which the Cubs aren't comfortable.
José Ramírez
See Part Two. Ramirez is such a potentially high-impact addition that he got folded into a different category.
6th/7th Inning Relief
A lot of the relief depth options flat-out failed this year, whether that was veterans, guys who broke out during 2022 or young guys from the upper minors. The Cubs need a bit of stability in the middle innings to help bridge the gap to the back end of the pen. A reliable lefty and a righty or two with some upside would be great fits here.
The Options
Robert Stephenson (31), RHP
Stats: 52 1/3 IP, 3.10 ERA, 38.3% K, 8% BB
He revamped his arsenal this year, and became a menace with absolutely elite stuff. Hitters managed just a .160 xwOBA on Stephenson's cutter, and .138 on the splitter. Those offerings give him weapons to attack both left- and right-handed hitters. He throws the cutter over 40 percent of the time, and gets 59.9% whiffs on it! Given the short track record, it feels like this one could be a steal and could end up being a really high-leverage arm, potentially even closing. A deal of two or three years at $8-12 million feels right for a guy with a shorter track record, but with elite upside.
Reynaldo López (30), RHP
Stats: 66 IP, 3.27 ERA, 29.9% K, 12.2% BB
It's plus-plus velo (averages 98 mph on the fastball) and a really good upper-80s slider. The walks are a bit of an issue, but López is a solid sixth- or seventh-inning option to really bolster the middle-inning depth and take pressure off guys like Julian Merryweather.
Brent Suter (34), LHP
Stats: 69 1/3 IP, 3.38 ERA, 18.8% K, 8.6% BB
The funky lefty gives a different look and throws hitters' timing off. Only averages 87 mph on the fastball, but he's tough to square up (97th percentile or better in Barrel rate, average exit velo, and Hard Hit%). 
Hunter Harvey (29), RHP
Stats: 60 2/3 IP, 2.82 ERA, 28.5% K, 5.5% BB
The oft-injured former top prospect finally established himself as a dominant reliever over the last two seasons. He has 98-plus miles per hour on the fastball, with a devastating split that held batters to a .235 wOBA. Cost may not be as much as you think here because of the injury history, but it's closer upside.
Kyle Finnegan (32), RHP
Stats: 69 1/3 IP, 3.76 ERA, 21.9% K, 8.3% BB
The other Nationals pen arm, Finnegan has premium velo (97.3 mph) without premium swing-and-miss. The splitter is devastating, holding batters to a .190 xwOBA, but the fastball is pretty hittable. It's a solid middle-inning option.
Will Smith (34), LHP
Stats: 57 1/3 IP, 4.40 ERA, 24.3% K, 7.5% BB
The results weren't great this year, but Smith is hell on lefties, holding them to a .199 wOBA with a strikeout rate just under 30 percent. He gets just 7" of horizontal break on the slider, but held batters to a .151 wOBA on the pitch this year.
Enyel De Los Santos (28), RHP
Stats: 65 2/3 IP, 3.29 ERA, 23.7% K, 9.5% BB
Another fastball/slider guy, De Los Santos got 47.6% whiffs on the slider this year while holding batters to a .210 wOBA on the pitch. It's not premium swing-and-miss, but he's extremely tough on righties. Cleveland could be willing to move him as he hits arbitration.
Sam Hentges (27), LHP
Stats: 52 1/3 IP, 3.61 ERA, 25.1% K, 8.1% BB
I absolutely love flame-throwing lefties, and Hentges fits the mold perfectly. It's 95+ from the left side, with a devastating curve he throws 36 percent of the time. Fun profile and a guy who can get both lefties and righties out.
David Robertson (39), RHP
Stats: 65 1/3 IP, 3.03 ERA, 29% K, 9.3% BB
Our (hashtag) old friend had another good year at 39. The cutter is the money pitch, with a ton of vertical movement. He was vocal about not being happy with being traded at the deadline, so he could come at a discount if he prioritizes pitching for a team he's familiar with and that he knows will be competitive.
Matt Moore (34), LHP
Stats: 52 2/3 IP, 2.56 ERA, 27.5% K, 6.9% BB
Moore is a reverse-split lefty, due to the plus changeup. He limited batters to a .190 xwOBA on the pitch and he's 98th percentile in chase rate. Cubs put a claim on him when the Angels cut him loose, so we know they're at least loosely interested. I'd probably prefer a traditional lefty, but he's really good.
Joe Jiménez (29), RHP
Stats: 56 1/3 IP, 3.04 ERA, 30.7% K, 5.9% BB
Traditional fastball/slider guy whose fastball gets touched up a bit too often. A 45.7% whiff rate on the slider makes it a great strikeout pitch, but he's better suited for middle relief, where he'd provide some nice veteran depth.
Michael Fulmer (31), RHP
Stats: 57 IP, 4.42 ERA, 27.4% K, 11.8% BB
Depends on health here, but when Fulmer got right, he was excellent for the Cubs. He generates 16.4" of horizontal break on the sweeper, and hitters had just a .167 xwOBA on the pitch. When his command got locked in, he was borderline unhittable.
Shintaro Fujinami (30), RHP
Stats: 79 IP, 7.18 ERA, 23.2% K, 12.6% BB
"Tommy, why would the Cubs want a guy with a 7.18 ERA?" Velocity is why. Fujinami averages 98.4 mph on the fastball, but the command is very bad. Fun flier to take on a cheap or MiLB deal, if you believe you can harness the velocity.
Brad Hand (34), LHP
Stats: 53 2/3 IP, 5.53 ERA, 25% K, 9.3% BB
Hand is your traditional "tough on lefties" reliever, striking out a third of the lefties he faces. Really not much more to it than that. He can get lefties out, cheaply.
Edward Cabrera (26), RHP
Stats: 99 2/3 IP, 4.24 ERA, 27.2% K, 15.2% BB
He's a starter, but as a guy who has really struggled with command but has premium stuff. If he gets the command back to 2022 levels, it could be the top-tier starter you need, but if not, he has the stuff to get guys out from the pen. The Marlins may be open to moving him because of their rotation depth, and the fact that he's out of options. A guy I'd absolutely love to take a shot on as either a starter or a reliever.
Aaron Bummer (30), LHP
Stats: 58 1/3 IP, 6.79 ERA, 29.2% K, 13.5% BB
A traditionally excellent reliever who really had a rough year with a bad White Sox team. He is a ground ball machine who misses bats as well (87th percentile in whiff% and K%). It's a turbo sinker at 94 mph that generates a ton of ground balls, with a sweeper that held batters to a .210 xwOBA and generated 44.8% whiff.