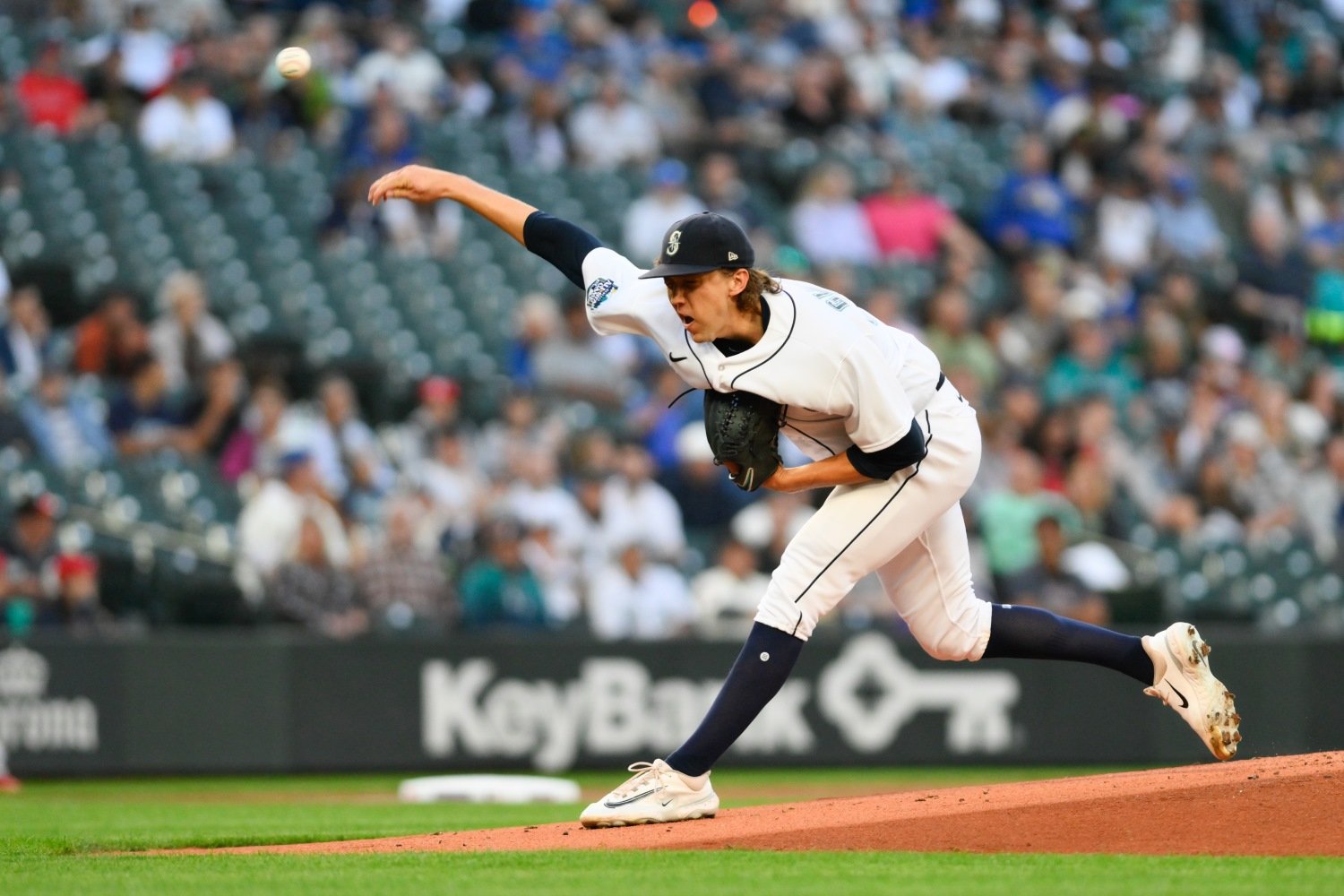 Image courtesy of © Steven Bisig-USA TODAY Sports
With a top-five farm system in baseball and plenty of money to spend, the future does look bright. Here are some ways that they can address their top needs this off-season. 
A couple caveats to start with:
Payroll: My guess is payroll will end up in the $250 million range. The end number may be a bit higher or lower, but that's the vicinity in which I expect things will fall. I don't think the luxury tax will be a huge impediment if the Cubs feel they need to make certain moves. I also think a Shohei Ohtani deal would still fit and push them outside that number, as teams generally view him as a cash flow positive "asset."

Trades: I'm speculating on potential availability in trades. Some of these guys may not be available, but it's guys who could theoretically be moved for one reason or another. So, don't yell at me if you don't think a guy is available. I'm just trying to dig deep to find guys who would be potential fits. 

Trade returns: Unless I see a specifically good fit when it comes to the Cubs sending a specific player, I'm not going to speculate on the exact cost to acquire. It's going to depend on each org's evaluation of their own guy and specific Cubs players, so it's pointless for me to try to call out exact returns.

These lists are NOT exhaustive--just a selection of guys who I think might make sense. Feel free to suggest your favorite targets!
Now with that, let's get the good stuff!
Cody Bellinger
You know how important he is. You've seen him all year. Some may balk a bit at the contact quality data. While I think there's some regression due, I'm not overly worried and think we can connect much of that to the two-strike approach. The bat. The flexibility. The personality. He's the linchpin. Get it done.
The Options
Cody Bellinger (28), 1B/CF
Stats: .307/.356/.525 (134 wRC+), 15.6 K%, 7.2 BB%
No explanation needed. You know him. You love him.
A No. 1 or No. 2 Starting Pitcher
With a solid middle and back of the rotation already locked in, including depth with Jordan Wicks and Javier Assad, the Cubs' biggest need in the starting rotation is at the front. With a strong need for velocity, stuff and whiffs, the Cubs are after a guy who you can expect and hope is your first or second starter in a playoff series alongside Justin Steele.
The Options
Yoshinobu Yamamoto (25), RHP
Stats (in Japan): 164 IP, 1.21 ERA, 26.0% K, 4.1% BB
The crown jewel of the free-agent starter market, Yamamoto is the most accomplished Japanese starting pitcher to come over since Masahiro Tanaka. I expect Yamamoto will exceed the 7 years and $155 million that Tanaka got. While smaller in stature, Yamamoto runs it up into the mid-90s and racks up strikeouts, while walking almost nobody. At 25, he fits the timeline, but with so much money already invested in the rotation, would they want to add another larger-money deal here?
Blake Snell (31), LHP 
Stats: 180 IP, 2.25 ERA, 31.5% K, 13.3% BB
The presumptive NL Cy Young winner had an absolutely ridiculous second half. The 31.5% strikeout rate is exactly what the Cubs need in the rotation, but the 13.3% walk rate can be infuriating to watch. Because of the latter, I prefer the Cubs to look elsewhere, but there's no doubt that Snell is the type of starter that the Cubs could really use.
Logan Gilbert (27), RHP
Stats: 190.2 IP, 3.73 ERA, 24.5% K, 4.7% BB
One of the surprise names rumored to be available at the deadline, I wonder if the Mariners continue to look to move an arm in the offseason, when it might be easier to get big-league talent back. Christopher Morel would be a perfect match here, as the Mariners have a big hole at second base and a need for more offensive thump. Gilbert averages nearly 96 on the fastball, and while he doesn't pile up the strikeouts, he walks almost nobody. The Mariners may prefer to move a more unproven arm, considering Gilbert is still yet to reach arbitration, but I'd at least ask on him.
Bryce Miller (25), RHP 
Stats: 131.1 IP, 4.32 ERA, 22.2% K, 4.8% BB
As I mentioned previously, the Mariners may prefer to move a more unproven arm, and Miller fits the bill. Miller also averages 95 miles per hour on the fastball and doesn't walk anyone, but he'll need to refine command in the zone and also really lock in a breaking ball in order to take that next step. He's a bit riskier of a target, but it's more of a development play than a sure thing.
Bryan Woo (24), RHP
Stats: 87 2/3 IP, 4.21 ERA, 25.1% K, 8.4% BB
Woo is a little less proven even than Miller, but he's another option for the Mariners to move. The fastball velocity also averages 95, but the walks are higher for Woo. He counteracts that by keeping the ball off the barrel better than Miller. He only throws his slider about 9 percent of the time, so I wonder if integrating it more (nearly 14 inches of vertical break and a .236 xwOBA against) would help Woo take the next step. The biggest question is if he can develop a pitch to neutralize lefties. He just doesn't have that right now. Like Miller, he's a big risk to take on if you're really looking for a front-end guy. I prefer other options to both Miller and Woo, but the bones are there with Woo and I think an arsenal tweak could really unlock him. 
Jesús Luzardo (26), LHP
Stats: 178 2/3 IP, 3.63 ERA, 28.1% K, 7.4% BB
A guy with tantalizing stuff who had never really been able to put it all together, he finally did so this year. The fastball is elite, averaging nearly 97 mph, and he pairs it with a wipeout 90-mph slider that generates an absurd 50% whiff rate. Now, why would the Marlins move him after he finally puts it together? They may not. However, they have good starting pitching depth and Luzardo is set to be arbitration-eligible for the second time as a Super Two guy, and will start to get expensive in a hurry. Now may be the time for them to capitalize. Luzardo is one of my favorite starter options for the Cubs.
Tyler Glasnow (30), RHP 
Stats: 120 IP, 3.53 ERA, 33.4% K, 7.6% BB
When healthy, Tyler Glasnow is one of the best pitchers in baseball. Emphasis on "when healthy". Glasnow came back this year to throw 120 innings over 21 starts. The fastball averages over 96 mph, and the curve is one of the best pitches in baseball, holding batters to a .139 xwOBA and getting 51.6% whiffs per swing. The extension he signed with the Rays will pay him $25 million next year, in the final year of that deal. That might be a tad expensive for the Rays to keep. It's a risk to add him, but given the rotation depth the Cubs have, they may be uniquely positioned to take this kind of risk. He's exactly the type of arm they need in this rotation.
Shane Bieber (29), RHP
Stats: 128 IP, 3.80 ERA, 20.1% K, 6.4% BB
A couple years ago, he might have been at the top of this list, but now he's more of a cursory mention. Bieber is still very good, but the stuff has taken a step back in recent years. The velo is now at just 91-ish miles per hour, and his strikeouts have ticked down. With Marcus Stroman and Kyle Hendricks both likely back, Bieber probably isn't a fit anymore, but I felt it necessary to mention him here given the pedigree and the fact that he's probable to be moved.
Aaron Nola (31), RHP
Stats: 193.2 IP, 4.46 ERA, 25.5% K, 5.7% BB
Nola is another guy who was a much bigger name a year ago. The stuff has also taken a step back here, but I absolutely love the bulldog mentality. The Cubs could use a guy that you can pencil in for 180-plus innings. He's still quite good, with a K-BB% of nearly 20, and he's in the 96th percentile for chase rate, but at age 31 and given that he's likely to command $100M or so, would the Cubs want to take that risk, with so many dollars already committed to the rotation? He seems closer to Jameson Taillon at this point in his career than to the top-five Cy Young finisher he's been in years past.
Sonny Gray (34), RHP
Stats: 184 IP, 2.79 ERA, 24.3% K, 7.3% BB
What a tremendous year for Sonny Gray. He finally put together his first 30-start season since 2019 and did it with an ERA below 3. He upped his sweeper usage this year to over 20 percent, and the pitch has been near-unhittable, with an xwOBA against of just .164 and a Whiff rate over 40%. He does it more with craftiness than blow-you-away stuff, but he's quite good. At age 34, he's likely to command a deal similar to what Stroman got a couple years ago, so the length might not scare the Cubs away. I prefer more raw stuff if the Cubs are going to add a starter, but Gray is very good and could fit well.
Shōto Imanaga (30), LHP
Stats (in Japan): 159 IP, 2.66 ERA, 29.5% K, 3.8% BB
The "other" starter expected to come over from Japan, Imanaga is older, and doesn't come with quite the same pedigree as Yamamoto. However, he actually graded out better in terms of Stuff+ than any starter at the World Baseball Classic. The velo has ticked up to the low 90s, and he can touch 95. I expect him to command a deal close to what Kodai Senga got, and there's reason to be interested, even if he isn't at the top of the priority list.
Tarik Skubal (27), LHP
Stats: 80.1 IP, 2.80 ERA, 32.9% K, 4.5% BB
Skubal might have been the best pitcher in baseball in the second half. I doubt the Tigers move him as they look to move into contention, but he's entering arbitration, so they may consider it. The fastball averages 96 mph and he has an elite changeup that allows him to neutralize righties as well. It was only 80 innings for him this year so he hasn't put together a full season yet, but the Skubal breakout is here. He'd be expensive, but it's a call the Cubs need to make to old friend Scott Harris.
That's far from being the end of the offseason priority list, but if the team retains Bellinger and adds at least one of the above, they're off to a good start. Next time, we'll talk more about the other things on the checklist.
See Part Two of Tommy's offseason outlook series, here.
1