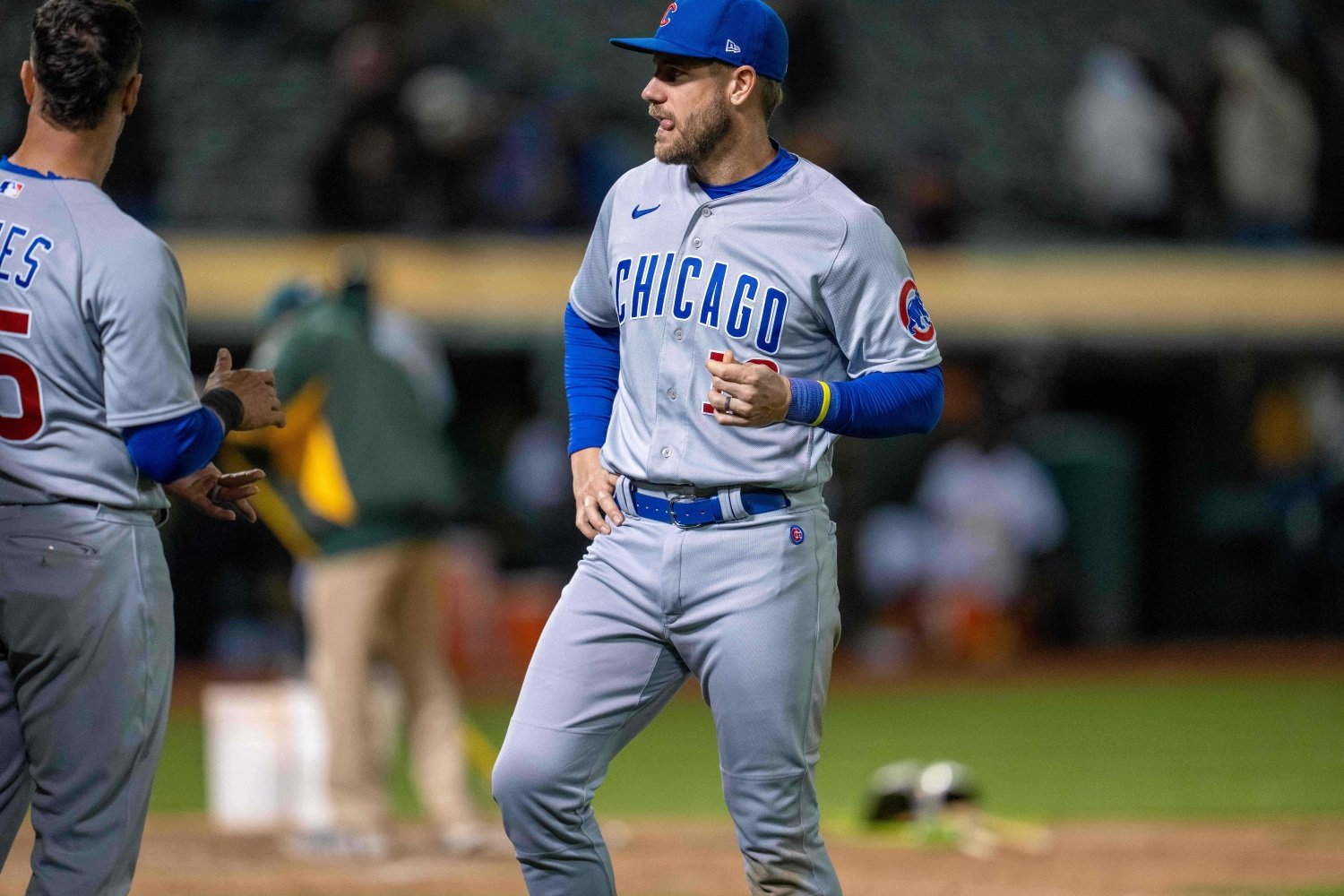 Image courtesy of © Neville E. Guard-USA TODAY Sports
As I watch Patrick Wisdom hit his second homer of the night and tie Pete Alonso for the league lead, with eight, I am reminded of two things. 
There's a slight chance I might have been at least a little bit wrong about this Cubs offense. It's fun! It's not especially powerful (beyond Wisdom), but the contact and the baserunning make them a far more compelling group to watch on that side of the ball than I expected.

I was probably also wrong about the aforementioned Wisdom. 
The Cubs made improvements to most areas of their lineup. At the very least, spots like first base were addressed. They left the hot corner untouched. I certainly wondered about that. Of course, discussion will be had about a potential Matt Chapman signing down the road, but the spring training picture didn't lend itself to a great deal of encouragement. 
There was Wisdom, of course. Christopher Morel had a fun rookie year, with the team potentially looking at him as an option there after moving him around a bunch in 2022. Edwin Rios was added during the spring, giving the Cubs a potentially potent platoon (love alliteration) with at least average defense at the spot. Nick Madrigal was added to the mix. It became a hodgepodge of bodies at a corner spot, which seems to be a bit of a secondary theme with this year's group. 
To this point, though, the spot has been all about Wisdom. He's started 10 games there, with a pair of appearances in right field and one as the designated hitter. It's otherwise been Madrigal, who has been just fine defensively across four starts. Nonetheless, as muddled as the spot was, it's extremely clear that Wisdom has third on lock. 
And with good reason. Beyond his eight homers, Wisdom has been fantastic in the small sample. His strikeout rate, at 31.6%, is actually lower than it's been in either of the last two years. Contact is up a bunch, sitting at 73.3% overall, a bump of seven percentage points from last year. His 193 wRC+ and .500 ISO are hilarious stats to include given the sample size, but they speak to just how hot he's been. 
In nailing down third, Wisdom has essentially made the other options on the roster into non-factors. David Ross has been content to roll Ríos out as nothing more than a DH, while Madrigal gets in as a contact bat mostly designed to give Wisdom a blow. Those roles are becoming more clearly defined before the month of April is even out. 
Where this does complicate things is in matters of Christopher Morel. At one point during the spring, it looked as if Morel could be the guy at the spot. As a rookie last year, he saw time at second, third, shortstop, left, and center, with the healthy plurality of those appearances (57 of them) in that last spot. And while he was optioned to Iowa to start the year, he's been on a scorcher to start 2023. 
Through a dozen games in Triple A, Morel has gone for a .378 average and reached base at a .500 clip, with four homers and a pair of steals mixed in there. Three of his last four homers have come in the last three games. He's walking at a very strong 18% rate, while his 28% strikeout rate is a little more reasonable than his 32% at the big-league level in 2022. His wRC+ is a comical 225. He's been fantastic. And, by all accounts, it's not going to matter in the short-term, because of Patrick Wisdom's own offensive outbursts. 
Finding a fit for Morel seemed easy early on. Wisdom was always going to get the first crack. But if he struggled, it seemed more likely that Morel would get a shot for a regular gig over guys like Ríos or Madrigal. With Wisdom going the way he is, though, matters have become much more complicated in finding a path for Morel to return to the big leagues. 
Morel has started at third in half of Iowa's games so far, with looks in left and center for a couple games each. It's a trend that illustrated the organization's desire for him to develop at third base specifically. But if Morel's going to force his way back to Wrigley, as appears to be the case based on this dozen-game sample, it's likely going to require a different path than initially thought. 
Ian Happ, Cody Bellinger, and a now-healthy Seiya Suzuki have the outfield spots locked down. It's not a situation where Morel is needing to traverse the outfield grass in the same capacity that he did last year. The middle infield is also spoken for, between Dansby Swanson and Nico Hoerner. And with Wisdom's start, first base is the only spot in any kind of flux (until we get that Matt Mervis call-up, at least). So, unless Wisdom flames out far quicker than any of us are expecting, it's going to have to be some type of superutility role for Morel upon his return. 
Not that there's anything wrong with that. The DH does lend some flexibility to Ross to work in a guy like Morel on a near-daily basis. Get guys like Happ, Bellinger or Wisdom a day, and you've got Morel in there easily. Of course, that requires the team to declutter the backend of the roster. Phantom IL Trey Mancini? Move on from Eric Hosmer? Stop carrying three catchers? They're solutions, but maybe not ones that the staff is inclined to make in the immediate future. Could that mean an extended stay in Iowa to continue to log regular starts at third, regardless of performance? It's not at all out of the question. If anything, barring injury, it seems more likely at this point.
Regardless of how it takes shape, it's looking like the most logical path to get Morel playing games at the big-league level again is in that utility fashion. Third base has just become occupied in a way that none of us expected. It's not a terrible problem to have, given that it's required a torrid start from Wisdom. But it very much clouds the picture of what Morel's path back to the top level looks like, even as good as he's been thus far for Iowa.