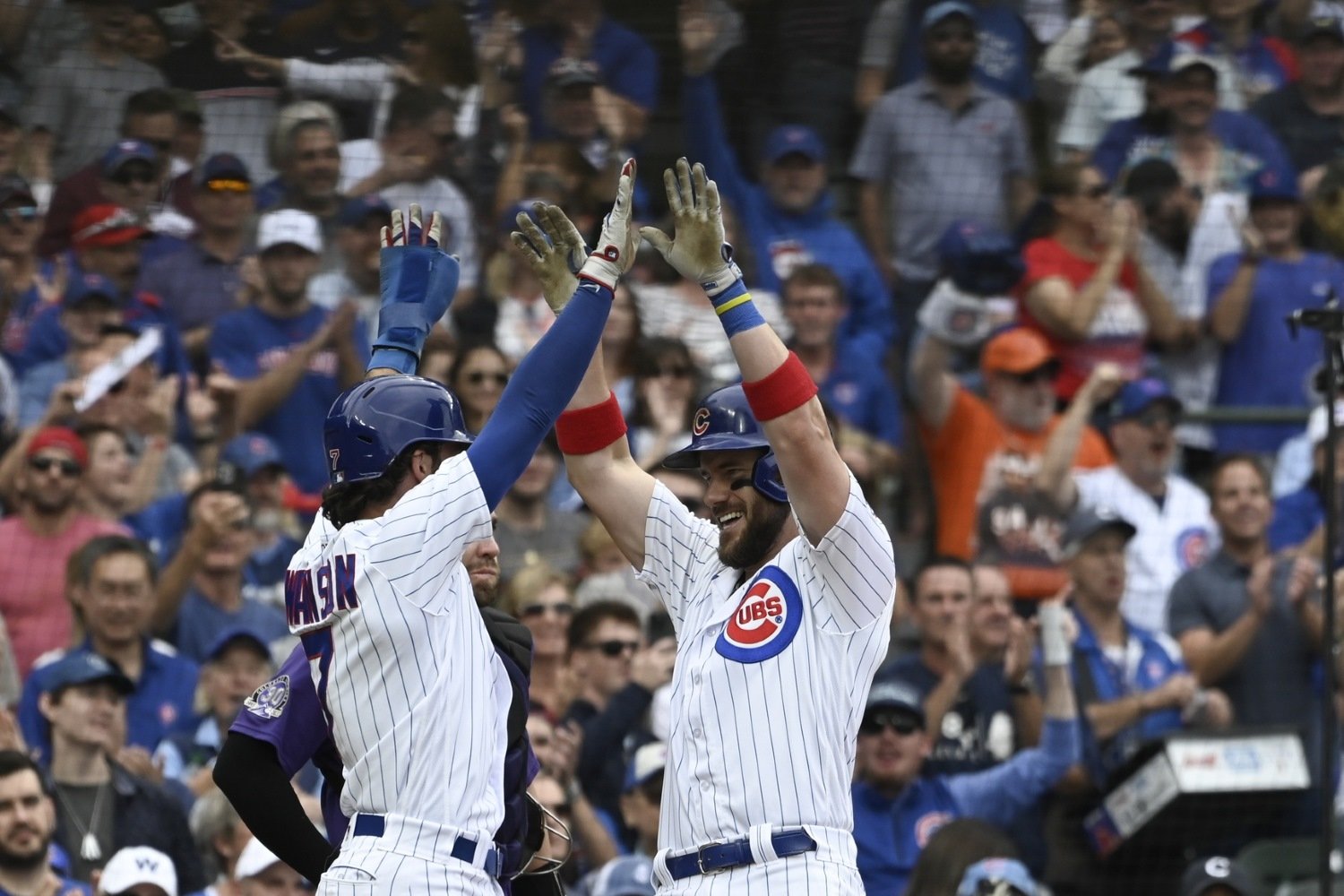 Image courtesy of © Matt Marton-USA TODAY Sports
There have been as many moments when the game seemed to tell Patrick Wisdom he wasn't wanted as there have been when the 2023 Cubs seemed dead and ready for burial. Wisdom wasn't drafted out of high school, though some part of that was because he was committed strongly to Saint Mary's. He was a compensatory first-round pick by the Cardinals in 2018, but five years later, he still hadn't reached the majors, and he was right on the cliff toward which the professional baseball world pushes you--the one from which you're forced to leap, either to catch the ledge above and climb into The Show or to fall down into the abyssal scrap heap.
He made the leap, but it was a close thing. The Cardinals traded him after 2018 for another afterthought minor leaguer. The Rangers cut him loose after 2019 as a minor-league free agent. The Mariners signed him a few weeks later, but he never squeezed onto their active roster during the pandemic season. They released him in mid-August 2020, and the Cubs scooped him up, but his brief stint with that (technically) division-winning team--a couple at-bats, starting three years ago Monday, in front of empty stadiums that made the game so much less fun--had to be a bit unfulfilling.
For its next trick, the game reinforced Wisdom's utter unwantedness by having the Cubs make him a free agent again that fall, only to have him find no takers and come back on a minor-league deal in January 2021. The man was coming up on 30 years old, and he was clearly slated to start his season in Iowa. When he did get the call, in late May, it was Nico Hoerner's place on the roster he took (Hoerner was hurt and placed on the injured list), but quickly, it became clear that his role would be come closer to being the replacement for Kris Bryant. While Bryant moved around the diamond (a week at first base because of Anthony Rizzo's balky back, stops in all three outfield spots as Ian Happ and Jason Heyward struggled), Wisdom slid into the third base slot vacated by him and the (also injured) David Bote.
In July 2021, Bryant started five games at third base, six in left field, six in right, and one in center. Wisdom started 13 times at third that month, but not in the final three games. For those, he moved to first base, to fill in for the departed Rizzo. In a sense, although eventually in tandem with Frank Schwindel, Wisdom was asked to replace both Bryant and Rizzo in the Cubs lineup. He wasn't even a young, exciting alternative. Neither was Schwindel. The Cubs gave him a miserable job to do--and he did it gorgeously. Both Wisdom and Schwindel hammered away that summer, somehow winning the affections of some severely disaffected Cubs fans. 
He came back in 2022, and was asked to be an offensive anchor for the team, a role that so hilariously outstripped his ability that it seems cruel in hindsight. Of his 534 plate appearances, 198 came as either the third or the fourth hitter in the batting order. He kept his OPS+ north of 100, somehow, despite playing through a hand injury for a chunk of that time. He was holding on to his opportunity to play in the big leagues, but what was being asked of him was beyond his ken.
This year might be the meanest trick yet. The Cubs needed Wisdom's astonishingly hot start to surge out to their 11-6 record in mid-April, and to stay afloat through the rest of that month. Once he went cold, though, he took the brunt of the fans' frustration, which was really over the fact that the team had done so little to accumulate the depth a contender should have at the corner infield positions. Then, exactly as the team got hot, David Ross finally did bench him. 
That's not entirely a coincidence, of course. Wisdom isn't a good defender, despite plenty of hard work at both infield corners and in the outfield. He batted .108/.175/.230 in 80 plate appearances from May 15 through the All-Star break, and although there's an injured list stint (and some time spent playing hurt) in there, that's a genuinely ghastly, costly batting line. It wasn't unfair to observe that Wisdom wasn't helping the team, or to call for reinforcement precisely at his spot, which is what the Cubs achieved when they first worked Nick Madrigal in as a defensive ace and then traded for Jeimer Candelario at the deadline. It wasn't unfair of Ross to start using Wisdom very sparsely, which is what he's done ever since then.
It was an awfully thankless job, though. When Wisdom did get the call, he was hitting for a team that has been trying to climb out of a hole deeper than any Cubs team has dug out of before, and he was playing ground balls with everyone scrutinizing him very closely. The stakes were high, and Wisdom had to contend not only with the pressure and the difficulty of succeeding in MLB in the first place, but with the challenges of doing so without any kind of regular game action. 
Since July 20 (the last game in which he was written in as even a semi-regular in the lineup, before the team's recent injury crisis), Wisdom has gone three or more full games without getting in on five different occasions. Take the final three days of August and the first 10 of September, and you have almost a fortnight in which Wisdom had four plate appearances. Since July 21, the Cubs have played 60 games, and Wisdom has come to bat 53 times.
Yet, he has five home runs and a slugging average of .571 in that span. He came up in the sixth inning of a crucial game Sunday afternoon, with the Cubs trailing by one and the wind blowing in, and he smashed the ball through that wind so fiercely that the ball was long gone right off the bat. It was the game-winning hit that secured a sweep of the Rockies and gave them greater control of their own destiny entering the final week of this campaign.
Wisdom has been on the rail of the dugout at every moment of his long stretches of inactivity. He's been such an eager concelebrant in big moments and such an unbothered worker in the face of a quiet demotion that he seems to command the respect of his teammates in a way that refutes any fan's inclination to disdain him. He's 32 years old. He's a journeyman who barely caught the ledge when he was forced to leap to the big leagues, and he might never again be a regular in MLB. Yet, he just hit his 75th home run with the Chicago Cubs. That's as many as Henry Rodriguez hit during his time with the team. Wisdom's next Cubs homer (if there is one) could tie him with Moises Alou on the career leaderboard--or it could not count toward a pursuit of Alou, because it could come in the playoffs.
Rodriguez signed for $11 million over three years when he joined the Cubs, 25 years ago. Alou came along a few years later, at $27 million over three years. Wisdom, who might well be non-tendered this winter, has made about $2 million in total, at a time when the average salary in MLB is more than twice that per year. It's not unfair. It's just thankless. That's baseball, sometimes. 
That's why Sunday was so wonderful, even beyond the concrete benefits to the Cubs' playoff chances. That moment brought wonderful catharsis for Wisdom, and for the guys in that dugout who seem to genuinely love him. That the team still seems to have that irreducible resiliency at its core is a credit to Ross, to be sure. So is the fact that his tactical deployment of Wisdom has yielded such good production. The fact that Wisdom has maintained a great attitude and been a positive clubhouse and dugout presence all along, though, is a credit to Wisdom himself.
Without often being rewarded for it by a demanding and unforgiving game, he keeps bringing joy and dedication to his work. Whatever his numbers or his baseline skills, he's been an important part of the Cubs getting this far this year. As the team stares down a tough slate of opponents for the final week and a thin margin for error, Wisdom has delivered his signature moment, but he's probably not done helping them rebound from difficulty and continue battling for one another.