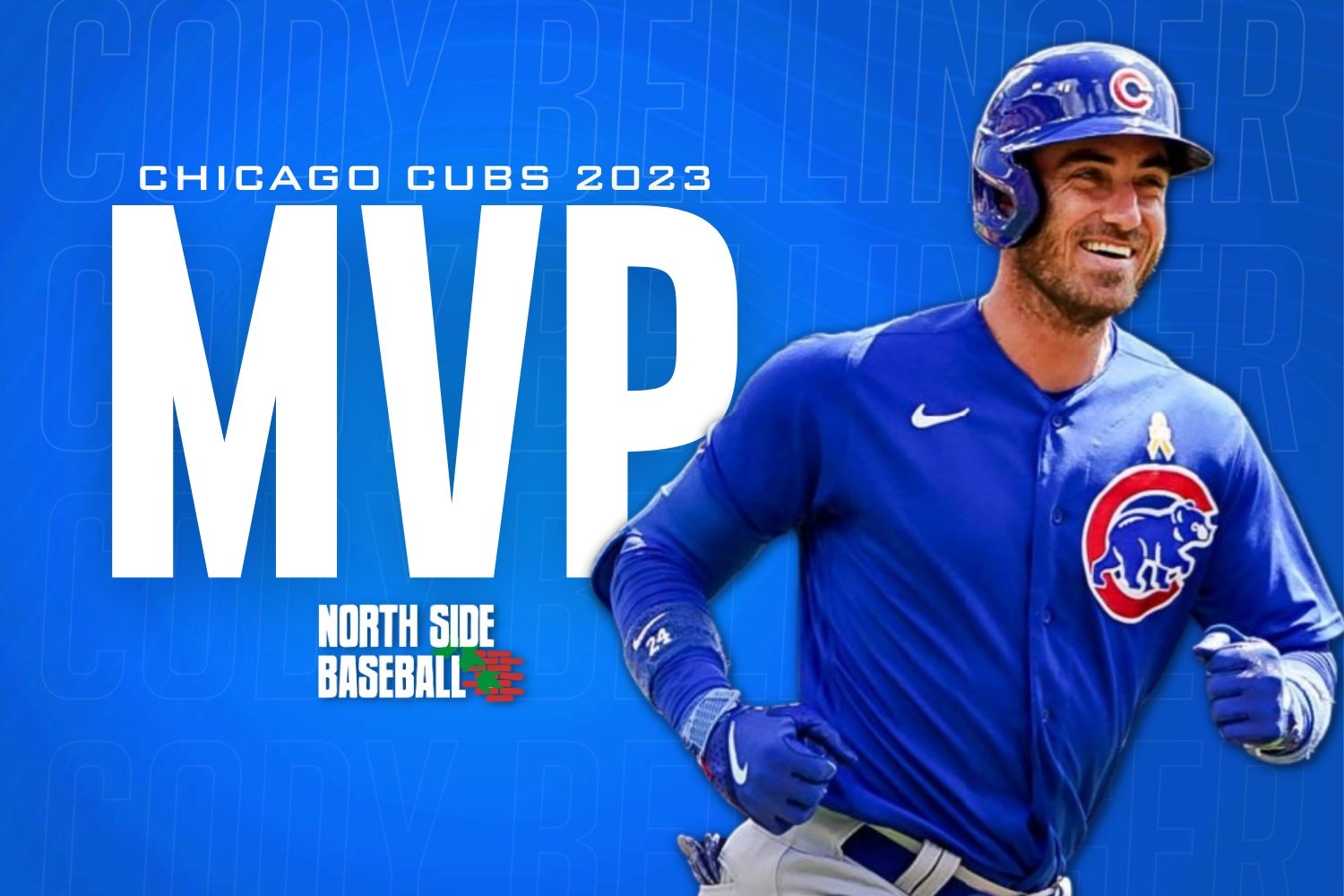 Image courtesy of Thieres Rabalo & North Side Baseball
Here are the voting results for the MVP of the 2023 Chicago Cubs, as voted on by Northside Baseball contributors:
Honorable Mention
Ian Happ, LF
Stats: .248/.360/.431
After an up-and-down first five years of his career, Happ seems finally to have found some stability and consistency in his performance. While his batting average dropped from .271 last year to .248, his walk rate jumped from 9 percent to 14.3 percent to make up the difference. His 118 wRC+ and 3.5 WAR just about mirrored last year's totals of 120 and 3.6, according to FanGraphs. He continues to leave a bit to be desired in the power department, but at this point, this just might be the player that Happ is going forward, and that is still plenty valuable. 
Yan Gomes, C
Stats: .267/.315/.408
So much of the veteran catcher's value goes beyond his batting line, or his 0.9 WAR. "He's just an unbelievable human being, he's an unbelievable leader in the clubhouse," Justin Steele said earlier this season. 
A .462 batting average in high-leverage situations, per FanGraphs, certainly helps his case here, as well. It seemed like every time the Cubs needed a big hit, Gomes cashed in.
Others receiving votes: Adbert Alzolay, Kyle Hendricks, Javier Assad, Christopher Morel
The Top Five
5. Seiya Suzuki, RF
Stats: .285/.357/.485
Suzuki was almost certainly the most valuable player for the Cubs from the beginning of August through the end of the season, as he hit .350/.406/.667 and finally showed an ability to consistently elevate his hard contact. Unfortunately for him, this is a season-long award, and he hit .212/.282/.292 from the beginning of June through the end of July, resulting in a benching prior to his breakout. Hopefully, the Cubs get the late-season version of Suzuki for next season. 
4. Dansby Swanson, SS
Stats: .244/.328/.416
It feels a bit misleading to post Swanson's batting line, as he is a player whp contributes in every facet of the game. His production at the plate was only four percent above league-average, but his 20 Outs Above Average afield led all of baseball, according to FanGraphs. His 20.3 Defensive Runs Above Average on Fangraphs, which adjusts for position, peg him as the fifth-most valuable defender in baseball this year. He was also 4.6 runs above average on the bases, which was 21st in baseball. 
While I am not a huge believer in "intangibles," I think that there is also something to be said for Swanson's attitude and work ethic. He openly advocated to Jed Hoyer that they should not be selling at the trade deadline. He has made it clear that he doesn't settle for losing, and the Cubs couldn't have hoped for much more from Swanson on and off the field in year one of his contract. 
3. Nico Hoerner, 2B
Stats: .283/.346/.383
Similar to Swanson, so much of Hoerner's value comes beyond what he brings with the bat, where he was roughly a league-average hitter. After performing better than most thought he could at shortstop last season, Hoerner shifted to second base, where he (like Swanson) was one of the most valuable defenders in baseball. He ranked eighth in outs above average, and 20th in defensive runs above average. 
Hoerner also proved himself to be one of the most valuable baserunners in baseball, stealing 43 bases, more than double his previous career high. According to the Baserunning Runs Above Average stat at FanGraphs, he added about one win of value on the bases, which was second only to Corbin Carroll. It should also be noted that Hoerner was able to stay (mostly) healthy for the second season in a row, something that was a concern for him after his first few seasons of professional baseball. The Cubs have to feel good penciling Hoerner and Swanson in up the middle for the next handful of seasons. 
2. Justin Steele, LHSP
Stats: 16-5, 3.06 ERA, 9.14 K/9
While he will come up short in the final voting, in part thanks to a rough last few starts, Steele is worthy of all of the Cy Young Award attention that is coming his way. He followed up his breakout last year by basically continuing apace: throwing the cutter in on the hands of righties, and then utilizing his slider off of that.
Steele's 171 ⅓ innings pitched were a professional career high by quite a bit, and given the way he broke down during the stretch run, that is certainly something to monitor going forward. But his 4.9 WAR was seventh in all of baseball. These types of pitchers don't grow on trees. Steele performed like a legitimate ace this season. 
1. Cody Bellinger, CF/1B
Stats: .307/.356/.525
Even the most optimistic Bellinger fan could not have foreseen his performance this season. After two straight seasons of being a significantly below-average hitter, the reasonable hope was that he could bounce back to a league-average hitter while providing defensive value and versatility. Instead, he was the 13th-best hitter in all of baseball, according to FanGraphs. 
What is even more fascinating about Bellinger is that he has completely reinvented himself as a hitter, posting the highest contact rates (and thus the lowest strikeout rate) of his career by a decent margin. His defensive versatility proved to be extremely valuable to the Cubs, too. With Mike Tauchman's emergence, Bellinger being able to shift over to first base gave them the ability to play both guys at once and shore up a weak spot in the lineup and on the infield. 
The question, of course, is what jersey Bellinger will be wearing next season. Based on this season's results, Bellinger deserves a huge payday. For now, we're just appreciating the season he had for the Cubs, the one that resulted in us voting him their most valuable player.