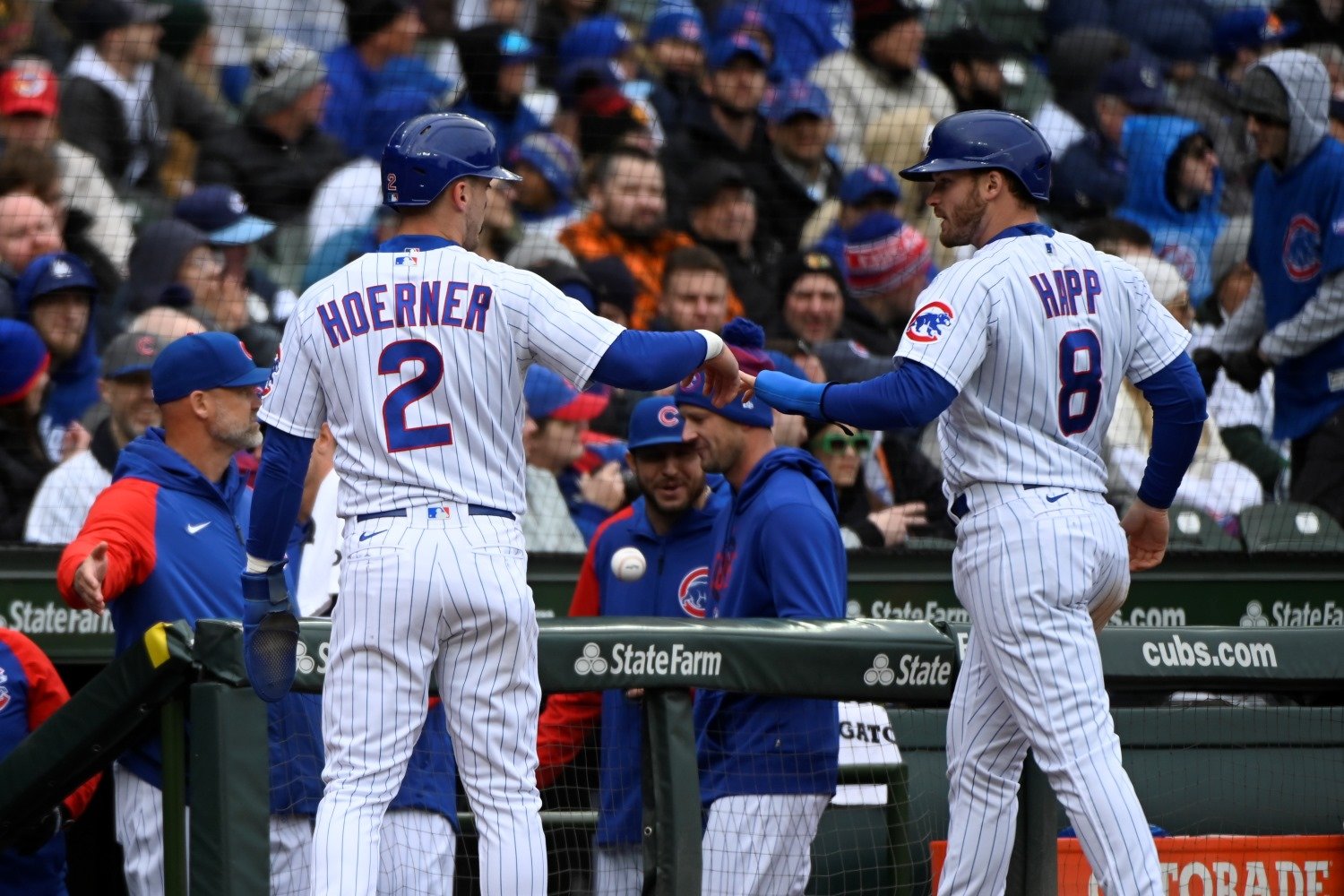 Image courtesy of © Matt Marton-USA TODAY Sports
While many fans prefer to blame the anonymous guys and the free-agent misfires at the bottom of the order for the Cubs' problems of run production, the fact is that the top of their lineup is just as deficient. Nico Hoerner, Dansby Swanson, Ian Happ, and Seiya Suzuki would all be fine as the fifth-best hitter in a competitive lineup. Suzuki and Swanson could each be an acceptable third-best.
Instead, those guys are the four best hitters in the lineup each day, and they tend to get the top four spots in the lineup. That made sense when they began the season scorching-hot, but that time has passed, and there they all remain. Hoerner and Happ, especially, need to have their roles adjusted in the short term to reflect what's really happening for this team.
Hoerner is batting .231/.304/.357 since the beginning of May. Obviously, that's not good enough for a leadoff hitter. He's slowly learning to finish his walks, instead of getting antsy in three-ball counts, and he's still making contact at an elite rate, but teams have learned how to align their defenses against him and he lacks the baseline ability to hit it hard over any of those defenders on a regular basis.
There's always something redeeming to mention with Hoerner, even when he's struggling. During this six-week slump (including a 10-day stint on the injured list), he's still posted a positive Win Probability Added, a testament to his ability to keep his mind and body controlled and to make contact when tight situations demand it. That doesn't qualify a batter to take the highest number of plate appearances on the team, though. 
A different problem afflicts Happ, but it's no less pernicious. His power is just gone. Since the team finished its first West Coast trip (the high-water mark of their season, 11-6) and came home in mid-April, Happ is batting .245/.383/.333. By comparison, Hoerner looks like a slugger. In 183 plate appearances, Happ has nine extra-base hits, and only two of those are homers. He's avoided having his strikeout rate soar (as it always did in the past, when he struggled), and he's walking at an exceptional rate--hence the .383 OBP. By and large, the Cubs are controlling the strike zone as well as might have been expected. The punch is gone, though.
In light of all that, Happ needs to go back to the top of the order. Hoerner can slide down to complement a strikeout-heavy, power-dependent segment of the lineup, around sixth. There, he can continue to come up with clutch hits, and he'll be well-positioned to create some rallies with his legs. (Alas: that assumes that he still has that capability. Hoerner stole 10 bases by the end of April, but only has four since, and just two (in one game) since coming back from his hamstring issue. It's possible that, either mentally or physically, that leg injury has compromised him on the bases.)
The experiment David Ross tried atop the batting order was a worthwhile one. If the alchemy had worked, Hoerner-Swanson-Happ would have been the perfect ignition sequence for the lineup each day. It has an irresistible old-school feeling to it, without being unjustifiable based on numbers. Unlike several other things about this scuffling team, this isn't Ross's fault. The experiment yielded a result, though, and now it's time to act on that result.
Against most right-handed starters, the Cubs should use the following lineup, until Cody Bellinger returns to the team:
Ian Happ - LF

Dansby Swanson - SS

Mike Tauchman - CF

Seiya Suzuki - RF

Matt Mervis - 1B

Nico Hoerner - 2B

Yan Gomes - C
Miguel Amaya - DH
Christopher Morel - 3B
That's not a good lineup, even if you (mostly) buy into the solid at-bats Tauchman has taken thus far and think Mervis will figure some things out if given a longer leash and some better opportunities. (I meet both of those criteria, for the record.) It's just the best the team can do in the short term. Once Bellinger does get back, he can slide into the third spot and reclaim center field, and Tauchman can slide down to fifth, pushing Mervis to seventh. Tauchman would be the DH, in that case, relegating Morel back to the bench.
Against lefties, the formula could look like this:
Ian Happ - LF

Dansby Swanson - SS

Seiya Suzuki - RF

Trey Mancini - 1B

Nico Hoerner - 2B

Yan Gomes - C

Patrick Wisdom - 3B

Miguel Amaya - DH

Christopher Morel - CF
In another fortnight, it could be that Amaya has made a sufficient case to hit more like fifth against righties, and fourth against lefties. For now, though, the team just needs to put him in the lineup every day, to try to keep some semblance of danger and energy in the mix. Sliding Happ up and Hoerner down, meanwhile, has the potential to kickstart one or both, by encouraging them to change their approaches slightly and giving them some different matchups as the game progresses. 
The temptation to call this a "deck chairs on the Titanic" situation is powerful. Plainly, moving this group of personnel around a little bit won't change what seems to be a significant problem of collective approach and player development, let alone addressing the apparent talent shortfall. Still, it needs to be done.
The formulation of the deck chairs and the sinking ship has become a popular skewer, but it's simplistic and cynical. It assumes that there's always an available, more valuable alternative activity. It also assumes that the value of acknowledging an inevitability and still rebelling against it is zero. Neither assumption holds, most of the time, and they certainly don't hold here.
The Cubs have called up the guys they hoped would be major reinforcements. They can't realistically make a trade to upgrade the roster right now. They have to sink or swim with the guys they have. More importantly, perhaps, if much more abstractly, they can't just give up. It would be no more fruitful to start trying to sell off pieces than it would be to try to force a buying-type trade right now. Nor can the team afford another second half of utter despair and disinterest. Yes, it's likely that the Cubs will continue losing and miss the playoffs. Fans need to stare that reality in the face, without allowing it to steer them toward notions of tanking or purposelessness. 
In the remaining seven weeks before the deadline, every run and every win counts. Jed Hoyer maintains better leverage, especially for trades that involve players on expiring contracts (like Bellinger and Marcus Stroman), if the team at least clings to the fringes of contention. Numbers also dictate much about the trade market, even if any baseball person you ask insists that teams make decisions based on evaluations much more broad than that. 
There's nothing to lose by trying to find a more successful permutation of the players on the roster, and there's something to gain by doing so, even if those gains are likely to be painfully small or petty. Getting Hoerner out of the top of the lineup and making Happ the new tablesetter are worthwhile steps.