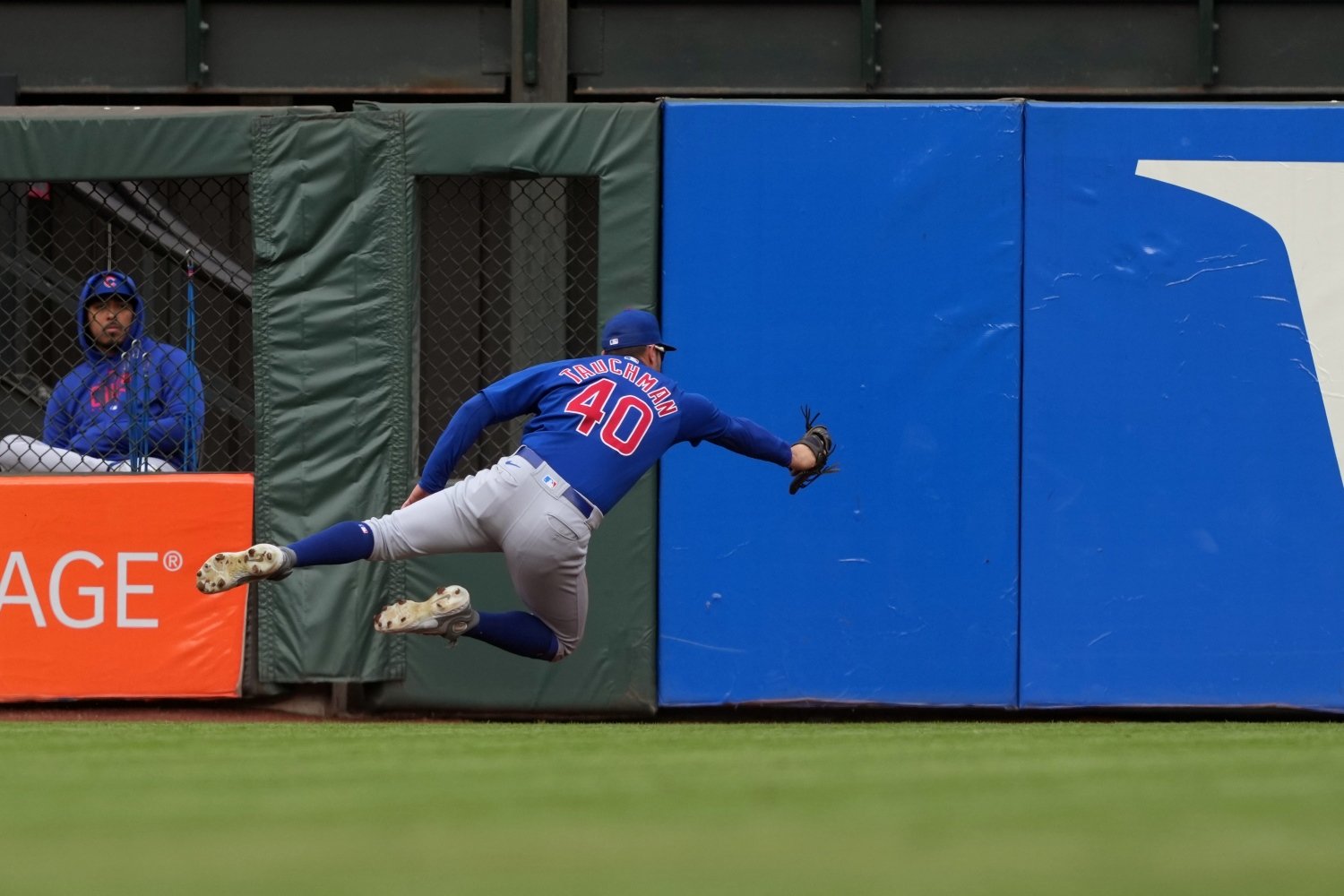 Image courtesy of © Darren Yamashita-USA TODAY Sports
Ok, wait. That's mean. It's not Mike Tauchman's fault that Cody Bellinger isn't back with the Cubs yet. It's not, that is, the corporeal, actual Mike Tauchman. Rather, it's the idea of Mike Tauchman, and the bountiful conceptions of Mike Tauchman throughout professional baseball right now. 
See, Mike Tauchman is good. That's a slightly generous characterization, but it's not wrong. That Tauchman is batting .259/.389/.310 shouldn't surprise us, other than for his lack of power, because Tauchman has had successful big-league stints before. He's not a consistently strong offensive player, but he has plate discipline on his side. On the bases and in the field, he's both a good overall athlete and a smart, skillful player. He had a four-win half-season for the Yankees in 2019, before his career got derailed for a while.
If the expansion of MLB had continued at the pace that it established as normal from 1961 througb 1998, Tauchman would probably be a starting outfielder somewhere. At the very least, there would be fewer Tauchmans waiting on the waiver wire at all times. Instead, it's now been a quarter-century since the last expansion. 
Most of the league's expansions to this point in history have been fueled less by a desire to grow the game and explore new markets than by accident and force. They often needed to head off lawsuits, for various reasons, from cities spurned during the sport's team relocation glory days. The owners colluded against the players in the 1980s, and were caught, and that was why they expanded for 1993--to make up for the money lost in a resultant lawsuit, by extracting a huge expansion fee from each of the new teams.
No obvious impetus has compelled the lords of the realm to expand recently, though,. Many people were hurt by the long pax Seliga in labor relations, but the one inarguable benefit was that the game kept being played, maintained high levels of popularity, and pounced on new potential revenue streams. Thus, it's been 25 years since the last expansion, and will be at least another three before the next.
In the interim, the league's roots in various international markets have deepened. The population of baseball-playing countries has risen. Playing ball has become increasingly lucrative. All of that means that the minors now overflow with guys like Tauchman, and will continue to teem for a while yet.
We often hear expansion discussed for its impact on offense (it's harder to find big-league pitchers than hitters, which is why every expansion in the sport's history has spurred at least some increase in offense over the short term) and on the aging curve (a surfeit of young players makes it hard to hang around even in your mid-30s, anymore). Rarely, though, do we think about how the lack of recent expansion informs the seemingly small and picayune roster choices teams make.
Why do players play through injuries less often than they used to? To be sure, one reason is that teams take a constitutionally more conservative approach to everything, post-Moneyball. Another, though, is that there's less of a dropoff between any given starter and their likely replacement than the one we tend to remember. With every passing year in which the number of available roster spots doesn't grow, the surplus of good players grows. The Cubs don't even get credit, per se, for the success Tauchman has had as he's replaced Bellinger. This is just what has happened. The replacement level is higher, in an absolute sense, than it was five years ago, and it was higher then than five years before.
This is the same reason that leads teams to bring along injured players more cautiously, and to let them take unusually long rehab stints even at the end of short stays on the injured list. Often, there's a roster crunch to consider--a player the team will need to risk losing in order to put their injured player back into the mix. Even when there isn't that obstacle to a move, though, there's always the gentle but firm pressure to wait and see, applied by the combination of surprising competence from a backup or minor-league pickup and the knowledge that a few extra days to recuperate never hurt anyone who was dealing with a bruise, a strain, or a subluxation.
Why have the Cubs had such strong finishes to the last two seasons, after being sellers at the trade deadline? It's the same answer. The team doesn't have a special gift for finding guys like Frank Schwindel, Patrick Wisdom, Rafael Ortega, Mark Leiter, Jr., or Tauchman, and they don't even show unusual perspicacity in trades. There's just a wealth of fringe-average MLB talent floating around the league right now, and opportunity can be the only missing ingredient for some players--at least to permit them a few good months.