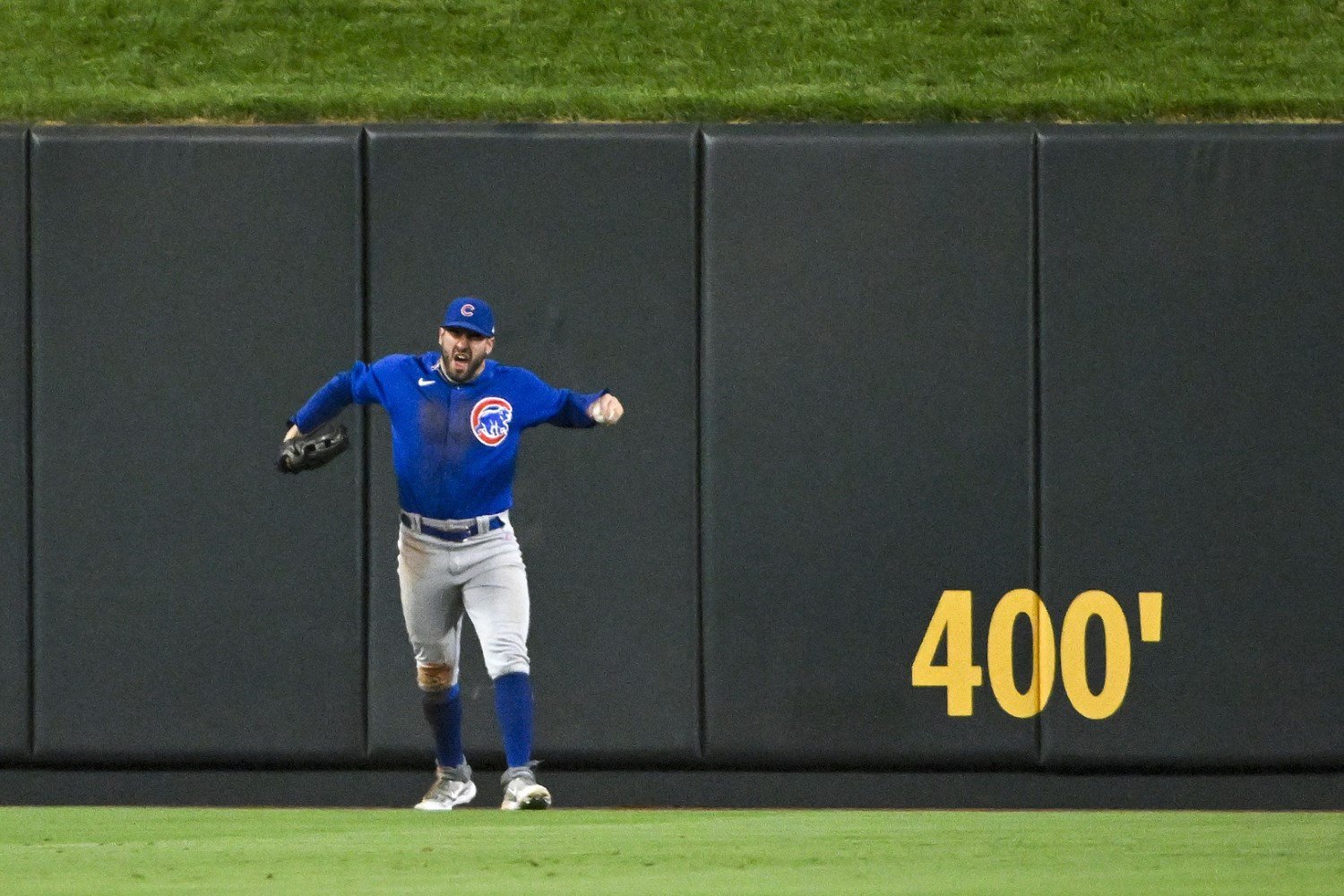 Image courtesy of © Jeff Curry-USA TODAY Sports
In late July, the trade deadline can take over the minds and hearts of baseball fans so much that games themselves slip by almost unnoticed. No such problem with Friday night's game in St. Louis. How good was Mike Tauchman's winning play, and how does it compare to walkoff wins the Cubs have enjoyed since 2000?
The only reasonable way to do this, I think, is to offer a top 10, and then everyone can debate which is their personal favorite. To me, there are more good candidates than that, but these are the true contenders for any kind of top spot.
Briefly, though, a couple criteria. Firstly, the seasonal context matters. Obviously. Not every walkoff memory needs to be part of a narrative that ends with a championship, but it's very hard to place, say, the walkoff win that closed the 2012 season and made the Cubs 61-101 on the same level as a huge hit or big play in the heat of a pennant race. Also, although I'm obviously opening the door to certain plays on the road by starting this discussion with Tauchman's, only hits and difficult defensive plays are going to count here. It was awesome when Wade Davis got the final out of Game 5 of the 2017 NLDS, but it didn't have that same moment of suspense that comes with the crack of the bat and the switch of the TV camera and the baserunners in motion.
Thirdly, it's about that one moment itself, when the play was made. No extra credit for wild comebacks, except insofar as they contributed to the energy of the final play. There was a great comeback win in September 2007, when the Cubs walked off the Reds, but it ended on an infield single by Mark DeRosa with the bases loaded and one out. The excitement and the drama played out over the whole inning, and little of it was packed into that one play.
Ok, here goes.
10. Anthony Rizzo Beats the Dodgers on Trophy Night
The 2017 home opener was like a second coronation for the 2016 champions. The long walk from the bullpen gate to the infield in which Rizzo held the trophy aloft under the thunder of the crowd, then cradled it like a toddler, was pure triumph. That the Cubs' leader would finish that game with a two-out, opposite-field walkoff single only seemed fitting, and at that moment, it felt like the team had sent a message to the Dodgers that the NL would belong to Chicago for a while longer.
9. Back-to-Back to Beat the Reds, April 2004
If you can bear a bit of Chip Caray on a Saturday morning, savor this highlight. In a truly bonkers game that saw ejections and a wild comeback, the Cubs caught the Reds on a full-count, opposite-field home run by Sammy Sosa in the bottom of the ninth. The next batter was Moises Alou, and before the crowd could stop buzzing and shouting or Danny Graves could get his legs back under him, Alou pulverized a ball to win it. It was only April, but that was a huge and exhilarating moment.
8. Addison Russell Saves a Win Over the Cardinals, September 2015
It is, alas, not much fun to celebrate the good things Russell did on the field for the Cubs anymore, understanding how things would eventually turn out and what might have been happening behind the scenes even as he played the hero for that team. One of the galvanizing choices of the second half of that magical 2015 season, though, came when Joe Maddon flipped Russell to shortstop and took Starlin Castro out of his full-time role. By September, it was often Javier Baez playing second alongside Russell, and it was Baez to whom Russell flipped to end a bizarre ninth inning against the division-leading Cardinals--one that featured an ejection for an obviously unintentional plunking. It remains one of the great defensive plays I've ever seen.
ICYMI: Russell to Baez. #Cubs win. pic.twitter.com/z6ygTqLB20

— Adam Van Fleet (@chknlomein) September 19, 2015
7. Sammy Sosa Decks the Cards, September 2003
The five-game Labor Day weekend series against the Cardinals in 2003 is one of the great regular-season series in Cubs history. They needed to dominate that team, and they did it, despite a great deal of controversy and contentiousness. This was the series wherein Kerry Wood and Matt Morris got into a beanball war, and wherein Dusty Baker and Tony La Russa were screaming at each other from their dugout positions.
In the middle of all that emotion, some good baseball happened, too. One game went 15 innings, and it ended only when the big dog said so. 
6. Leonys Martin Kills the Cardinals' Hope, September 2017
Maybe we're developing a theme here, but it was a game at Busch Stadium in 2017 when the Cubs last made a dazzling, walkoff defensive play. The Cubs' division title was already secured, but the Cardinals still clung to faint postseason aspirations. Their tragic number was down to one, and in the 11th inning, a would-be heroic homer to keep their dreams alive was made into the final nail in their coffin, thanks to little-remembered fifth outfielder Leonys Martin.
5. David Bote's Ultimate Grand Slam, August 2018
We're now into the realm where little in the way of reminders is necessary. You remember the David Bote Game--the frustration of that entire second half, offensively, and the way he seemed to magically shatter it, if only for a moment. 
Four years ago today, David Bote hit the ULTIMATE grand slam. Pinch-hit, two-outs, two-strikes, down-three ... pic.twitter.com/NDOoyEndTk

— Bleacher Nation (@BleacherNation) August 12, 2022
4. The Only Fitting Ending to the Craziest Game Ever, August 2001
I've written and reminisced about this one before. In early August 2001, it still seemed possible that the Cubs--who had authored an unexpected 12-game winning streak in the first half and added the venerable Fred McGriff to God mode Sammy Sosa--would make the playoffs. The Rockies came to town, which always leads to chaos, and Angel Hernandez and Steve McMichael got involved, which escalated everything. The ending only brought all of that frantic and confused energy to a cacophonous crescendo, but it was a happy resolution.
3. Kris Bryant Knows an Easier Way to Knock Off the Rockies, July 2015
If you had to point to a single moment at which the eventual World Series champion Cubs emerged, you'd probably pick this one, right? The Rafael Soriano Experiment had just reached its excruciating conclusion. The team was spiraling, and seemed on the verge of toppling out of contention. The arc of that season bore some superficial similarities to this one, actually. Bryant ensured that that year would not become a sad selloff, even if a small one, with this game-changer.
8 years ago today. Kris Bryant's walk-off against the Rockies ? pic.twitter.com/1DFyMYMni5

— Aldo Soto (@AldoSoto21) July 27, 2023
2. Mike Tauchman, Friday Night
Maybe there's some recency bias baked in here; I'm not sure. But that catch, coming at the end of such a taut game (and on the heels of such a needlessly tense one, from the Cardinals side), with the season seeming to hinge on the outcome of each game between now and the deadline, felt like a truly extraordinary moment. It might prove transcendent, as Bryant's did, or it might prove to be the last, best shot of a slightly underpowered outfit, like Bote's did. In the moment, though, it was as big as any of the above.
HOLY COW!! MIKE TAUCHMAN!

CUBS WIN! pic.twitter.com/K7nFdwZ8im

— Chicago Cubs (@Cubs) July 29, 2023
1. Aramis Ramirez Extends a Different Winning Streak to Seven, June 2007
There's a certain delight to be taken in the fact that Tauchman's catch extended the Cubs' season-saving winning streak to seven games, too, because so did this landmark moment. That game had even more pathos behind it, with the home crowd humming as the team worked its way back from a 5-0 deficit, and Ramirez capped it with such style that this one might never be topped in Cubs annals.
I'm eager to hear what people think of these rankings. There are plenty of good potential entries that didn't even make the cut, but these feel, to me, like the biggest and most worthy ones to celebrate.