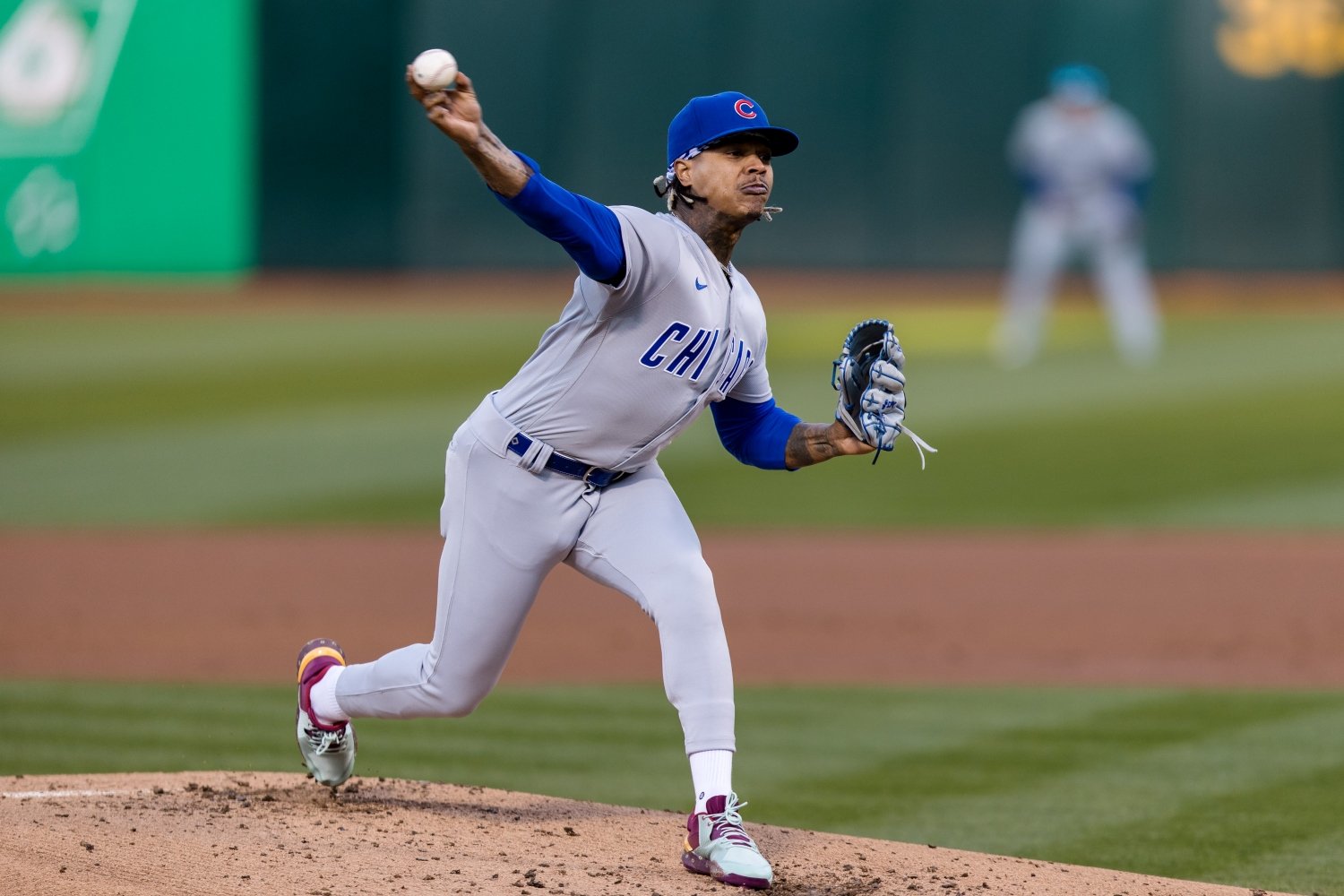 Image courtesy of © John Hefti-USA TODAY Sports
In an interview at the beginning of spring training, Marcus Stroman dropped a line that became an instant favorite for Cubs fans who wanted to revel in the shiny novelty of their new middle infield. In discussing how good it would feel to pitch in front of Dansby Swanson and Nico Hoerner, Stroman affected a rustic accent and said, "That sanker gon' be sankin'." He was, in other words, going to be more comfortable pitching to contact, knowing that his stuff will naturally induce ground balls, and that his adept defenders would reliably snatch those up and convert them into outs.
He hasn't been wrong about that, really. Thus far, 29.5 percent of his sinkers have been in the bottom third of the strike zone, a higher share than he's ever posted in a month in which he threw the pitch at least 100 times. Batters have put the ball on the ground a hair over 60 percent of the time. The sank is real.
The real secret ingredient in the formula that has yielded a 2.17 ERA through five starts for Stroman, though, is not the grounder. It's the strikeout. Stroman has fanned 26.1 percent of opposing batters, a rate he's only eclipsed over a full month once in his career. Both the ground ball (as in the case of the top of the third inning on Opening Day, when Hoerner and Swanson turned a crucial double play for him) and the strikeout have gotten him out of jams during this good stretch. 
Let's examine the ways in which he's achieved those strikeouts. Firstly, we have to point to that command of the sinker, and the great work Yan Gomes has done with Stroman. Of his 30 total strikeouts, Stroman has gotten 12 by freezing his opponent on a two-strike pitch. It's basically impossible to sustain a 40-percent backward-K rate, and Stroman has never even been above 30 in any previous season, but it's worked out that way so far because of the way Gomes has eased the strike zone open at the edges for his hurler. Stroman has done his part, though, by so consistently hitting his spots.
There's more to the story, though. His big breaking ball (called, in various quarters, a sweeper, slurve, or pure slider) has induced more whiffs from righties than it did last season. His sinker itself has done so, too, thanks to his improving ability to manipulate that pitch. He seems to have learned to deaden the spin on the pitch a bit when he wants to target the low, outside corner of the zone against righties, and to let it rip and spin madly in on them when he works to the third-base side of home plate. Gomes and Stroman have masterfully used the sinker and the slider in tandem against righties all year. 
Against lefties, it's a whole different story. That's typical, in one sense. Most pitchers are really two different guys, with two different arsenals and pitch mixes, based on the handedness of the batter. Stroman takes it to a bit of an extreme, though. He's essentially a two-pitch guy against righties, but against lefties, he throws no fewer than five pitches, and if you believe that he really utilizes a distinct two-seamer and sinker, you can call it six.
The key development for him against lefties this year has been the emergence of his cutter as a bat-missing offering. As you can see above, he's throwing that pitch more against them this year, but it's also been more effective. When he's able to locate the sinker as consistently as he has, the cutter becomes devastating, because it's so easy to misread it as a sinker out of his hand. The tight, gyro spin on the pitch doesn't yield extraordinary movement, but what movement it does have appears late and sharp to the hitter.
There are plenty of small, lurking things that Stroman will need to clean up in order to sustain this level of success. At the end of his last outing against the Dodgers, they showed the danger for him when an opposing lineup can see a lot of pitches early in the game and cover the bottom of the zone well. Stroman was forced to elevate a bit to try to change their eye levels, and he's never going to be as comfortable up there as when he's pounding the bottom of the zone. He's also walked too many hitters, but given the command he's showing, that seems like a correctable flaw.
Overall, this has a chance to be Stroman's best season, and that's saying quite a lot. He's figured out how to attack hitters and minimize the risk of damage at a whole new level, and the remaining challenges are just some small tweaks and further tightening his execution.