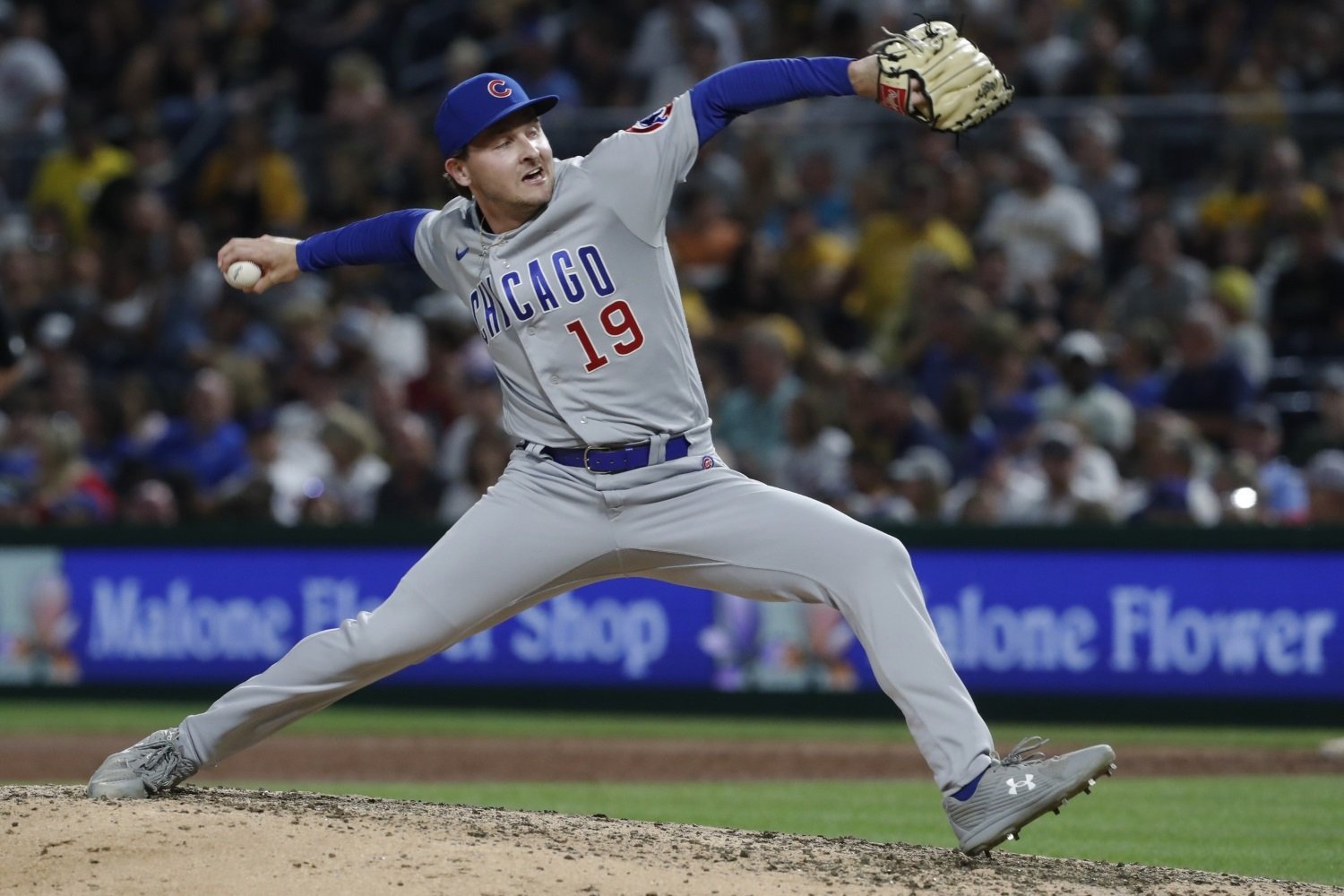 Image courtesy of © Charles LeClaire-USA TODAY Sports
Right off the bat, we can identify a few absolute locks for the 2024 Chicago Cubs bullpen. Adbert Alzolay comes with some lingering health questions, but to whatever extent he can stay available, he'll enter next season as one of the team's high-leverage arms. MLB Trade Rumors projects a $2.5-million arbitration award for Alzolay, but the team won't bat an eye at that cost.
Equally certain to come back is Julian Merryweather, who will be eligible for arbitration for the first time this winter, too. The MLB Trade Rumors estimate for Merryweather is just $1.3 million, and although he occasionally issued too many walks, he'd be a bargain at twice that price. What the Cubs need is more strikeout stuff throughout their pitching staff, and Merryweather might be the best strikeout artist they have.
You can count on Jose Cuas, Daniel Palencia, and Luke Little to be prominent parts of the bullpen mix going into the season, too. Each is still dirt-cheap, by baseball standards, and none of them is eligible for arbitration yet. They all have minor-league options remaining, and none is guaranteed to spend all of next season in the big-league bullpen, but they're all good enough to stay on the 40-man roster even during a winter of tumult. Their upside is terrific.
After that, though, some tough decisions loom. Michael Fulmer won't be back, after he underwent elbow surgery that will sideline him all season. Brad Boxberger's mutual option will not be picked up. Mark Leiter, Jr. is a much less obvious case. As late as early September, it was a sure thing that the Cubs would want him back, even as he reaches arbitration eligibility. Alas, he collapsed over the final month. His splitter abandoned him, and without that pitch, he's useless. His projected salary of $1.6 million is perfectly affordable, but because it's impossible to count on him in any real way after the way his season ended, even that modest payout might not be palatable to a team facing a roster crunch and the need to economize around the edges as they make bigger expenditures elsewhere.
There's a cluster of relievers not due to make any real money, but whose places on the roster are tenuous until further notice. Keegan Thompson's disasterpiece of a 2023 puts his future with the club in grave doubt, but he belongs in the category of hurlers with whom the team will be slow to cut ties. So do Jeremiah Estrada and Brandon Hughes. These are the types of arms who often end up turning into gems eventually, the way Merryweather did last season with Chicago. The challenge is to try to be the team with whom it happens, rather than let them make a circuit ride of the waiver wire before unlocking their talent.
Nick Burdi, Tyler Duffey and Michael Rucker are low-upside fringe relievers. They're unlikely to stick on the 40-man roster beyond the end of November, but if one does so, they'll have a decent chance to win a low-leverage role in the big-league pen come spring. Ethan Roberts and Codi Heuer have an even narrower path through the winter, because their injured status doesn't protect them from the 40-man crunch during the winter.
That exhausts the pure relievers on the current 40-man roster, and the only slots affirmatively claimed are those of Alzolay, Merryweather, Cuas, Palencia, and Little. The two guys who still need our attention are Hayden Wesneski and Drew Smyly. As much as fans might have loved the idea of Wesneski as a starter even seven months ago, it feels increasingly like he belongs in the bullpen. In fact, late in the campaign, he seemed to take nicely to the short relief role into which he was pushed because of the team's mounting injury trouble. I like Wesneski a lot as a power arm in a pure, one-inning slot, hitting 98 or 99 miles per hour with his fastball and facing few left-handed batters.
Smyly, of course, will act as depth for the starting rotation. He's likely to be needed in that role at least occasionally, although very unlikely to be used that way as much next year as in 2023. He was even more of a revelation than Wesneski when he converted to short relief in September. His curveball plays up magnificently in short bursts, thanks in part to the extra few ticks he finds on his fastball. Smyly is going to cost the team $10 million next year, which is a steep price for a swingman. That makes him a trade candidate, but if the team keeps him, they'll have a reliable lefty in relief--even if Hughes isn't able to bounce back from his lost 2023.
This list neglects a few more complicated cases: Javier Assad, Ben Brown, and Caleb Kilian. Assad has made such a strong case for himself as a starter that it feels cruel to throw him in with this crowd. Brown has all the explosive upside of, say, Wesneski a year ago, but we now know how mixed a benediction that is. Kilian must be out of chances to emerge as a starter by now, but could he (like Wesneski) turn into a beast by moving to short relief and tightening up his repertoire?
There's an avalanche of change coming to this unit. That's necessary, even in the wake of a season that seemed to further prove the organization's prowess at discovering and developing credible relievers. This piece isn't mean to answer all the looming questions. It's just meant to clarify them. Where do you come down on Cuas, Palencia, and Little? Would you tender Leiter a contract? Can Wesneski take over a high-leverage role if he completes the conversion to full-fledged reliever? Let's fire up the hot stove and start the conversation.