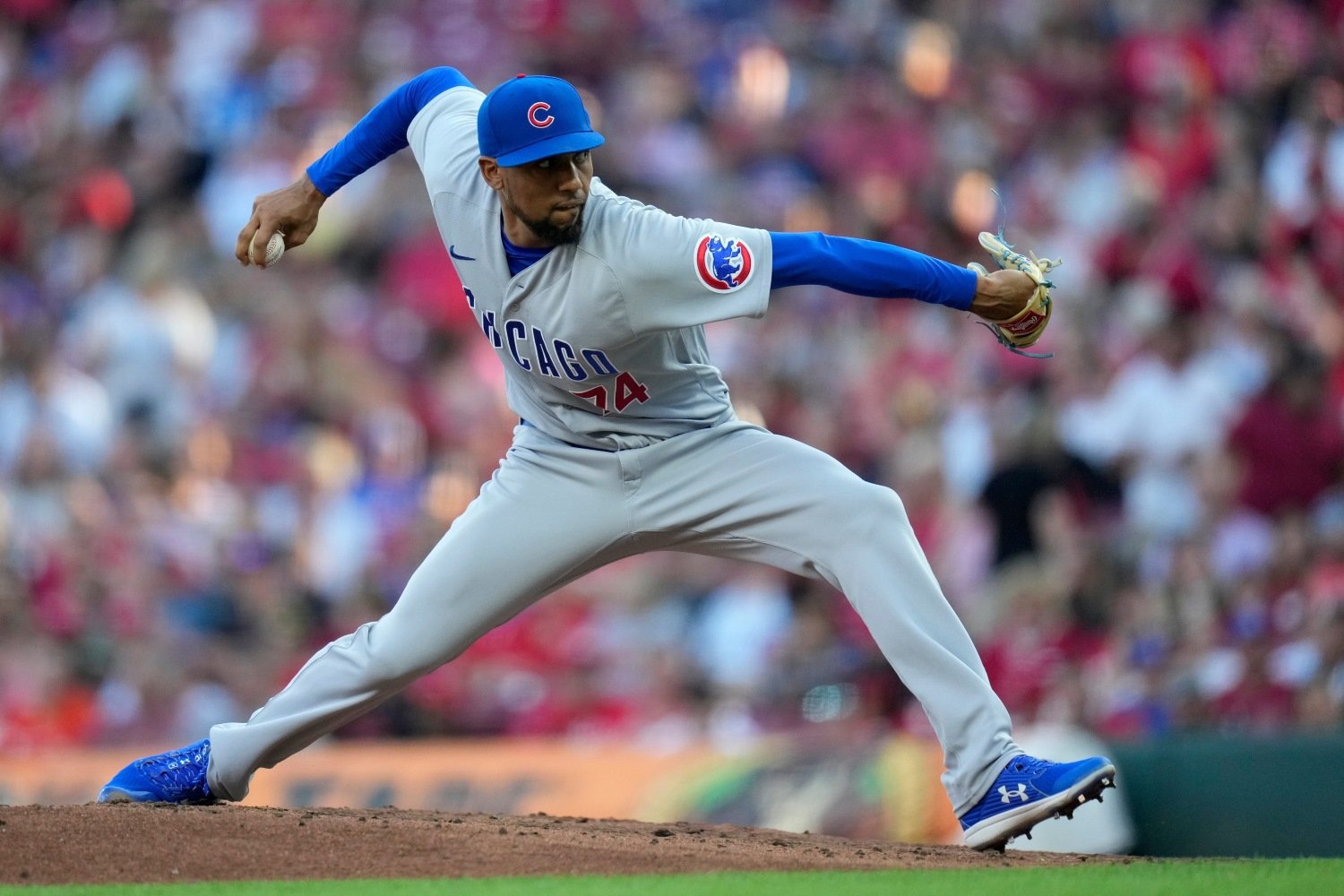 Image courtesy of © Sam Greene/The Enquirer / USA TODAY NETWORK
When the Cubs acquired José Cuas, many were quick to notice and discuss what the team saw in him. Cuas not only brought an extreme release point and valuable movement characteristics on his fastball to the table, but had the potential to tweak his breaking ball and unlock something he never quite accessed while pitching for the Royals. The hope was that the Cubs could bring him in and get immediate help based on careful usage, but also that they could develop him into a more prominent weapon in the longer term.
They've mostly managed the first objective, and they've taken some of the most important steps toward the second. Cuas has a 1.20 ERA in 15 innings as a Cub, thanks to a much higher ground-ball rate than he had with the Royals. He's only allowed one of eight inherited runners to score, though he's also bequeathed eight baserunners to other relievers, and only one of those has come home, so his ERA is somewhat deceptive.
Cuas only has 10 strikeouts in 63 batters faced, though, and has walked 12 opponents. Both of those rates are miserable, and would augur big trouble ahead, absent any other information. Some fans and analysts have been excited (rather than worried), though, because they've noticed that Cuas rebuilt his slider about three weeks ago. Here's a scatterplot of his pitch movement this season, before the Cubs went to Detroit on August 20:
That's when he altered his slider. Here's the plot showing his movement since that time.
As you can see, there's a whole lot more movement on his revamped breaking ball. It contrasts especially nicely with his sinker. That pitch, coming from the most extreme lateral release point in baseball (no one throws from further toward third base than does Cuas), could be a nasty, bat-missing breaking ball. Between when he unveiled that new offering and when he entered Friday's game in the eighth inning, he had pitched eight innings and allowed just one run, on two hits. He earned enough of David Ross's trust, especially against right-handed batters, that Ross turned to him in that eighth inning of a tie game.
In truth, though, that trust isn't yet earned. Cuas's more compelling movement is nice, but unless and until it's paired with better control and command, it's not nearly enough to make him trustworthy in that kind of situation. In those aforementioned eight innings, Cuas had only allowed the two hits, but he'd also walked four, against just four strikeouts. 
The limiting factor, or at least the first of them, is his inability to land that sweeping breaking ball in the strike zone. Here's where those sliders, with all that movement, have ended up since he made the adjustment.
Considering just how much it moves, that pitch might occasionally draw a chase from a right-handed batter, if it's been set up by the sinker. It's not a pitch Cuas can throw at all early in counts, though. Hitters don't even have to respect the possibility of it until they see at least one strike with the fastball, or at any time when they're ahead in the count.
He was actually better able to use the slider he had before. It didn't have the same extreme movement, but he could put it in and around the strike zone with reasonable frequency.
An even greater problem is Cuas's utter inability to command the sinker right now.
That's too many misses off the armside edge of the plate, but it also means hitters can sit on the version of the pitch that wanders too much over the white of the plate and hit it authoritatively. On Friday, that's just what happened to Cuas. On the first pitch of his outing, he threw something of a meatball to Lourdes Gurriel, Jr., who singled sharply on it.
Then, to Gabriel Moreno, he showed that inability to find the strike zone that has led to so much traffic on the bases.
The slider, however nasty it might be in theory, is irrelevant to Cuas's profile right now. Until he demonstrates the ability to throw strikes with the fastball, the pitch might as well not exist. Cuas still has the potential to emerge as a worthy high-leverage reliever, but that potential has not been tapped yet. Ross erred in going to Cuas with so little margin for error on Friday, and it will continue to be an error to use him in any similar spot, until they fix the command deficiency that has rendered his good raw stuff only halfway useful. Meanwhile, when faced with the temptation to get excited about a player having made an adjustment that shows up in their advanced data, we all ought to be careful not to ignore the feedback of actual results. Valuable changes are those that generate real value--not just hypothetical improvements.