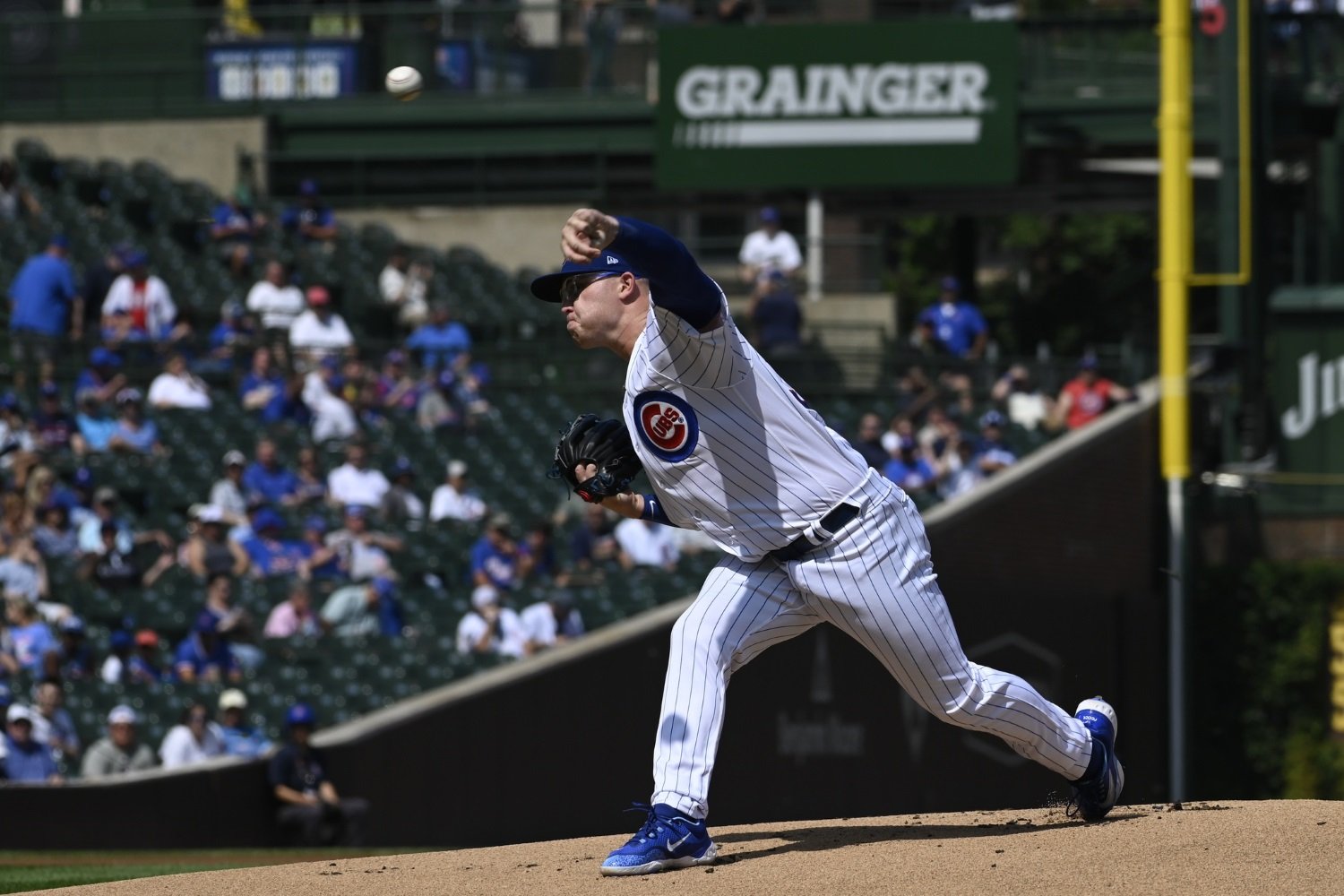 Image courtesy of © Matt Marton-USA TODAY Sports
Monday will mark the next big test for Jordan Wicks. The slate of opponents over his first three starts in MLB (Pirates, injury-depleted Reds, Giants) has mixed in various ingredients of difficulty, but ultimately, it's been fairly soft. Wicks has mowed down all three lineups he's faced, but the Giants made a lot of early contact and had frequent traffic on the bases Wednesday. Now, WIcks has to survive at Coors Field, where rookie pitchers can get into all sorts of trouble.
As far as these things go, Wicks is fairly well-positioned to find success even in the thin air in Colorado. The Rockies, after all, might be worse than any of the other three teams he's faced since being promoted to the majors. His arsenal also figures to work well against the notable effects of pitching at elevation, as he leans heavily on the changeup (a pitch whose action isn't as much diminished as that of breaking balls) and gets a lot of ground balls. He's also shown plenty of poise already, upon coming up and being asked to contribute to a contending rotation. We're now at a point where, beyond just stopping a gap and getting the team to October, Wicks has many fans hoping to see him starting games once the team arrives there.
How likely is that? At first glance, I was dubious. When sketching a potential playoff pitching staff this weekend on Twitter, I left Wicks off altogether, imagining that the team might elect to shut Wicks down and go forward with their more experienced arms--including Marcus Stroman and Michael Fulmer, should they return from their injuries and join the team soon, as seems increasingly likely. The more I looked at Wicks's amateur and professional career arc, though, the more plausible I began to think it was that he might stick around in the rotation until the whole team's season is over.
Innings pitched is the most familiar unit by which to measure year-over-year workload for pitchers. I prefer batters faced, because it more neatly estimates both the pitch count and the amount of real work the pitcher had to do. To cover our bases, though, let's look at both figures for Wicks, going all the way back to 2019. Here are his last five seasonal workloads, along with his age that year.
2019 (Age 19, Kansas State): 84 2/3 innings pitched, 369 batters faced

2020 (Age 20, K-St. and the Northwoods League, both seasons truncated by COVID): 46 IP, 168 BF

2021 (Age 21, K-St. and High A): 99 1/3 IP, 426 BF

2022 (Age 22, High A and Double A): 94 2/3 IP, 402 BF

2023 (Age 23, Double A, Triple A, and MLB): 108 IP, 441 BF
Wicks is just now venturing past his previous career high in workload. I'm not a huge believer that year-over-year workload should dictate decision-making for most pitchers, but even granting that teams do let that color their thinking, Wicks doesn't look like a guy anyone ought to worry about very much. He's been very carefully used and prepared for this kind of opportunity. He probably could have pitched more the last two seasons to set a higher platform, but the team skipped a couple of starts this summer to ensure that if they needed him on the parent club, they'd be able to use him through the end of their season.
If some indicator within his pitching data changes in a concerning way, or if he falls apart and struggles over the next two starts, we can reconsider. Right now, however, I'm inclined to say that the Cubs should be planning on Wicks as a valued member of the playoff roster, whether it be as a starter or not. Presumably, Justin Steele and Kyle Hendricks will be the first two starters in a playoff series for the team, unless they're both needed in some frantic push just to get in at the finish line of the regular season. To have any need of a fourth starter, the Cubs would need to win the Wild Card Series, which is going to be tough.
That means that, at least for that first series, there's just one possible start to be doled out to Jameson Taillon, Javier Assad, and Wicks. Overall, it's Assad who has done the most to earn that shot, with his stellar work and slightly longer track record. Ross loves to demonstrate trust in veterans, though, so Taillon might have a leg up, if he pitches well the rest of the way. 
In all likelihood, Wicks's role on the playoff roster (at least right away) would be as a long man, getting ready almost the moment the game starts when Taillon takes the mound and coming in at the first sign of trouble. That would still be a huge moment, though, and it's an exciting victory for the team that Wicks is in position to earn it. Now. he and the team just have to finish the job, and it's Wicks who can fully restore their momentum with a strong showing Monday night.