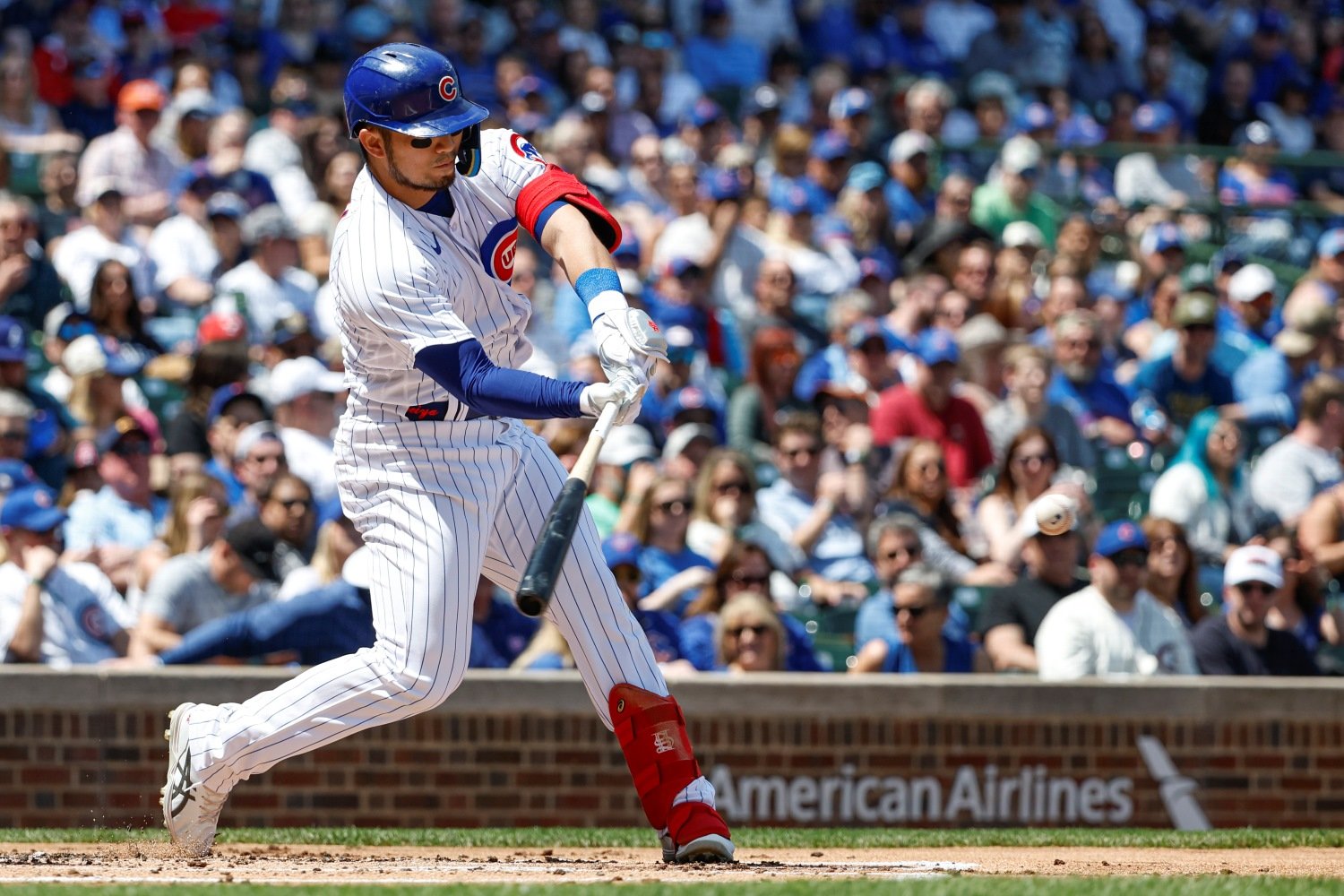 Image courtesy of © Kamil Krzaczynski-USA TODAY Sports
On its face, that's an almost silly question. Seiya Suzuki is 28 years old, and has been a proven power hitter for much of his professional career. He hit 38 home runs in his final season in Nippon Professional Baseball, in Japan, and averaged 29.5 homers over his last six years there. He has above-average exit velocity and launch angle numbers for his short career in MLB. Power is part of his profile.
So far, though, Suzuki hasn't shown the ability to consistently tap into all that power. It's easy to chalk those problems up to the injuries with which he's dealt throughout his time in MLB, or to the shortened spring trainings (one by the lockout, one by injury) he's had, but there's an undeniable approach problem here. Suzuki isn't swinging enough, especially early in counts, and even more importantly, he doesn't seem to have a locked-in, aggressive swing designed for damage when he gets ahead.
Of the 338 batters with at least 50 plate appearances this season, only three--Steven Kwan, Adley Rutschman, and Jesus Aguilar--swing at the first pitch less often than Suzuki, who has done so just 9.9 percent of the time. Last year, the only players with 400 or more plate appearances who swung at the first pitch less frequently were Kwan and Brendan Donovan. Suzuki is taking an extremely patient approach, and that's not inherently bad--as the presence of Kwan and Rutschman on these lists attests. 
Nor is the strategy irrational, exactly, on Suzuki's part. This year, he's seeing strikes on just 47.2 percent of first pitches. That's in the 16th percentile of the league, and well below both Kwan and Rutschman. He's not giving away as many strikes that way as you might fear, given the negative context of this broader conversation.
Here's the catch: to be this patient on the first pitch, you need to make contact at a high rate. Last year, six qualifying hitters (502 or more PA) swung at fewer than 20 percent of first pitches. Five of them--Kwan, Luis Arraez, Jose Ramirez, D.J. LeMahieu, and J.P. Crawford--made contact on at least 84 percent of their total swings. Only Aguilar was that patient early in the count and maintained a lowish contact rate (73 percent), and it hurt him. The story is the same this year. A lot of good hitters--Kwan, Rutschman, T.J. Friedl, Jonathan India, Masataka Yoshida, Alex Verdugo, Xander Bogaerts--are swinging very rarely at the first pitch, but all of those guys have contact rates north of 80 percent.
Suzuki makes contact on 77.4 percent of his swings, for his MLB career. That's a little bit above the league average, but not enough to support the kind of patience he's shown so far. He's so unwilling to get aggressive early in counts that he's ending up in too many unfavorable ones, and that's steering his strikeout rate too high, relative to his walk rate and power. His walk rate has hovered right around the league average in his career to date, which isn't high enough to make up for a strikeout rate higher than average.
There was an at-bat last week, when the Cubs were in Washington, that perfectly illustrated what is great about the current version of Suzuki. Against high-octane lefty MacKenzie Gore, with a runner on second and two outs, Suzuki fell behind 0-2, fouled off a couple of high fastballs, spat on a low curve, and then hammered this slider. It was foul, too, but it left his bat at over 114 miles per hour, on a line.
 That meant that Gore was very likely to go back to the fastball. Neither breaking pitch had gotten him a positive result, and the slider drew a downright scary one. Suzuki was ready for the heat, and even though it was 97 at the top of the zone, he hit a beautiful line drive for an RBI single.
That's gorgeous hitting. It's why he's been useful even while suffering a power outage to open the season. It's not a symptom of the power deficiency, either. It's about the best he could have done with that pitch. 
With that kind of pure hitting ability, Suzuki's talent is tantalizing. Still, he has to drive the ball more often, and doing so means swinging more often. He's had 536 plate appearances in MLB, and 300 of them have reached two strikes. That's far, far too high a rate to allow a player to hit for meaningful power, because once you reach two strikes, you have to be ready for pitches like that high fastball, and a single becomes just about the best possible outcome. Indeed, Suzuki has a .295 slugging percentage (and .093 isolated power) in those 300 two-strike plate appearances.
If everyone else in the lineup delivers the power of which they're capable, the Cubs can get by without plus power production from Suzuki. That's unlikely, though, and certainly hasn't been the case thus far. The team needs their cleanup hitter to hit like one, and that means that Suzuki needs to start guessing and getting aggressive a bit more often.