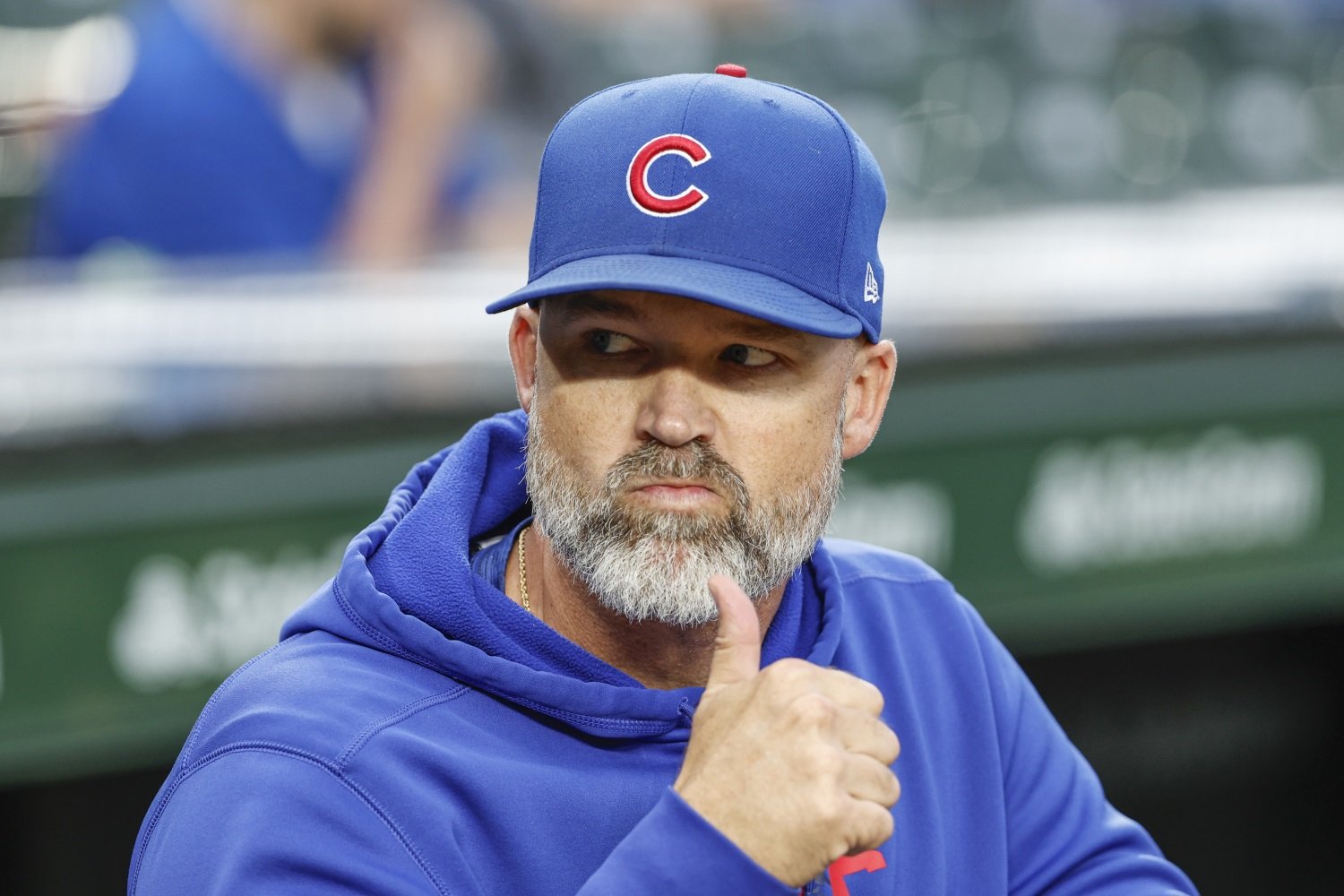 Image courtesy of © Kamil Krzaczynski-USA TODAY Sports
As I've documented recently, David Ross doesn't run a bullpen quite the way most other managers do in MLB in 2023. He seems to have a flatter hierarchy and less bifurcated mentality about his relief corps, and it can be difficult to tell (from the outside) in whom he truly has faith at a given time, and how much. Recently, injuries and fatigue have made it even harder to suss out who he likes, and when he likes to use them. Exigency has dominated his decisions of late.
On Friday, though, there were some rapid revelations about where he has everyone lined up, and not all of them flatter the skipper. Before we delve too deeply into that, though, let's pause to set the scene.
After six innings Friday, the Cubs and Diamondbacks were tied 0-0. Zac Gallen and Jameson Taillon, half-improbably, put on perhaps the best pitchers' duel of the season to date, and neither ever truly blinked. Rather, Ross lifted Taillon, who had thrown 77 pitches in six innings, with a season-high nine strikeouts and just two baserunners allowed. He'd worked under slightly more stress than those simple facts relate, because both times that a runner had reached base, it was Corbin Carroll, and he then matriculated to third via a stolen base and a throwing error each time. Still, removing Taillon at that stage was an extremely proactive move. It's not radical, by the standards of the modern game, but it was certainly surprising. If anything, Ross has recently erred on the side of letting his starters go deeper than expected. He let Javier Assad and Justin Steele each complete eight innings within the last week, and he pushed Jordan Wicks to his failure point in Wednesday's win over the Giants.
With Wicks and Steele, though, Ross had ample margin for error. With Assad, he was managing around an exhausted bullpen. This time around, he was walking a tightrope, with no runs on the board from his offense, and he had a fresh and healthy pen. (That last fact is pivotal here, and we'll soon revisit it.) He probably also remembered Taillon's outing in Detroit last month, when he had a no-hitter through five innings, and then was knocked out of the game before escaping the sixth, having allowed a grand slam to pulverize a four-run lead. In light of all that, I find no fault with the decision to turn to the bullpen early, even though I think it was a close call and am sympathetic to those who balk at that choice itself.
In Taillon's stead, Julian Merryweather took the mound for the seventh, and he immediately redeemed Ross's dubious decision, punching out all three Arizona batters. It was an exciting performance--the kind of thing that first reclaims the crowd (who had been slightly confused and enervated, at first, by Taillon's disappearance), then jolts them. Merryweather was the right man for the job, if Taillon wasn't.
The Cubs couldn't do anything with Gallen in the seventh, though, so the game remained tied going into the top of the eighth. When the bullpen door opened this time, it was Jose Cuas who emerged. That's when everything got fairly confused.
Prior to Friday, Adbert Alzolay hadn't appeared in a game since blowing the save in the second game of last Friday's doubleheader with the Reds. That was the end of a turbulent week for the Cubs' formerly untouchable closer, and during the ensuing week of inactivity, Ross let it slip that he was dealing with something. It's become clear that the issue is as benign as that ostensibly euphemistic description would have you believe. It's only natural, and delightfully normal, for Alzolay to be dealing with some fatigue, soreness, or even tightness at this stage of a season in which he's been relied upon pretty heavily. Last year, he pitched only a small handful of innings, after a long injury rehabilitation. We don't think about reliever innings the same way we count them for starters, but they count, too. 
When Cuas entered the game to begin the eighth, though, a minor panic swept Cubs Twitter, and not without foundation. If Alzolay were down again Friday, with such an obvious and high-leverage slot available, it would be a full week of inactivity, and there would be no hedging or explaining it away. Just as urgently, though, if Alzolay was unavailable, it made the decision to send Taillon to the showers so soon much less defensible.
As it turned out, Alzolay was available. He'd come in, in fact, to pitch the ninth. By then, alas, the Cubs trailed by a run, so it was a bit of a waste, other than as an occasion to restore his confidence and prove to everyone that he's healthy. That's because, upon entering the contest, Cuas made a mess, and Mark Leiter, Jr. was unable to clean it up.
After the fact, and even in the moment, much was made of the short recent run of success Cuas has had, since tweaking his slider under the guidance of the Cubs' pitching development team. I'll have a separate piece about that tomorrow, but for now, know that the adjustment is real, but the story is much more complicated. It was also mentioned that, with three right-handed batters due to start the inning, Cuas made more sense than Leiter, who runs reverse platoon splits when his splitter is working well.
Leiter's splitter was back in the arsenal Friday, but it wasn't enough to get out the pesky Carroll. Cuas had left with two runners on base and one out, and after getting one strikeout, Leiter almost got an inning-ending lineout from Carroll. The ball fell inches in front of the sliding Seiya Suzuki, though, and the lone run of the game came home. 
Charged with facing Geraldo Perdomo, Carroll, and Ketel Marte, Leiter got two of them, and he came excruciatingly close to getting the other. Ross was managing his bullpen in the new mold, which dictates that skippers seek out specific matchups based on handedness, pitch type, and swing paths. The argot en vogue is a "pocket"--a section of the opponent's lineup suited to that particular hurler. 
There's nothing wrong with using pockets as one tool for managing bullpens, especially given how many innings teams typically ask of their relievers these days. It's a valid paradigm. However, it can also be a trap. It's a product of one of the more pernicious traits of modern sport, and of modern society, which is that everything has to be justified by a sheen of optimization, and that once that sheen is in place, the elected course of action becomes unassailable. By and large, fans on Twitter shrugged at Ross's failed strategy for the late stages of the game, pointing to the pockets he picked as ones that made sense. 
I'm all for process over outcome, but the ability to explain a line of thinking does not perfectly justify it. Pockets aren't the only valid way to conceptualize bullpen usage, and they're not well-suited to games like Friday's, when the starter went deep (and might have gone deeper) and the full strength of the bullpen is at the manager's command.  
To be clear, my objection isn't particularly to saving Leiter for that pocket of the Arizona lineup. It's in entrusting to Cuas such a delicate situation, even against Lourdes Gurriel, Jr., Gabriel Moreno, and Jordan Lawlor. If Ross was deeply committed to using Leiter against the set of lefties and switch-hitters at the ends of the Diamondbacks' lineup card, he needed to be willing to use Alzolay early, and go to him to work the eighth instead of the ninth. If that sounds outlandish, because it breaks from the traditional role Alzolay has carved out in the bullpen, so be it. Pocket thinking is inconsistent with the rigidity of the closer's role. 
Ross could have left Taillon in for the seventh, facing Tommy Pham, Christian Walker, and Alec Thomas. That would have saved Merryweather for the righties who began the eighth, while keeping Leiter available for the lefties if needed, and then Alzolay could have worked the ninth. He could also have elected to trust Leiter against the relatively non-lethal righties, starting with a clean inning, in the eighth. The path he chose was, by any reckoning other than the hyper-modern one that seeks an objectivist refuge from criticism at the expense of better, nuanced decisions that embrace the risk of rebuke, the worst possible one. Clearly, because a data-driven adjustment has altered Cuas's profile, he's been convinced that he should trust him quite a bit. That's an error.
Because the Cubs weren't able to touch Gallen, anyway, it looks like a relatively bootless transgression, but those taut, challenging games are the ones they need to win--not only to knock back rivals like Arizona and Cincinnati and keep pace with the Brewers and Phillies, but to learn how to win them if they get an opportunity to do so in October. If nothing else, there was an open lane to extending that game to extra innings, where Gallen surely would have been lifted and the Cubs might have broken through. Hopefully, Ross learned from this defeat, because the Cubs can't afford any more avoidable ones for the balance of the campaign.