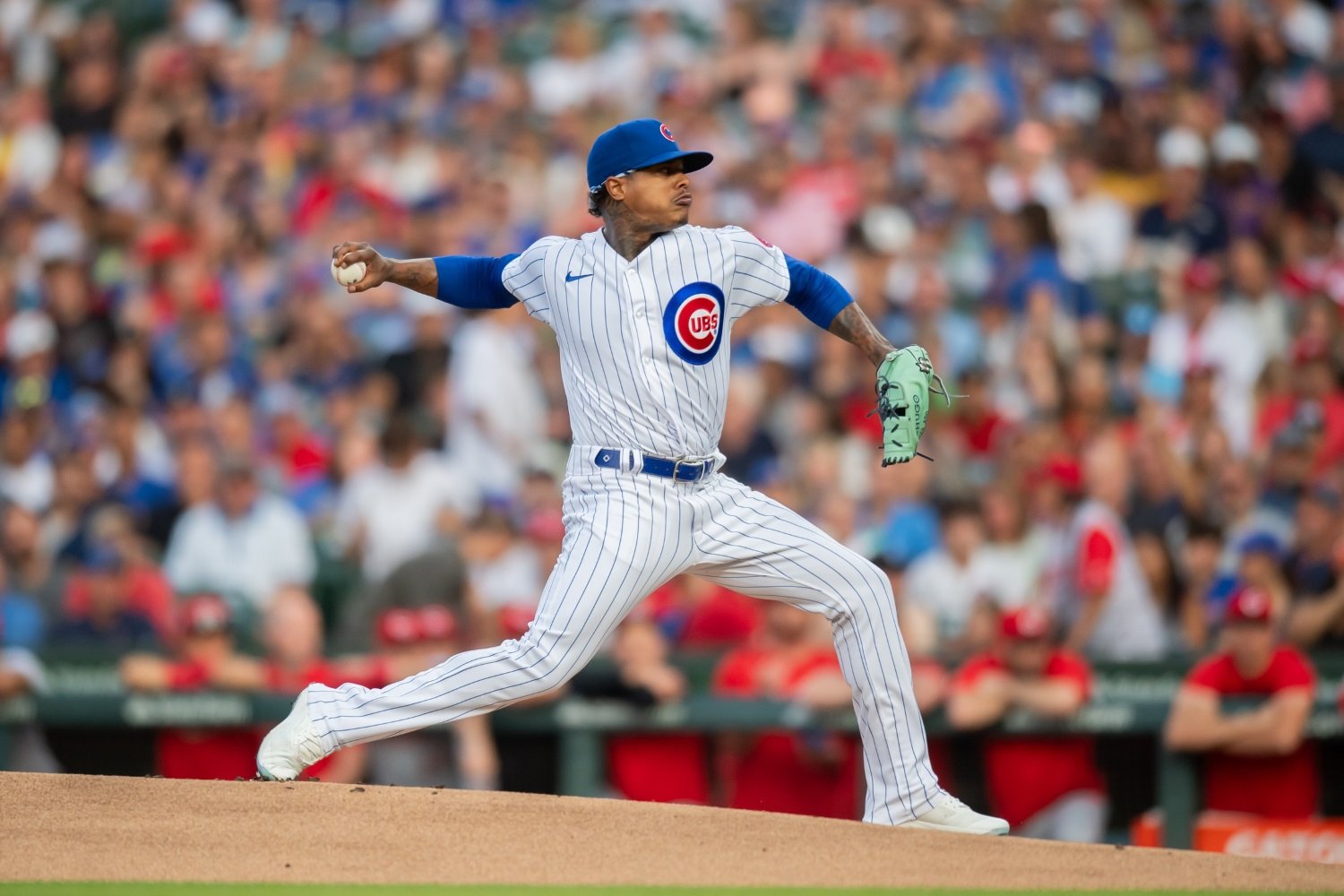 Image courtesy of © Patrick Gorski-USA TODAY Sports
Back in April, the narrative held that starting pitching was the strength of this team, and it was half-true. Justin Steele and Marcus Stroman had such tremendous months to open the season that it felt almost like an automatic win each time either of them took the mound. For most of April and May, Drew Smyly was nearly as good. He had a 2.60 ERA and 3.60 FIP through his 10th start, on May 23.
Over that first month and a half, though, the rotation spots carved out for Jameson Taillon and for Hayden Wesneski were a constant source of agita. Taillon, of course, had a few uneven starts, then spent two and a half weeks on the injured list. When he returned, things were even worse. He ran a 6.93 ERA over his first 14 starts, of which the Cubs lost 12, before the gem at Yankee Stadium just before the All-Star break that seems to have turned around bis season. 
Meanwhile, Wesneski struggled to find consistency, and had to be optioned to Iowa in mid-May. The Cubs turned, at that point, to Kyle Hendricks, who made it back from the shoulder injury that had cut his 2022 season short. Immediately, Hendricks stabilized one of the two rotation spots that felt like scars on the schedule--but just as immediately, Smyly came undone. Since Hendricks's return on May 25, Smyly has a 6.75 ERA and is allowing a .964 OPS, in 12 outings.
As I said, Taillon has been much closer to his true self since the beginning of July. That coincides almost perfectly, though, with the moment when Stroman went to pieces. Since his last start in June, Stroman has a 9.00 ERA. The Cubs have only won two of his seven starts, and one of those was very much despite his effort, rather than because of it. Now, he's on the shelf with hip inflammation, meaning that that rotation spot will be up for grabs for at least another week and a half.
It was Taillon and Wesneski in April and May. It was Taillon and Smyly in June. It's been Smyly and Stroman ever since. At no point in this season have the Cubs had fewer than two dysfunctional rotation spots, and that's a tough way to win. It puts too much pressure on the offense and the bullpen, and even on the starters who are performing well. If two games out of every five feel like nearly automatic losses, a team has to win all of the other three just to stay above water.
The Cubs' offense and bullpen have been up to the challenge at times, and since the All-Star break, they've been so good as to make it possible to forget just how rough things are. Now, the team needs to find a way to actually solve this problem, so that there's less pressure on both of those units down the stretch.
Smyly's slot is the harder to fix, oddly enough. He's doing what his aging body can, and a move into full-time short relief (with Javier Assad stretching out to start in his place) is not an option, because Smyly just wouldn't be able to reliably get warm and be sharp on the kind of schedule relievers must keep. The team twice tried out an opener ahead of Smyly, during the last month, but they did it wrong. The best way to bail him out is to get it right, this time.
With both Michael Fulmer and Wesneski, David Ross used his opener for one full turn through the Cardinals' (it was the Cardinals, both times) batting order. He clearly meant to give Smyly as clear a starting point as possible, so he could prepare almost normally. The Cardinals did, as the Cubs would have hoped, set their lineup differently than they would have if Smyly had started. By only bringing Smyly in to start the second trip through that batting order, though, Ross neutralized part of the Cubs' advantage.
One part of the rationale for the opener is that a starter doesn't see the top of the lineup first. By starting halfway through the order, they minimize any issues with getting settled (you're less likely to give up a run or two in your first few batters faced if those are hitters 6-9 than if they're hitters 1-4) and don't start to experience the times through the order penalty within the game until the second time they face those weak batters. A starter working behind an opener should be able to go five-plus innings without seeing the best hitters in the opposing lineup a third time. The Cubs either didn't understand that, or misapplied the principle because of their secondary concern about the Cardinals' left-handed bench bats late in the game.
Either way, they should put an opener in front of Smyly again. They just need to execute the strategy better. That might not turn that rotation spot into a match for the consistency and excellence of Steele, but it should at least stave off five-run deficits.
Filling Stroman's slot is tougher, even though the hope is that his absence will be a brief one. Wesneski is the most natural candidate to get another shot, but he's yet to really solve his problem with getting lefties out. Even since he first returned from Iowa at the end of May, he's allowing a .656 slugging average to left-handed hitters. Until he fixes that. he needs to be deployed tactically, and shielded from lefties in situations where the Cubs could get hurt by a home run. 
Assad is the better choice. In his last nine appearances (dating back to late June), he has a 0.40 ERA, and is allowing a minuscule .426 OPS. He's accomplished that, in part, by paring down his pitch mix to mostly sinkers and cutters, and that's not necessarily an approach that would work in a long start, but he could give them four or five decent innings each time out. If they used Mark Leiter Jr. as an opener ahead of him, they could get to the late stages of the game with a chance to win more often than not. The best outcome, though, will be if Stroman does come back on a relatively quick timetable, at something closer to his early-season levels.
Not all of the above needs to work. The Cubs have materially improved their offense, and although they missed their chance to do the same in the bullpen, Thursday night's outing from Leiter is a reminder that they still have some solid depth out there. They can survive one dysfunctional rotation spot. They just can't have two for these final 53 games, if they hope to make up the ground they still need to cover in order to win the NL Central or claim a Wild Card berth.