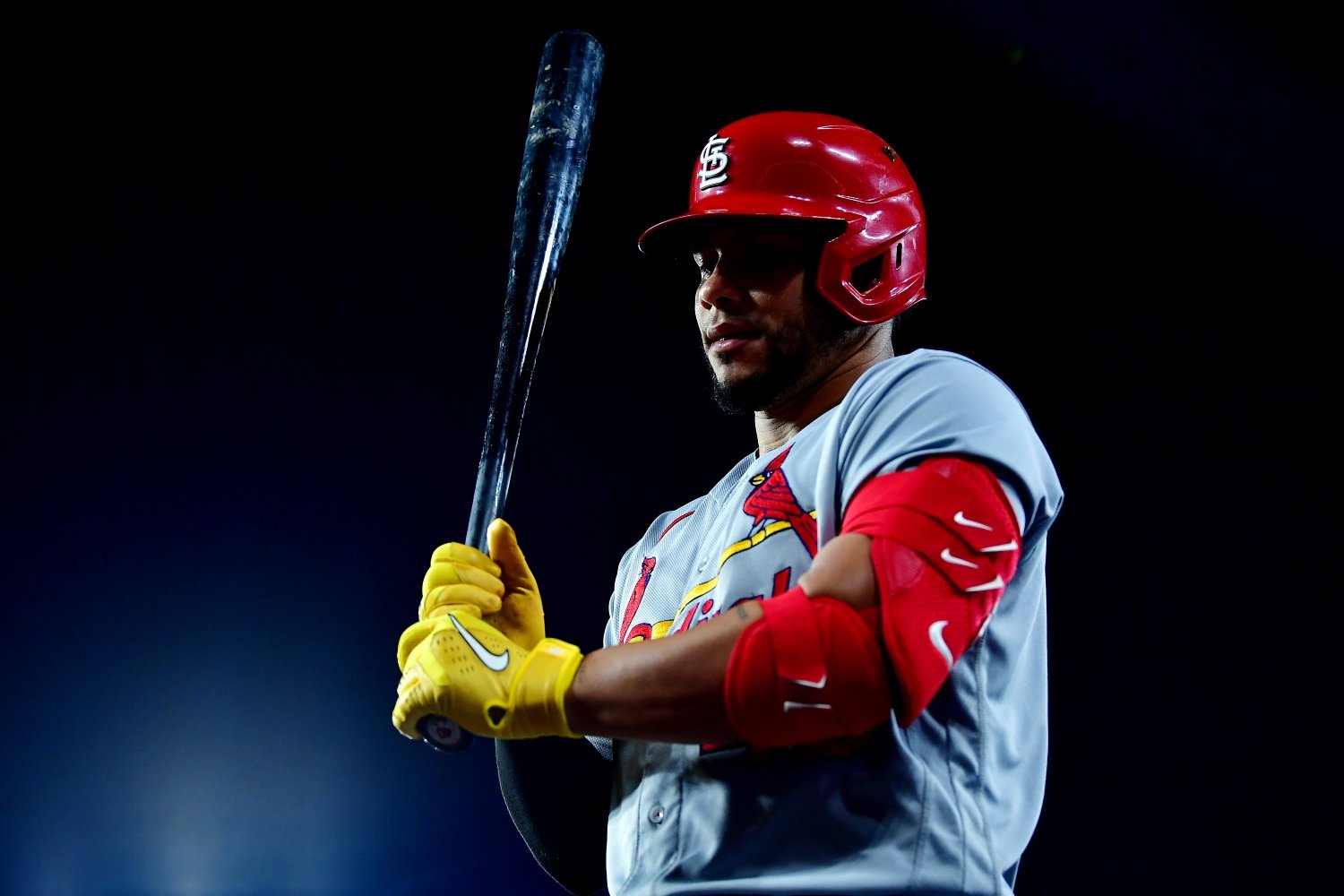 Image courtesy of © Gary A. Vasquez-USA TODAY Sports
The Cubs begin their season series against the Cardinals Monday night at Wrigley Field, which means that Willson Contreras is coming back to town. He arrives at a personal nadir, and the team he chose (and who chose him) this winter is at a collective one. Contreras has been moved semi-permanently into the designated hitter role, having had his beloved catching duties stripped amid the Cards' dreadful start. The Cardinals themselves are off to their worst start in about 50 years.
Until this weekend, it was an interesting and thorny question how the fans should react when Contreras is announced for his first at-bat after departing via free agency. After all, he made All-Star teams and hit big home runs for the Cubs. He was one of the faces of the young team that won the World Series, and that then won two more division titles (even if one came in the farcical 2020 campaign) before collapsing. Yet, after signing with St. Louis this winter, he said some things that felt (from the tunnel-vision perspective of a Cubs fan) needlessly antagonistic toward his former employers.
Contreras compares the #STLCards and Cubs organizations: "For me, I like this better. It's a better organization. Old school way, which I love it. ... Ever since I got here it's been everything just one way. The Cardinal way." pic.twitter.com/WAOhMYsKwW

— Bally Sports Midwest (@BallySportsMW) February 25, 2023
The further away from his (multiple) tearful sendoffs at Wrigley Field everyone got, and the more Contreras talked, the more it seemed reasonable that fans might boo him, or elect not to react, rather than unfurling an adoring red carpet, as they have done for all other returning ex-Cubs from the almost-dynasty.
Now, though, there's a new wrinkle, and I think it's a clarifying, edifying one. The Cardinals are scapegoating Contreras for their miserable start. He's being blamed for not meeting a standard or adopting a style they clearly failed to communicate to him, since (see above) he was nothing but eager to learn and embrace their style. This is a pattern, for both the Cardinals manager Oli Marmol and their front office, headed by John Mozeliak. 
Marmol threw Tyler O'Neill under the bus in a public way after he failed to adequately hustle early in the season. Even last year, in relatively halcyon times, he seemed to hold the clubhouse together largely thanks to the influences of Adam Wainwright, Yadier Molina, and Albert Pujols. With two of those three gone this season, and with a new cast of coaches (perhaps because of his style of interpersonal management), Marmol has been lousy at taking responsibility and deflecting blame from his players. In fact, he seems to repeatedly focus the glaring spotlight right on those guys. 
That's a bad way of doing business, but it should surprise no one that he's doing it. He's learned from the best. Six years ago, during a much less bad but similarly frustrating stretch of play, Mozeliak made another ex-Cub to whom he had committed nearly $90 million over five years his scapegoat. He made public remarks critical of Dexter Fowler, whom the team had also already moved off of the position (center field) they signed him to play.
Looking at the Contreras situation carefully, it seems like both he and the Cardinals organization simply underestimated and disdained the Cubs, to their own detriment. Contreras didn't accept the feedback the Cubs gave, repeatedly, over the final few years of his tenure with the team. He didn't believe them when they told him that he needed to change things about the way he called games, handled difficult innings, and prepared ahead of time. He thought they were the stupid ones.
Mozeliak thought so, too. He signed Contreras to replace Yadier Molina because he thought the Cubs were incompetent. The Cardinals saw the way Contreras and the Cubs moved toward a slow divorce, and heard the noises the Cubs made about Contreras's defensive shortcomings, and they chalked them all up to the Cubs not knowing what they really wanted, or not being willing to spend money, or not knowing how to coach up and communicate with Contreras.
By no means are the Cubs infallible geniuses, and they did make mistakes both in their development of Contreras and their handling of the final couple of years of his time with them, from a contractual and transactional perspective. However, right at this moment, they look much smarter than do either Contreras or the Cardinals. St. Louis comes to town bloodied and reeling. Contreras comes in with a bruised ego and a limited ability to impact games. 
On the field, then, the Cubs just need to take care of business. They need to win this series, in convincing fashion, putting the final nail in the Cardinals' coffin and giving themselves more momentum for a month-long stretch of challenging baseball ahead. For fans, though, the choice has been made equally easy.
You cheer for the guy. Remember the hit he had during the key rally against the Giants in the 2016 NLDS, and the home run he hit off Clayton Kershaw the night the (non-scape) goat was finally slain. Remember the pickoff throws and the roars after big hits, and remember him using a naughty word on stage at Cubs Convention.
2016 NLDS Game 4

Willson "Cold Blooded" Contreras pinch hitting in the Top of the 9th, delivers a game tying 2-RBI single. The Cubs would go on to win the game 6-5 and advance to the NLCS.

Amazing to see how far Willson has come.
We love you Willy!?❤️ pic.twitter.com/BYh1XvOH2R

— Chief Cub (@ChiefCub) November 4, 2022
Contreras was flawed as a player and immature as a person, and Cubs fans don't need to spend the series venerating him, let alone the whole year. For Monday night, though, the first time he steps to the plate, they should stand and applaud. There are few virtues more noble than generosity of spirit, and given what his new team has just put him through, an ovation in honor of the good he did while he was a Cub is the generous thing to do.