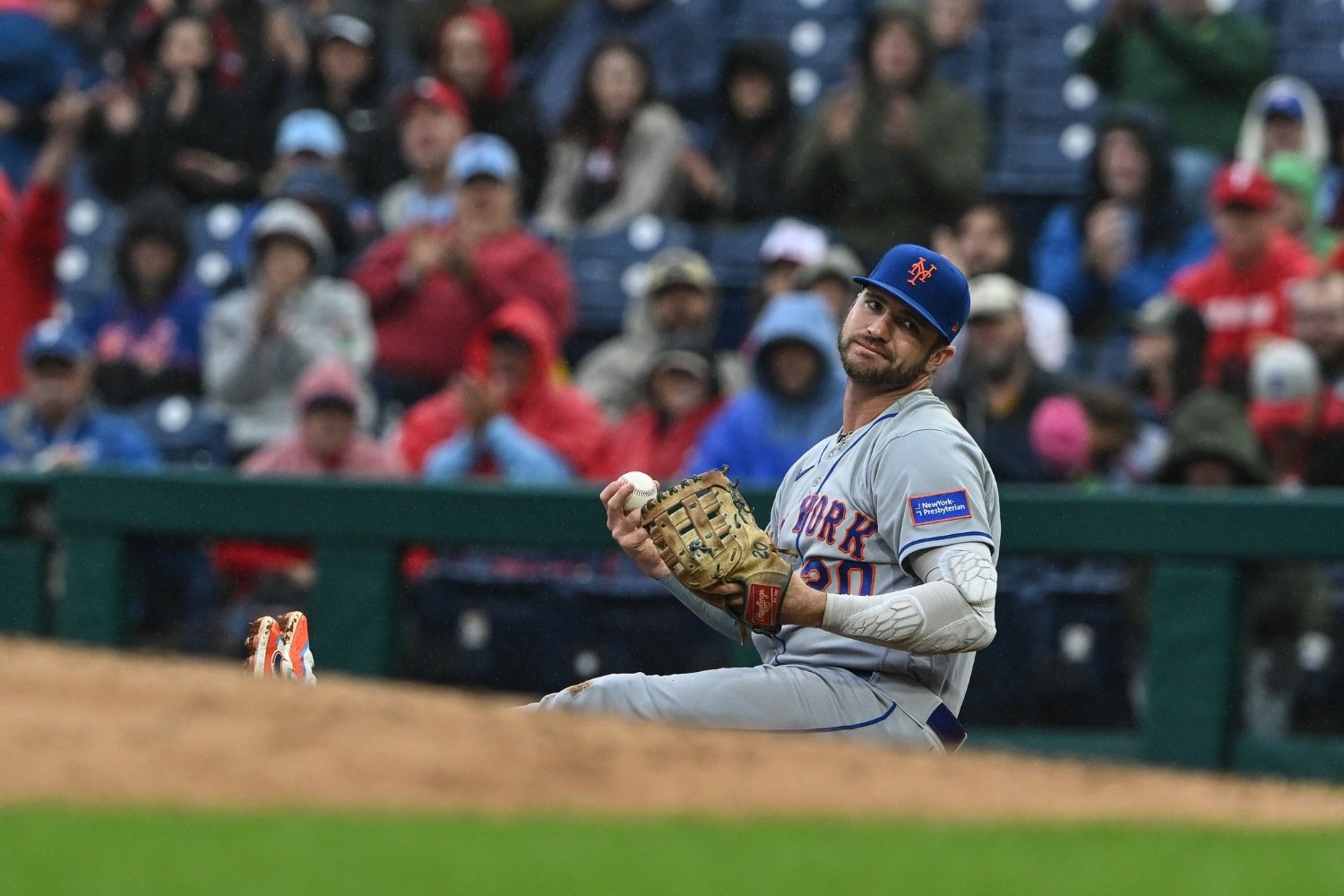 Image courtesy of © John Geliebter-USA TODAY Sports
The Chicago Cubs introduced Craig Counsell as their manager on Monday morning. While his staff still needs sorting, we now know the face of the man tasked with manning the bench in 2024. There are a few other spots, however, where we aren't quite so fortunate. 
Among those is first base, where the Cubs will assuredly feature someone not currently on the roster. The 2023 iteration of the club saw a mix of Cody Bellinger (59 games), Trey Mancini (51), Matt Mervis (27), Jeimer Candelario (21), Eric Hosmer (15), and Patrick Wisdom and Jared Young (14 each) log time at the position. Of those players, two didn't finish the season as part of the roster (Mancini and Hosmer); one has already departed this offseason via waivers (Young), and two are set to find a lucrative payday in free agency (Bellinger & Candelario). 
With no positional prospect on the cusp, that leaves Mervis and Wisdom as the only in-house options that might see time at the spot in 2024. The team has also said Christopher Morel will get some winter reps at the cold corner. It's hard to imagine that any of the trio will be a viable option to see major time there, however. The organization spent 2023 mismanaging Mervis to the point of wondering if he'll ever get a genuine shot again. Wisdom is a non-tender candidate given his loud but shallow skill set. It remains to be seen how serious the Cubs are about Morel as a viable option at the spot in the longer term. All of this is to say that we're going to see a new first baseman at Wrigley Field in 2024.
Bellinger could very well return on a long-term contract. So, too, could Candelario (albeit less likely). The door hasn't been closed on either as firmly as it has with, say, Marcus Stroman. However, given their commitment to other positions (center field and third base, respectively), it would likely end up being more of a timeshare situation. In either case, the Cubs would still need someone else capable of holding down the spot. There's a nonzero chance that we could see a roster that involves part-time Bellinger at first, with someone like Morel filling in the gaps, but for now, we should be acting under the assumption that whoever starts the majority of games at first is not someone currently affiliated with the organization.
Rhys Hoskins has already been mentioned in conjunction with the Cubs' pursuits this winter. A torn ACL and the permanent transition of Bryce Harper to first base has left him a free agent unlikely to return to his previous club. We just watched the Cubs have massive success with a one-year, injury-related reclamation project. There's some logical smoke there. Pete Alonso is the other notable name tied to the Cubs. One year away from free agency, Alonso is said to want to bring his power bat to the North Side. If Morel ends up being part of the picture, there's some serious offensive upside involved with the Cubs' first base prospects in the offseason's infancy.
However, it's the defensive component of a potential addition that shouldn't be overlooked in the discussion.
One of my main concerns with trotting out Hosmer as last year's Opening Day first sacker was his defense. The 2023 Cubs were a team built around defense. With a pitching staff low on swing-and-miss, the team was set to rely on the combination of Dansby Swanson and Nico Hoerner up the middle, Yan Gomes behind the plate, and whatever body they could get to man third base. With such a slim margin for error, you didn't necessarily want Hosmer holding it down in the longer term–especially given that since 2017, he was among the worst in Defensive Runs Saved (-10) and Def rating (-101.2) within the group of qualifying first basemen. While the sample was too small to draw any real statistical conclusion, the eye test gave us all we needed. He never appeared comfortable, was regularly out of position, and had difficulty picking the ball on throws in the dirt. Clearly the Cubs' brass felt that was enough, as Hosmer was jettisoned before the end of May. 
In a miniscule sample, Mancini wasn't any better (-5 DRS) and Young was worse still (-3 DRS, -3 Outs Above Average). Among the remainder of that group, Patrick Wisdom also finished on the negative side of the metric threshold (-1 DRS). Both Mervis & Candelario were fine, finishing on the positive end of DRS (2 & 1, respectively) and the negative of OAA (-1 & -2). Bellinger ended up logging the most innings at the position (421.2) and compiled the most appealing defensive output of the group (5 DRS, 0 OAA).
Ultimately, though, the statistical sample itself was far too inappreciable for any real information to be gleaned as far as what the Cubs should look for at the position for 2024. And advanced metrics tend to be less illuminating at first base than at other positions, in large part.
We can conclude that the Cubs–at a bare minimum–need at least average defense at first base. Having Swanson and Hoerner slinging the ball across the diamond helps, but the team needs stronger glovework than they got in 2023. Would Hoskins or Alonso fill the bill?
Hoskins doesn't have a stellar defensive reputation. He did finish 2022 with 3 DRS, but also -6 OAA. His mobility has also left something to be desired, and that was before a devastating knee injury. Alonso, by contrast, is coming off the best defensive season of his career, in which he went for a DRS of 6 and 0 OAA. But it's also not as if he has an established history of defensive efficiency, either. Three of Alonso's five seasons with the Mets have featured below-average defense, by the estimation of both DRS & OAA. 
The Morel factor remains interesting in all of this as well. He's obviously very athletic and, by all accounts, has decent hands. Even if he's a bit undersized for the position, there isn't any real reason to think that he couldn't take to it. The instincts required for the position would likely be the largest hitch. One does wonder if his athleticism would almost be wasted there, though, and if the Cubs would prefer to give him the legitimate shot at third base that seems to have been a long time coming. That aspect of the winter will be an interesting one to monitor, and should lend insight into whether or not the Cubs are serious about giving their young slugger an opportunity to latch on to an everyday spot there.
In any case, what is it exactly that the Cubs should be looking for in a first baseman on the defensive side of the ball? It stands to reason that even average production would do just fine. While the long-term third baseman for this organization is also unknown, the Cubs are solid as a rock up the middle. This makes it so that your first baseman doesn't have to compensate in the event that you were rolling with anything other than elite pieces on the infield. 
Thus, while first base defense shouldn't be overlooked, the Cubs can also afford to trade in a bit of defensive quality in favor of a big bat. While you don't want to drop in any old body just because they can hit a little bit, if you can get even average defense from the position, the rest of your infield construction compensates. This leaves Hoskins as the least preferred option among the trio, given that he's been consistently below the average threshold, whereas Alonso becomes the preferred option between the two (if his 2023 is to be believed). Morel is, of course, a total wild card within the picture.
Which means that in the overarching question of what the Cubs should look for defensively, the answer appears to be somebody decidedly average. The good news is that even the most average of solutions come with an above-average bat. What weight do you assign to the glove in the team's search for a first baseman? Do you have a strong preference between Hoskins and Alonso, given their respective price tags in free agency and trade? Give us your opinions on this crucial question in the comment section.