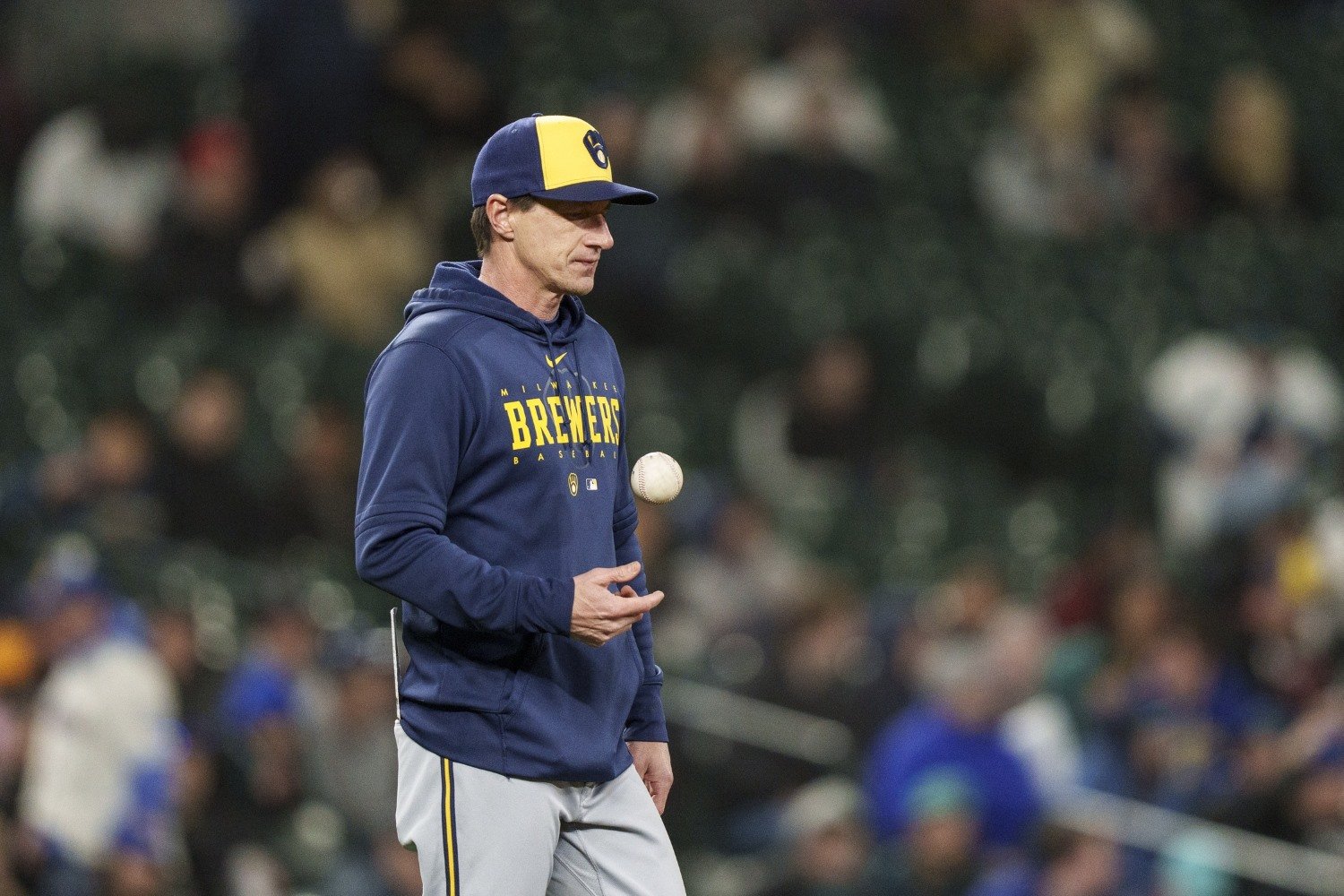 Image courtesy of © Stephen Brashear-USA TODAY Sports
In the wake of the news that the Chicago Cubs have fired David Ross and are bringing in Craig Counsell as their manager, I have a confession to make: I have always been skeptical of the overall value that a manager brings to a baseball team. 
Don't get me wrong, there are definitely times where I strongly disagree with a managerial move, and it gets me upset. However, I just don't think that the decision-making ability of the perceived top manager in baseball is all that much better than the perceived worst manager in baseball--even if that's what Ross was, which is doubtful. 
Not to mention, managers also have to manage egos, personalities, and maintain a good vibe in the clubhouse. None of this can be measured in any concrete way, with any concrete numbers. Maybe, in a best case scenario, it adds a win or two. 
Funny enough, had the Chicago Cubs won a game or two more, they would have been playing playoff baseball, and we probably wouldn't even be having this conversation! So maybe they are onto something here. Besides, if there's one guy in baseball that I am confident will bring more value to the table than Ross did, it's Counsell.
A lot has already been said about Counsell's ability to win one-run baseball games, and to overperform the run differential of the Brewers teams that he managed. Some might consider that to be luck, though I would counter that he has done this for long enough that it does warrant some sort of examination of what he was doing in Milwaukee.
In a 2016 article at FiveThirtyEight, Rob Arthur found that there is a correlation between winning one-run games, and the quality of your bullpen. The better the bullpen a team has, the higher a likelihood there is that they will win a one-run contest. On the surface, this makes sense. With better pitchers pitching late in games, you're more likely to hold on to that precious, minuscule lead. 
So, how much of the Brewers success can we attribute to Counsell, and how much should we attribute it to having a lights-out bullpen? It turns out, having Josh Hader, Corey Knebel, and Devin Williams helps in winning close games. A lot. 
Even then, since Counsell took over full-time in 2016, the Brewers have the seventh-best bullpen WAR in baseball, according to FanGraphs. Admittedly, this was lower than I would have thought. The Chicago White Sox are one spot ahead of them, yet are 28th in baseball in winning percentage in one-run games during that time. And despite the positive relationship between bullpen performance and winning one-run games, the relationship is still a fairly weak one. So maybe there is something to Counsell's magic, after all.
Given all of this, and given his time in Milwaukee, if there is one thing we know Counsell excels at, it is being able to manage a bullpen. In order to maximize his known strengths, it is imperative that the Cubs give him a similar arsenal of pitchers to work with to the one he had in Milwaukee. I am not saying that they need to replicate Williams and Hader (though Hader is a free agent), but rather that they need to invest real money in the bullpen, while continuing to churn out young pitchers in the minor leagues. 
Craig Breslow came into the Cubs organization almost five years ago, and was eventually asked to overhaul the pitching development. The new pitching infrastructure that we had been hearing so much about finally started showing some major-league results over the past couple of seasons, with Justin Steele, Javier Assad, and Jordan Wicks all having a major impact. 
Breslow is gone now, but there is no reason the Cubs can't continue to build off of what he put in place. While the credit is not all his, the Brewers developed several shutdown relievers at the big-league level while Counsell was in charge. That, in my opinion, is absolutely worth something.
It is a great sign to see the Cubs flex their big-market muscles and go get a manager like Counsell, who is now the highest-paid manager in baseball. Clearly, they think he is worth a lot. But the work doesn't stop there. We've seen what Counsell can do with a good bullpen. If they want this move to pay off, the Cubs absolutely have to keep investing money into reliable big-league relief arms and the pitching infrastructure throughout the organization.