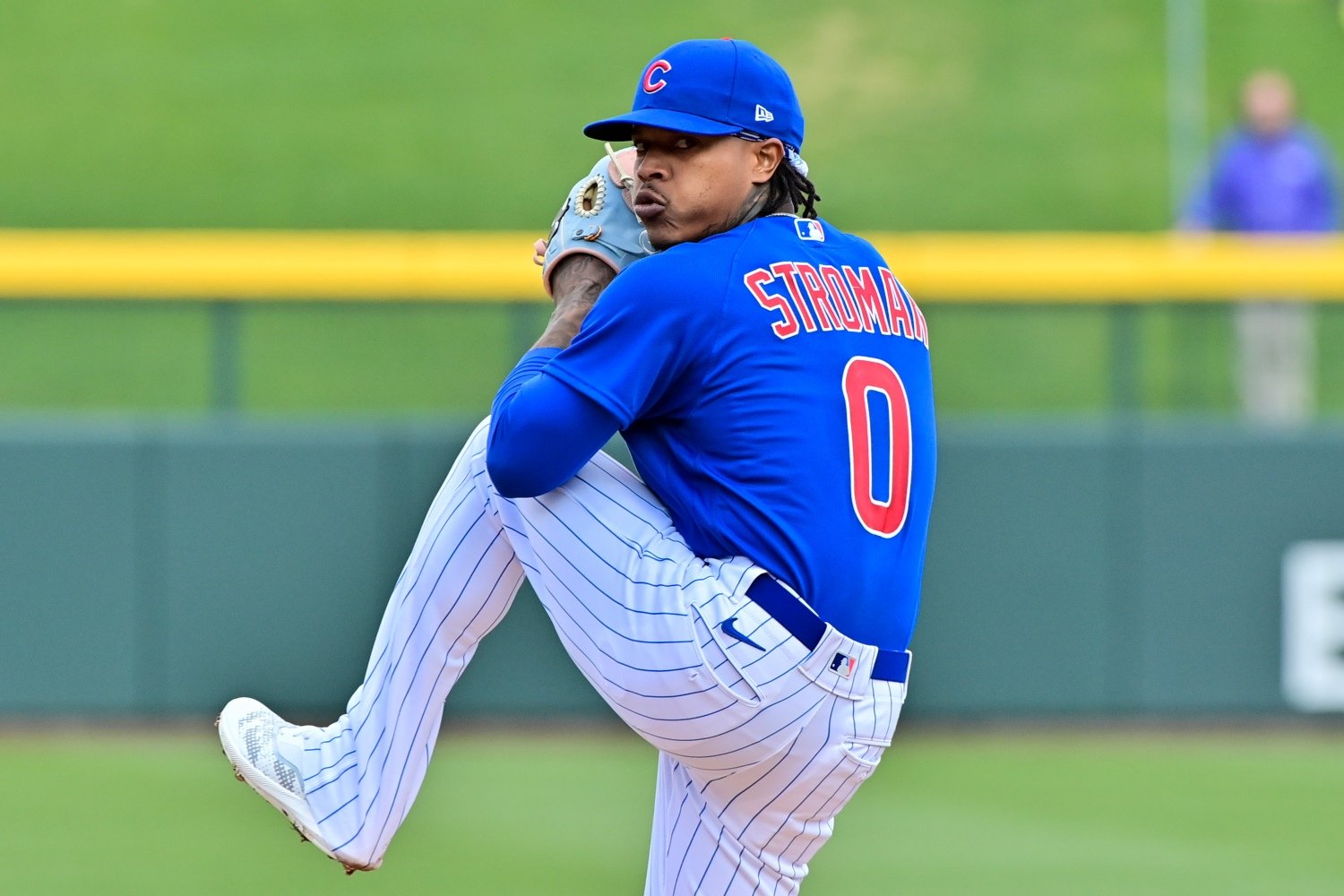 Image courtesy of © Matt Kartozian-USA TODAY Sports
One of the game's smartest and most ardent craftsmen, Marcus Stroman has engineered every pitch in his arsenal through careful calibration. He guards his secrets, but you can see the way he's worked to refine certain pitches, reshape others, and execute everything more consistently. He is, inarguably, in the business of constant, continuous pitch design. What sets him apart from many of his fellows, though, is that Stroman does most of it the old-fashioned way.
There are analytics-guided, objectivist, quantitative ways to do all of the popular things of modern pitching. Because we are a society (and because baseball, especially, is an industry) very comfortable with both using and being governed by numbers, those quantitative approaches have quickly become the dominant ones. However, there are also intuitive, subjective, qualitative ways to do most of the same things. 
Right now, the industry privileges the former over the latter. Increasingly, teams are uneasy with the idea of letting pitching instructors and coaches (let alone individual pitchers) steer things like pitch design and pitching strategy based on anything other than data, because the data is there, and we have a bias in favor of objectivism. Stroman, though, seems to be a holdout–a subjectivist in the old mold.
I don't mean to imply, by any means, that Stroman isn't using data to inform his training or his tinkering. He's clearly making some use of numbers. Whereas many pitchers and teams react with fear or resistance when something they try clashes with the numbers, though, Stroman almost seems to enjoy it.
More and more, pitchers strive to have clear distinctions between their pitches. One pitch might play off another by starting in the same visual tunnel, or by mirroring its partner's spin, but the goal is for each pitch to do something markedly different than the others in the repertoire. To that thesis, Stroman is the antithesis. Take a look at his pitch movement by pitch type in 2022:
I often say that pitching is not really one thing, but two distinct ones: pitching to righties, and pitching to lefties. If you break it down that way, Stroman does have fractionally more differentiation between his offerings. Righties rarely see his cutter, so he's playing his slider off the sinker and four-seamer fairly often. Even so, he does occasionally use the cutter, and he slightly changes the shape of his pitches from one to the next, rather than try to execute the same version of each pitch each time he throws it.
For the first time, last year, Stroman had two different sliders. Righties got one with more tilt and lateral movement; lefties got a more vertical version of it. He also tended to let his sinker run to his arm side more against lefties. That's strange! Normally, a pitcher tries to tamp down the run on a sinker against opposite-hnded batters, to get them to see it more like a four-seamer, which has smaller platoon splits. Stroman doesn't care, though. He's using the sinker to set up his cutter, and vice-versa, so he wants lefties to be fooled by each. He's not chasing strikeouts with those offerings, but looking to induce weak contact.
He's hard on the pitch-classification systems, but he's also hard on us, because we've learned to use averages to talk and to learn about pitchers' stuff, and Stroman is not a set of averages. He makes every individual data point important. Look at his distribution of pitch velocities from last year:
This chart doesn't even break out his four-seamer from his sinker, but you can see how much overlap exists between the cutter and those pitches; between his slider and changeup; between the changeup and cutter; and even between the cutter and slider. As any good pitching coach told their pupils to do until about a decade ago, Stroman adds and subtracts velocity on each offering, based on the situation and his read of his oppoonent's swing path and timing.
His distribution of spin direction is even more wild.
Sometimes, what the algorithm is calling his cutter (because it's hard and tight) is probably really his slider. It's impossible to tell for sure, though, because he really does spin his cutter unusually inconsistently in the first place. On top of that kind of quirk, everything Stroman throws--every single offering, to a greater extent than almost any other pitcher in baseball--moves in a way considerably different than its spin direction would imply. (Spin direction is captured in the lefthand image, above. Actual, observed movement is on the right.)
He's using finger pressure and seam-shifted wake to change things up so much that hitters rarely have any cue about what's coming. As hard as he is on pitch classifiers and on fans who want to break down his stuff, he's merely trying to be hard on hitters, and it's working. When you add Stroman's athleticism, his attitude, and his toughness to the equation, you get a pitcher who succeeds far beyond the merits of his raw stuff. That's why he does what he does. 
The 2023 Cubs can only compete for the playoffs if they're Stroman in macrocosm. They need to be unpredictable and aggressive, They need to make opponents, and maybe even fans, a bit uncomfortable. They need to outstrip their talent by having good chemistry and paying attention to detail, and by doing things a little bit differently from one moment to the next, always learning from the previous plays, always sensitive to the situation. Projection systems don't project that kind of thing, because the things that create that kind of magic don't generally show up in the database those systems use. The Cubs, like Stroman, will just have to beat the odds.