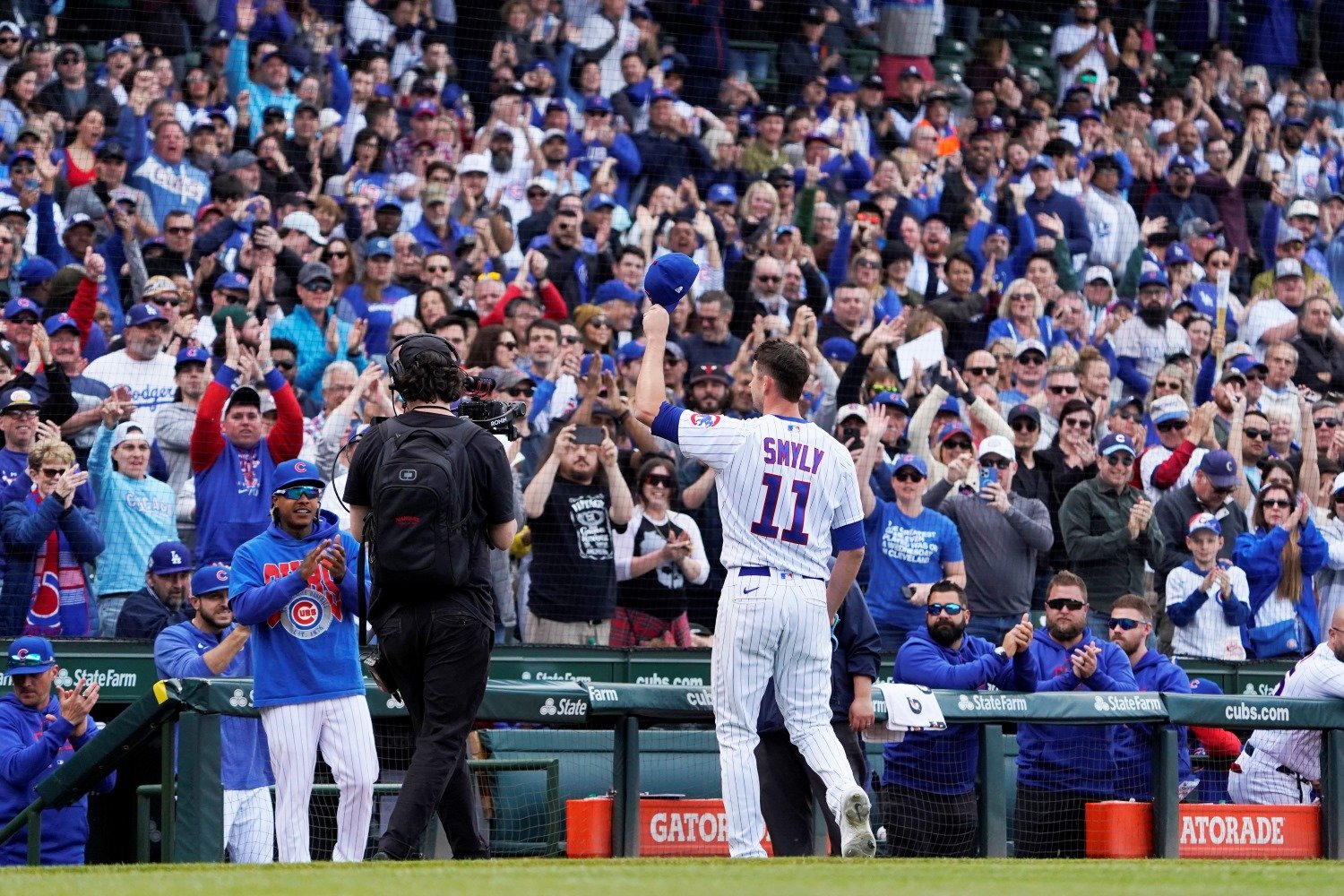 Image courtesy of © David Banks-USA TODAY Sports
From the moment Drew Smyly took the mound Friday, he was in command. He had both his fastball and his curveball working, and he had a quick epiphany: he would not need his cutter. Thus, he didn't throw one at all, Smyly hardly ever completely shelves that pitch. He technically went his entire final start of 2022 without the cutter, but that was in three innings of work and 62 total pitches. He just didn't need a third offering on Friday.
It can be a tremendous challenge to face a team twice in a week, especially a team as dangerous as the Dodgers can be. Smyly met it, by changing up some of the basic patterns he'd deployed in the previous start. The communication between Yan Gomes and his starter was flawless, and they showed how effectively a pitcher can use sequencing even with just two pitches, and even when working very deep into a game. They leaned heavily on Smyly's curveball, but used the fastball to get back into counts on the very rare occasions on which they fell behind. Even then, the Dodgers were clearly caught in between, and could not square up the heat.
Smyly was dotting the top inside corner of the zone to right-handed batters with the fastball, and when he can do that, righties are in huge trouble. He struck out Trayce Thompson both times that he faced him, using the curve early in the count to get him looking for it, then blowing the heat by him at the top of the zone.
He also struck out Max Muncy the only two times he saw him, though, and that didn't even require the use of a fastball. Smyly threw Muncy seven curves, and got two swinging strikeouts from the encounters. Smyly threw left-handed Dodger hitters 32 pitches Friday, and 26 of them were curves. The righties had to fight a very balanced two-pronged attack, but all a lefty would have had to do was sit on the curve and wait for Smyly to make a mistake with one. If they did that, the mistake never came. The aging southpaw was that good.
It's a better discussion for another time, but Smyly's fastball behaves much more like a four-seamer than a sinker, which is what the pitch-classification systems all call it. That's why, when the curveball is really working and he can locate it so masterfully, he really doesn't need the cutter. The vertical relationship between the heater and the hook is enough to get outs.
With Jameson Taillon on the injured list, Smyly is the nominal third starter in the Cubs' rotation. They need him not only to pitch well, but to get deep into games at least semi-regularly. Holding up under that kind of workload has rarely worked for Smyly, but he seems to be enjoying a real and intriguing late-career renaissance. He doesn't overthrow. He knows his arsenal, and he's improved the command thereof. Watching him work Friday was a genuine pleasure, and a reminder of how far the Cubs have come in terms of their pitching plan over the last few years.
The game obviously could have been much more of a milestone--even a historic moment. A check-swing dribbler spoiled that aspect of it, which was, yes, heartbreaking. There's a special cruelty in losing a chance at a perfect game on a defensive play that, while no one's fault in the true calculus, felt like a minor mistake by the two men who had come so close to immortality. Gomes had the right angle. Smyly had the right of way. They both just wanted it, so badly, that they missed whatever tiny chance still remained of getting it when that ball trickled off of David Peralta's bat.
That didn't ruin the vibes, though. This Cubs team has something special going. They entered this season with hope--not the vague, "sure as God made green apples" kind of hope, but something real. There was a lurking concern about how deep they really were, though, and about how well some of their riskier offseason decisions might pan out. Not everything has come out perfectly, but in the early going, they're only increasing their own hope. Smyly was the quiet but crucial deal of the winter, perhaps. He signed for two years and $19 million, which is a reminder that he had a healthy market, but the two sides always seemed certain of a reunion. Now, that investment looks like a huge win for both sides.
This demolition of an NL powerhouse came on the heels of such a crushing loss. During the last homestand, they had a similar swing of emotion and win probability within a single contest, with that comeback over the Mariners. The early signs of a club blessed not only with talent, but with resiliency and cohesion, are all here. Smyly is, surprisingly, a good emblem of it right now. There's much more to do, but for player, team, and fan base alike, that was an awfully big step in a good direction.