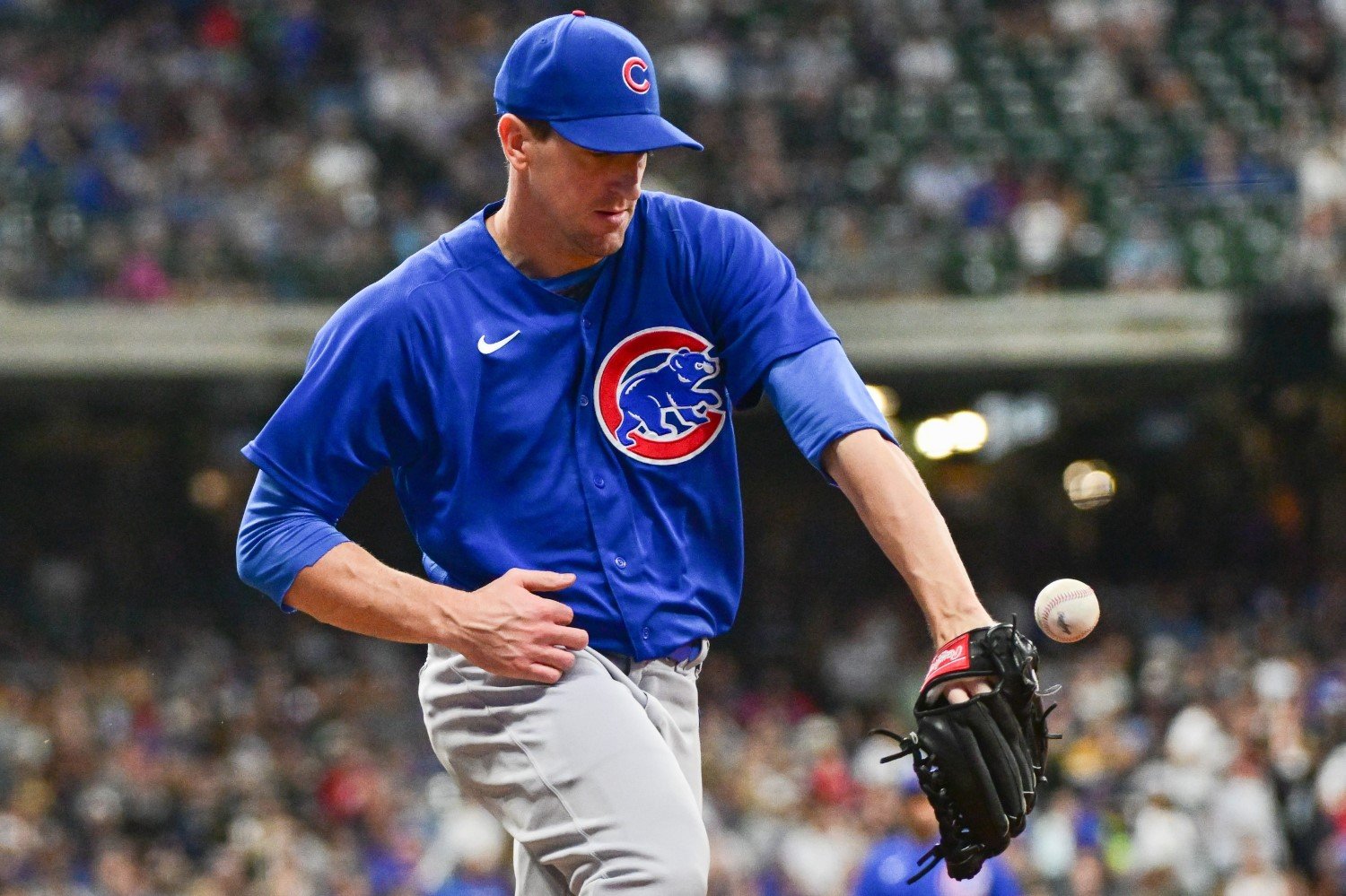 Image courtesy of © Benny Sieu-USA TODAY Sports
In a fitting capstone to a three-week edifice of misery, the Cubs lost a game even their opponents seemed to want them to win Friday. They were pushed to the brink of playoff elimination (and really, past it) by a collective and evenly distributed ineptitude, neither softened nor sharpened by the fact that it wasn't a failure of effort or desire. This team simply has nothing left--not enough talent, not enough mental energy, and not enough physical strength. That fact can evoke plenty of emotions from plenty of people, but in itself, it's a cold and objective reality. It couldn't have been laid more bare than it was Friday night.
Making what might be his final start in a Chicago Cubs uniform, Kyle Hendricks was superb through four scoreless innings. Even in those, though, he did show a lack of the fine command to his arm side that can still make him a dominant starter, but which seems to be there for him less often with each passing week. In the fifth inning, he finally ran into real trouble, and that trouble was exacerbated by a non-error miscue on a should-have-been double play. Hendricks didn't even escape that frame, and the Brewers took a 3-0 lead that felt commanding, given the Cubs' inability to do anything with Milwaukee starter Colin Rea. 
If that was the end for Hendricks and the Cubs, it was an excruciating reminder of one of nature's surest axioms: Nothing ends well, because it wouldn't end if it were still working. Hendricks's very sound surface-level numbers have been one of this season's treasured surprises, and he's pitched beautifully--but the signs of his decline and imminent inutility are everywhere. That inability to find the outside corner to lefties (and inside to righties) with his sinker is murderous for him. His strikeout rate sagged all the way to 16.1 percent for the year, almost 33 percent lower than the league's average clip. Watching him manipulate his changeup and call his own games this year was a pure source of joy for baseball purists, but projecting him to be successful in 2024 is tough.
He might have been better able to survive that inning, and ultimately to win the game, but for the sputter and spasm of the offense at the end of this inconsistent season. They just haven't been able to find the clutch hit for much of this month. After a spring of uncertainty and a summer of explosive triumph, the fall has been saturated with frustration. 
The Brewers skipped both Brandon Woodruff and Freddy Peralta in their rotation for this weekend, opting for the spare arm of Rea. When he departed, none of the Brewers' four best relievers marched in in his stead. Milwaukee wanted the Cubs to win this game, so that they could force whichever team they end up playing next week (be it the Marlins, the Diamondbacks, the Reds, or the Cubs) to use up their pitching and exhaust themselves throughout this weekend. They had a rest regimen in place, and Craig Counsell didn't compromise it. That's why the Cubs were able to claw back and force extra innings, with the score 3-3. It's why they ended up with a wide-open look at breaking the game open in the 10th, with runners on the corners and only one out. The top of their order was due.
Of course, by then, Nico Hoerner had been forced out of the game by a bruised knee. That meant that the team's hopes rested on Patrick Wisdom. Those hopes were frustrated, as they were likely to be, even accounting for the low-wattage arm to whom Counsell entrusted the entirety of the ninth and 10th, after he'd come on to get the final out of the eighth. Wisdom just isn't the hitter you want up when a single would mean two runs, but an out would mean a near-certain loss. It's Hoerner you want in that spot, but he wasn't there.
The whole thing was a maddening microcosm of the Cubs' season. They had a window, but they couldn't p-ush through it. They didn't have the manpower to finish the job.
We should regard this stretch, in some ways, as a gift. After all, while they've come up desperately short of their goals, this team has been playing what is effectively playoff baseball for the last month. The meaning we seek in sports lies in the clearly defined stakes. So many of us are stuck in existences wherein the stakes never seem to rise very high, and wherein even high stakes come with so many convolutions and contradictions that we can't be sure where our loyalties lie, much less take any action to advance our interests. Sports give us the chance to see, based on the simple arithmetic of the scoreboard and the standings, how important any given moment is, and our loyalties (since they're completely arbitrary) are never in doubt. What we crave is the moment of adrenaline, when the string is out and there can be no excuses or escape if failure befalls us. That's when successes are most sweet.
The Cubs reached that point long ago, and they held fans there with them for a long time. That suspended state of peril made Nico Hoerner's grand slam against the Nationals and the frantic comeback against the White Sox on the South Side meaningful. It made Mike Tauchman's catch in St. Louis and Adbert Alzolay's string of magnificent fist pumps more vivid. It made Michael Fulmer's daring escape, Christopher Morel's walkoff striptease, and Justin Steele's Labor Day masterwork much more exhilarating than the same moments would have been, stretched out over one of those happy but languid summers in which a team wins 93 games and claims a playoff spot without a real sweat.
Once a season reaches its climax and conclusion, of course, a lot of that clarity evaporates. On the other side of the dust cloud we're currently in, it might be hard to say whether this season was a resounding success. The Cubs did better than most fans and analysts expected, and got some very encouraging performances on the way. On the other hand, they didn't survive their quasi-playoff test, and they didn't have a moment of pure catharsis and relieved exultation--not even a junior version, like the one the Marlins will savor sometime this weekend. 
The future is not at all clear. Did the Cubs make progress toward lasting contention in 2023? I think good arguments could be made in favor of that thesis, or against it. They clearly need a bit more star power at the front of their rotation and in the heart of their lineup, and that's a tough spot to be in, because they have a lot of money tied up in guys who fit more in the middle of the rotation and the non-premium parts of the batting order.
The great revelation of this campaign was Steele, but he's 28 years old, faded down the stretch, and has some injury markers that will require careful watching. The next-best performance might have been that of Cody Bellinger, but he now embarks on free agency again, and even if he comes back, it will be at a considerably higher cost and with a long commitment attached.
While it's easy to feel good about some aspects of the Cubs' organization, it's clear that they will need to stay aggressive in both the free-agent and the trade markets to try to regain supremacy even in the NL Central. The league as a whole, as the Braves painfully reminded them just this week, is another beast altogether. There's a tall mountain to climb, and while the just-completed attempt might have taught the team some valuable lessons, they still get rolled back to the bottom and have to climb all the way back up next year. They're not guaranteed to have better equipment on hand.
"[Baseball] begins in the spring, when everything else begins again, and it blossoms in the summer, filling the afternoons and evenings, and then as soon as the chill rains come, it stops, and leaves you to face the fall alone," wrote A. Bartlett Giamatti, some years before he became the Commissioner. "You count on it, rely on it to buffer the passage of time, to keep the memory of sunshine and high skies alive, and then just when the days are all twilight--when you need it most--it stops."
Giamatti was a philosopher-poet. His Stoicism can only be envied, from our point 40 years in his future. He could meditate on the close loss of a pennant race, and understand its broader lesson, even if it was a hard one. He knew it was his own mortality, the whisper slosh of his blood and the onrush of time that meant he had one fewer summer of baseball left, that made those losses hurt. We can know that, but not take the same solace he did from it. We're stuck on the internet. We can log off, but we still know it's there. We've been turned into slightly feral creatures, defensive and full of fake bravado, trying not to let anyone put in the virtual papers that we were mad.
We are. The Cubs' thud of a finish embitters the whole experience of this season a bit, the way a bad sunflower seed will leave its taste in your mouth for an hour when a good one's is gone in a minute. Still, the Cubs played a good season. It was good, because it wasn't without meaning, and because there were enough good moments when the meaning and moment were well-established to leave streaks of sunlight across the tableau of the year left in our minds, now that the chill rains have fallen and Mutability has "turned the seasons and translated hope to memory, once again."
Giamatti called baseball "our greatest invention to stay change," but observed that it often ends up bringing change on--or at least bringing our attention to the time and the need for change. The Cubs will change, between now and next spring. Some of the changes will be needed and welcome. Some will be painful. Some will balance those flavors. One way or another, though, all those changes will come. The Cubs have run out of ways to forestall them, and fans have run out of meaningful games for another year.