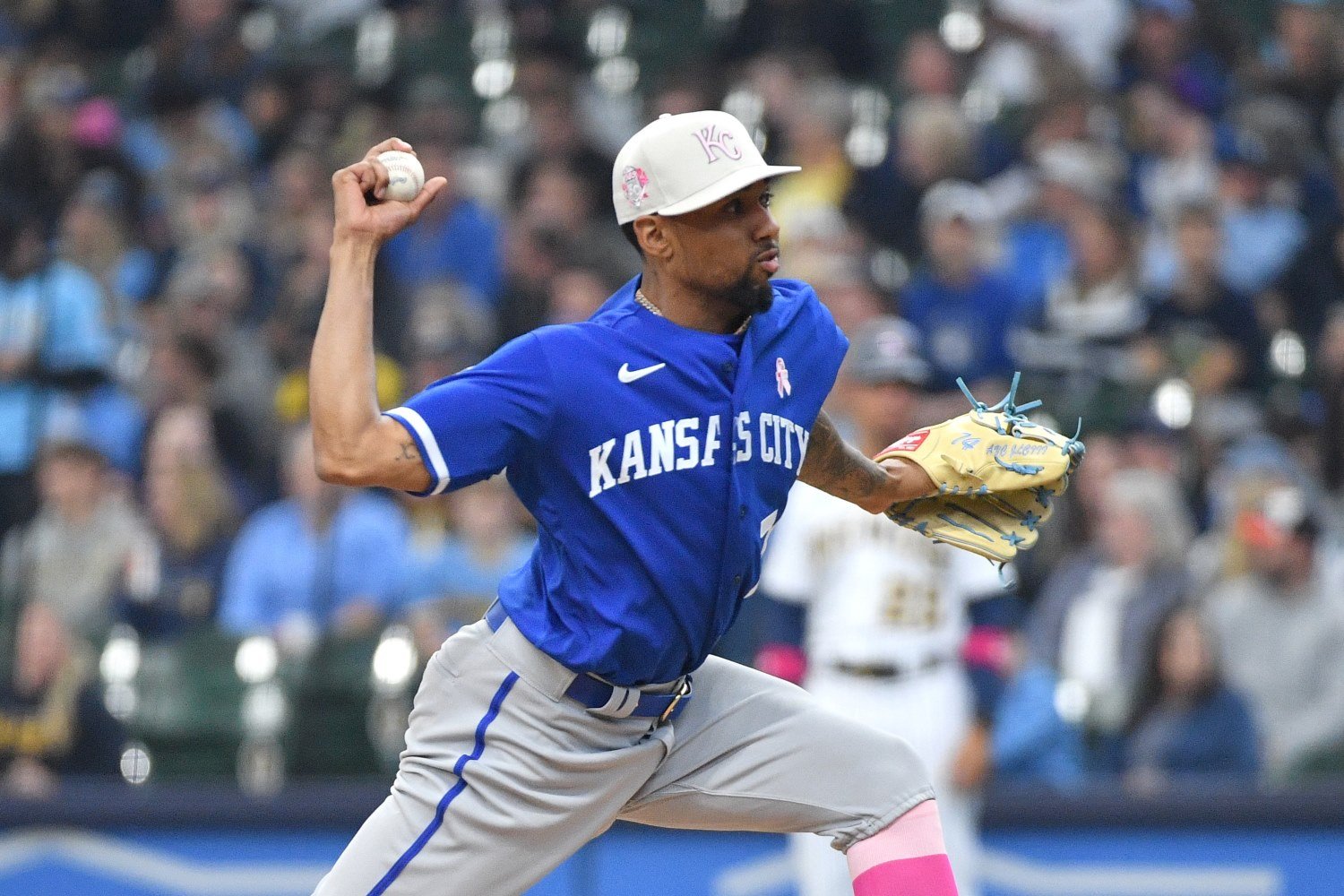 Image courtesy of © Michael McLoone-USA TODAY Sports
The similarities between Pedro Strop at the time the Cubs acquired him and Jose Cuas now are obvious. It's almost eerie. Like Strop, Cuas is a stocky, strong Dominican right-hander with a nasty slider. Both bloomed and established themselves in MLB at an advanced age. Strop had 144 appearances and 128 innings of experience in the majors before the trade that brought him to the Cubs from Baltimore in 2013, with a 4.14 ERA. Cuas, 29, is a year older than Strop was then, but had a 4.08 ERA in his 79 innings with the Royals.
Both guys were held back by control problems in their early phase, but the Cubs were able to help Strop straighten things out. If they can do the same with Cuas, the payoff could be just as exciting. The upside for Cuas is to emerge as a high-leverage reliever before this season even concludes.
That's because Cuas has a unique release point, and some pitch characteristics that could make him viciously difficult to handle for opposing hitters. Here's a plot of the horizontal and vertical release points of every pitcher who has thrown at least 500 pitches in the big leagues this year.
The only right-handed reliever who comes from as far toward third base (in terms of position on the rubber and arm slot) than Cuas is Giants submariner Tyler Rogers. The angle Cuas creates for opposing hitters is extremely difficult. 
That's not only true because of how far toward third base he is, though. Coming from the low arm slot he uses, his ability to use the top of the zone with his fastball makes him unique, too. The most-hyped pitch data this year centers on Vertical Approach Angle (VAA)--a factor of a pitch's velocity, its location, and the pitcher's release point. Breaking balls need steep VAA. Fastballs, and especially four-seamers, need flat ones. Of the 389 pitchers who have thrown at least 100 four-seam fastballs this year, only Adam Cimber has a flatter VAA than Cuas. 
With that same extreme arm angle, Cuas creates one of the more extreme Horizonal Approach Angles (HAA) in baseball on his sinker and his slider. That constellation of weapons and traits gives him huge upside. Reaching it is largely a matter of commanding and controlling his stuff, but it will also require some careful calibration. When the Cubs dealt for Cuas, some expected him to go to the minor leagues, or even to the team's spring complex in Arizona. There was some thought that he would be reengineered altogether, in the Cubs' so-called pitch lab.
Instead, he was activated right away, and that's the right call. He wasn't dominating with the Royals, but he was in the big leagues with them, and he's already on the doorstep of 30. That he has minor-league options is terrific, because it adds flexibility to a somewhat rigidly-constructed bullpen, but sending Cuas down should only be a way of navigating the difficult task of keeping enough fresh arms available late in a season. If he's going to iron out the things that have prevented him from dominating big-league batters, he's likely to do it from the big-league roster.
Already, we can see how he might tweak his approach, and we have some tiny insight into how the Cubs would prefer that he do so. In mid-May, he started throwing his four-seamer, something he had previously abandoned in favor of a strictly sinker-slider attack. We've already talked about how, due to his release point, Cuas's four-seamer could be overpowering. 
On the other hand, though, that four-seamer has proved hard for Cuas to command. Given the way he throws, that's not surprising. Maybe that's why he stuck to the sinker in his first appearance with the Cubs; maybe they feel he can be most effective by focusing on two pitches. It's too early to know that, either way, but it's one plausible way for him to unlock the potential of his unique delivery and pitch movement.
Speaking of movement, we saw some immediate indications that Cuas might change the shape of his slider.
Eventually, the separation between his four-seamer and his sinker could allow him to use them both, but pair them with the slider under different circumstances. Against most righties, he'll be better off with the lateral contrast between the sinker and slider. Against many lefties, though, he can use the elevated four-seamer to set up the slider down--especially since he showed extra depth on the offering in his Cubs debut.
Strop was an improbable success. Replicating what they did with him, 10 years later, will be extremely difficult. The default assumption should be that if Cuas could do what Strop did, he'd have done it by now. Still, this will be worth watching throughout the home stretch. Better bullpen depth will be key to the Cubs' hopes of reaching the postseason, and certainly to making a run if they get there. At this point, Cuas has good a chance as anyone of emerging as that next useful arm.